Georgia Republican governor candidate says primary was race for 'who could be the craziest'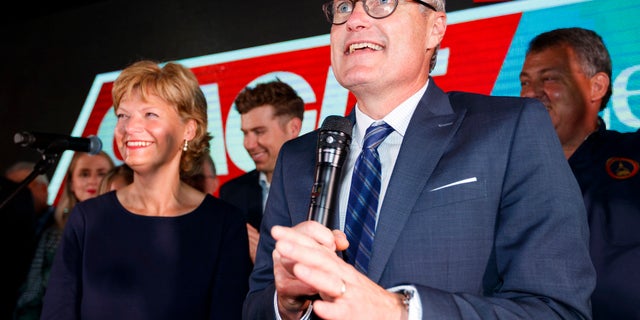 Georgia Lt. Gov. Casey Cagle, who is vying to become the Peach State's next governor, is apparently no fan of the Republican gubernatorial primary.
"This primary felt like it was who had the biggest gun, who had the biggest truck ... and who could be the craziest," Cagle could be heard telling Clay Tippins, a former Republican candidate for governor, in a new audio recording.
The 50-second audio clip was released by Brian Kemp's campaign on July 9. Cagle faces Kemp, Georgia's secretary of state, in the July 24 runoff election for the Republican nomination.
"The issues you talk about are issues I care about as well, right," Cagle is heard saying in the recording. "The problem is in a primary – and you and I are just talking off the record frank – they don't give a s*** about those things, OK. In the general election, they care about it, OK. But they don't care about it in a primary."
During the primary elections, Kemp released a controversial campaign ad in which he pointed a shotgun at a young man who supposedly wanted to date his daughter. In the video, the man said he had to have "respect" and "a healthy appreciation for the 2nd Amendment" in order to date Kemp's daughters.
In another ad, Kemp said he could personally "round up criminal illegals" in his truck if needed.
"This primary felt like it was who had the biggest gun, who had the biggest truck ... and who could be the craziest."
Cagle's runoff campaign was already rocked last month after Tippins released another part of the secretly recorded conversation in which Cagle said he backed what he called "bad public policy" for political gain.
GEORGIA GOVERNOR PRIMARY LEAVES CASEY CAGLE, BRIAN KEMP VYING FOR GOP NOMINATION
In that conversation, which reportedly took place in May, Cagle said he pushed for the bill even though he thought it was "bad" in "a thousand ways" in order to hinder then-state Sen. Hunter Hill's gubernatorial chances, the Gainesville Times reported.
Hill finished third in the Republican gubernatorial primary — just shy of earning enough votes to make it to the runoff.
FOX NEWS' MIDTERM ELECTIONS HEADQUARTERS
A spokesman for Kemp told the Atlanta Journal-Constitution the recording "exposes Cagle's real opinion of Republican voters in Georgia." He likened the comments to former Democratic presidential nominee Hillary Clinton calling supporters of President Trump "deplorables."
Cagle said the conversation was never meant to be public and claims it has been taken out of context.
The Associated Press contributed to this report.