Georgia governor to veto religious liberty bill amid boycott threats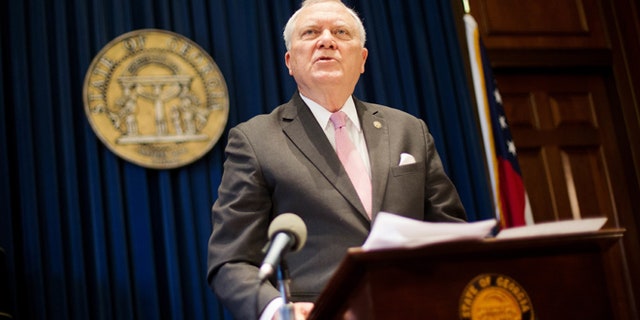 Facing threats of a massive economic boycott, Georgia Gov. Nathan Deal announced Monday he will veto a controversial religious liberty bill that critics describe as anti-gay and supporters describe as necessary to protect their religious rights.
The Republican governor had been under intense pressure to veto the religious liberty bill, which would allow faith-based organizations to deny services to those who violate their "sincerely held" religious beliefs. It also would let employers retain the right to fire employees not aligned with those beliefs.
"I have examined the protections that this bill proposes to provide to the faith-based community and I can find no examples of any of those circumstances occurring in our state," Deal said.
He added, "I do not think that we have to discriminate against anyone to protect the faith-based community in Georgia."
But supporters like state Sen. Josh McKoon told FoxNews.com that the fight was "far from over."
"If anyone advised the governor that this would be a way to end the debate, they were mistaken," he said.
McKoon hinted that members of the Georgia General Assembly might ask the governor about convening a special session; a three-fifths majority in both the House and Senate would be needed to do so. If lawmakers can reach that threshold, overriding the governor's veto would require a two-thirds majority in each chamber.
But in this case, that might be easier said than done.
Republicans don't hold that margin in either the House or the Senate, and all Democrats voted against the bill.
If Republicans can't force a special session, McKoon pledged they would bring up similar legislation next year.
"I expected Gov. Deal would be able to step up to the pressure but obviously that didn't happen," McKoon said, insisting the bill wasn't discriminatory but instead "a modest, watered-down compromise."
Deal made his announcement after facing boycott threats from the movie industry, and opposition from other influential businesses.
In the past week, nearly three-dozen actors, directors and studio companies threatened to pull out of lucrative projects in Georgia -- a popular filming location dubbed the "Hollywood of the South" -- if Deal signed the bill.
Coca-Cola and other Georgia companies joined the National Football League urging Deal to reject the proposal.
Supporters like Mike Griffin, a pastor and communications representative of the Georgia Baptist Mission Board, told FoxNews.com that threats to pull profits from the state are "nothing but fear mongering."
But not everyone is upset with Deal's decision.
Matt McTighe, executive director at Freedom for All Americans, commended Deal on "doing the right thing."
"The governor understands that while our freedom of religion is of critical importance, it doesn't mean there's a need for harmful exemptions that can lead to discrimination," he said in a statement.