Georgia governor primary leaves Casey Cagle, Brian Kemp vying for GOP nomination
Republican Georgia gubernatorial candidates Casey Cagle and Brian Kemp are heading to a July runoff election.
While Cagle, the state's lieutenant governor, and Kemp, Georgia's secretary of state, emerged at the top of a somewhat crowded GOP field of candidates, neither won more than 50 percent of the vote to avoid a July 24 runoff.
The Republican primary was filled with candidates who boasted about being tough on illegal immigration and vowed to protect gun rights. Cagle and Kemp beat out former state Sen. Hunter Hill, state Sen. Michael Williams and businessman Clay Tippins.
Whoever wins the runoff will face Democrat Stacey Abrams in the fall. Abrams is seeking to become the first black female governor in the U.S.
Here's a look at the two candidates ahead of Tuesday's election.
Casey Cagle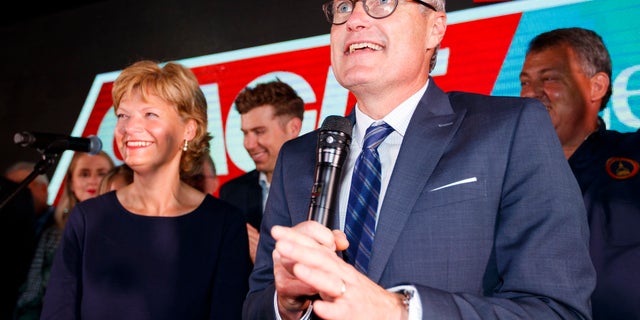 Casey Cagle has already made history in the state. In 2006, he became the first ever Republican elected to serve as Georgia's lieutenant governor; prior to that, he was the youngest state senator, elected in 1994 at 28 years old.
"It's great to come in first place. We've got a lot more to be done," Cagle told supporters. "We are right where we need to be in terms of this runoff."
Cagle bills himself as a "conservative leader for Georgia" on his campaign website.
Cagle, 52, took on Delta earlier this year when the Atlanta-based airline said it would cut ties with the National Rifle Association (NRA) in an attempt to establish a "neutral status in the current national debate over control amid recent school shootings." In response, Cagle threatened to block any tax legislation that would benefit the airline unless it reversed course.
The NRA has since endorsed Cagle in the primary race.
As lieutenant governor, Cagle has also taken on sanctuary cities. Just before the primary election, he filed a complaint accusing the city of Decatur of being a so-called sanctuary city. Sanctuary cities are banned in Georgia, and local governments must certify that they comply with federal immigration agents in order to receive state funding, according to the Atlanta Journal-Constitution.
GEORGIA REPUBLICAN GOVERNOR CANDIDATE SAYS PRIMARY WAS RACE FOR 'WHO WOULD BE THE CRAZIEST'
Decatur Mayor Patti Garrett has said her town -- just east of Atlanta -- is "not a sanctuary city and has no intentions of becoming one."
"I think that Washington should look to Georgia for examples of conservative leadership," Cagle told Atlanta Magazine. "In Georgia, we've outlawed and defunded sanctuary cities, we balance our budget every single year and we've combated entitlement abuse head-on with work requirements all while becoming the No. 1 state for business."
Cagle was raised by a single mother and played football at Georgia Southern University, according to his biography. At 20 years old, he started a tuxedo company. He would later found Southern Heritage Bank.
Current Georgia Gov. Nathan Deal, a Republican, endorsed Cagle on July 16, calling him "the best one to continue" his legacy.
Brian Kemp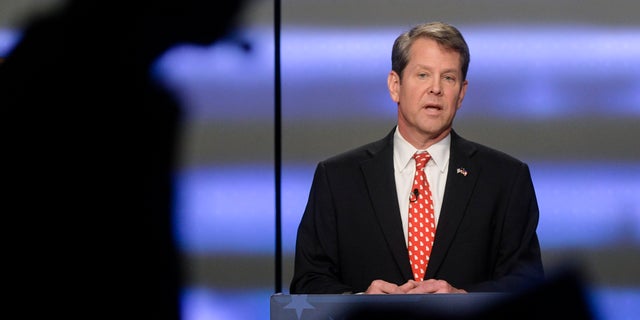 In his race for governor, Brian Kemp -- who has been Georgia's secretary of state since 2010 -- calls himself a "politically incorrect conservative."
Kemp, 55, has raised eyebrows with his campaign ads, including one in which he points a shotgun at a young man who supposedly wants to date his daughter. In another ad, he vowed to "round up criminal illegals" with his own truck.
As governor, Kemp said he would "track and deport all criminal illegal aliens" in another campaign spot.
GEORGIA RUNOFF: CAGLE-KEMP FIGHT SCRAMBLED BY SECRET TAPES, LATE TRUMP ENDORSEMENT
President Trump endorsed Kemp ahead of the primary, saying he is "tough on crime, strong on the border and illegal immigration."
"He loves our Military and our Vets and protects our Second Amendment," Trump said in a tweet. "I give him my full and total endorsement."
Aside from being Georgia's secretary of state, Kemp is "a small business owner with companies in agribusiness, financial services, real estate management and investment," according to his campaign website.
FOX NEWS' MIDTERM ELECTIONS HEADQUARTERS
As secretary of state, Kemp has pushed for the implementation of many "e-government" initiatives, including an online voter registration system, according to his biography. Prior to becoming secretary of state, Kemp served as a state senator.
As the primary results came in, Kemp thanked supporters "for helping us punch our ticket to the runoff."
Kemp and his wife have three children.
The Associated Press contributed to this report.