Geithner to Remain as Treasury Chief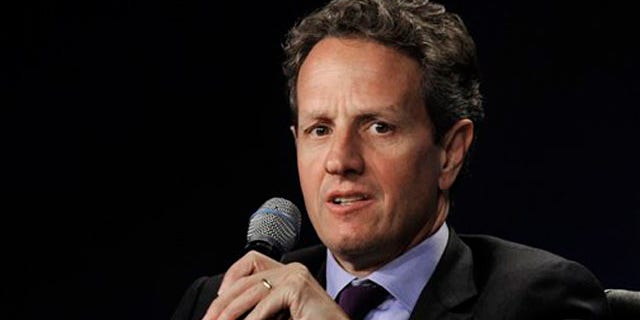 NEWYou can now listen to Fox News articles!
WASHINGTON -- Timothy Geithner will remain on the job as Treasury secretary, the Treasury Department announced Sunday in a written statement.
"Secretary Geithner has let the president know that he plans to stay on in his position at Treasury. He looks forward to the important work ahead on the challenges facing our great country," said Treasury Assistant Secretary for Public Affairs Jenni LeCompte.
In late June, people close to Geithner said he was considering leaving after the debt limit was raised in August. They said he was tired of commuting to New York, where his son will be finishing up his last year in high school.
Geithner is the only remaining top official on Obama's original economics team, and has been facing considerable criticism and calls for his resignation after Standard and Poor's downgraded the U.S. credit rating from AAA to AA+ on Friday evening.
Geithner informed the president of his decision to stay in the Cabinet on Friday morning.
"The president asked Secretary Geithner to stay on at Treasury and welcomes his decision," said White House Press Secretary Jay Carney.
Geithner and other finance ministers from the world's largest economies have been discussing what actions need to be taken to stabilize markets following renewed worries about Europe's debt problems. They were having another discussion Sunday evening as the Asian markets opened, where early reactions to the downgrade would be gauged.
A series of Obama's economic advisors have departed including Lawrence Summers, the first head of the president's National Economic Council, and two of the president's chief economic advisers, first Christina Romer and then Austan Goolsbee, who left this past week.
Obama has also had to replace his first budget director, Peter Orszag.
Before joining Obama's administration, Geithner served as president of the Federal Reserve Bank of New York, a job that put him on the front lines of the central bank's efforts to battle the financial crisis and to get credit flowing more freely. He has a close working relationship with Federal Reserve Chairman Ben Bernanke.
During the Clinton administration, Geithner held top positions at the Treasury Department dealing with international financial crises that occurred during that administration.
The Associated Press contributed to this report.