From one court to another: Chief Justice Roberts watched Gorsuch pick with Kentucky coach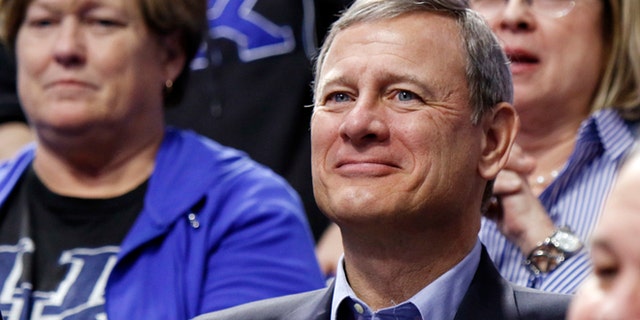 When Neil Gorsuch was introduced as President Trump's nominee for the Supreme Court at the White House before a big prime-time television audience on Tuesday night, there was one man in Kentucky who knew all about the political pressure cooker the Colorado judge was about to enter.
Chief Justice John Roberts was watching the made-for-television reveal in the private office of the head coach of the University of Kentucky mens' basketball team, John Calipari, and perked up when he saw Trump take the stroll down a red carpet to a waiting podium in the East Room.
"He said, 'That's a long distance,'" Calipari recounted in a telephone interview. "He walked it."
Indeed, Roberts took a dramatic stroll down that red carpet to the East Room with then-President George W. Bush at his side in March of 2005, for his own nomination.
In the case of Gorsuch, the television-savvy Trump took the walk to the podium alone and then a few minutes later had Gorsuch and his wife, Marie Louise, emerge from a side door to reveal the president's pick with maximum surprise for the audience in the East Room and watching at home.
Nonetheless, various news reports had suggested earlier on Tuesday that Gorsuch was the likely choice, and Roberts would not let on to Calipari whether he had been tipped off about the pick or was happy about it.
"He said, 'I'm not going to show any emotion now,'" recounted Calipari. "I have a feeling they probably gave him a heads' up. He was not like, 'Wow' -- nothing."
Roberts was at Kentucky's Tuesday night basketball matchup with the University of Georgia at the invitation of James Duff, director of the Administrative Office of the U.S. Courts who played for Kentucky himself. On Wednesday, Roberts delivered a speech on campus and then took questions from Duff.
The chief justice had sent word he would like to meet with Calipari before the 9 p.m. ET game, though the meeting was cutting it close for the coach because Roberts did not arrive until a few minutes before 8 p.m., when he needed to be prepping for the matchup. But Calipari, well-known for being a genial social networker, was ready to make adjustments if need be to meet one of nine Supreme Court justices.
"I will delay the game if I have to in order to meet him," Calipari said with a laugh.
The two men watched Trump speak and then listened to a couple of minutes of Gorsuch's remarks before an aide came in to say Calipari had to get going. Roberts did not want to be singled out by the announcer at the game, and he took a seat in the fourth row rather than sitting -- well -- courtside.
"Being in his company I can tell he is a kind, humble kind of person," said Calipari, who noted that after a terrible start in which Kentucky was losing 19-5, his team recovered to win an overtime thriller, 90-81.
"He saw a heck of a game," said Calipari, who will now be returned the favor of getting a heck of an experience in Washington.
"He invited me to the Supreme Court," said the back-slapping Calipari, who sounded like he could not wait to follow up. "You know me -- I'll be there."