'Free Tommy Robinson': Trump Jr., European populists slam UK over jailing of right-wing activist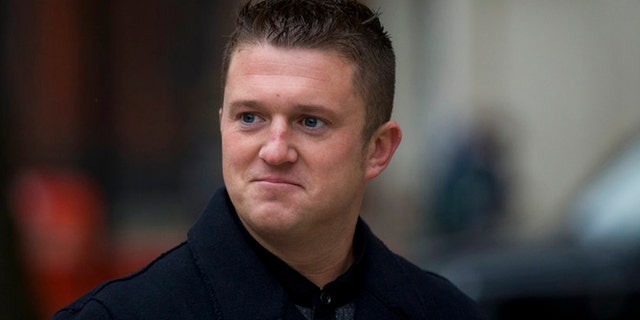 The arrest and jailing of British right-wing activist Tommy Robinson for covering a child grooming trial has led to an outpouring of anger from conservative political figures in the U.S. and Europe -- with Donald Trump Jr. citing it as a reason "for the original Brexit."
Robinson, whose real name is Stephen Lennon, was arrested Friday outside a court in Leeds for filming men accused of being part of a gang that groomed children. Britain has been rocked by an epidemic of child sex scandals perpetuated by gangs of predominantly Muslim men.
Fox News reported Friday that he had been jailed for 13 months for contempt of court, but British media initially were unable to report on the sentence due to a reporting ban slapped on the case by the judge. That ban was lifted Tuesday after appeals by media outlets.
Robinson, the former leader of the English Defense League known for his acerbic criticism of Islam, reportedly pleaded guilty to breaching the terms of a previously suspended sentence from 2017 when he reported on a similar case.
Robinson is a polarizing figure in the U.K. Supporters say he speaks out against political correctness and the growing influence of Islamic extremism, while opponents claim he is a racist who stokes fear and division, and note that he has previous convictions.
A counterterror police official said Robinson's material was partially responsible for the radicalization of a man who committed a terrorist attack on a mosque last year.
The details of the case Robinson was reporting on last week are still blocked by a reporting ban. Consequently many British media outlets reported only that he was arrested outside a courthouse, but gave no specifics about the case itself. However, Robinson's supporters say he repeated allegations that have been published in local media outlets.
Robinson's jailing has tapped into a long-standing narrative among conservatives in the U.K. and Europe that authorities are quick to clamp down on anyone bringing attention to crimes associated with Islam, while being lax about the perpetrators of those crimes.
Consequently, as news trickled out over the weekend, conservative figures reacted with fury. On Saturday, crowds descended outside Downing Street to demonstrate for Robinson's release.
Others expressed concern for Robinson's welfare, suggesting that due to his profile as an Islam critic, he may be a target in prison. U.K. Independence Party leader Gerard Batten said that one of the party's members of the House of Lords wrote to Home Secretary Sajid Javid threatening a private prosecution as "an accessory, or for misconduct in public office."
Quickly, the case picked up international attention. Trump Jr. responded to a tweet about the case and the gag order, saying it was "Reason #1776 for the original #Brexit."
"Don't let America follow in those footsteps," he warned.
In Europe, reaction was also strong, particularly among those who have opposed what they see as the Islamization of the continent.
Right-wing Dutch MP Geert Wilders submitted parliamentary questions to the Dutch minister of foreign affairs on the matter, and on Monday called the jailing "a disgrace."
"The lights of freedom are going out," he said in a statement in front of the British Embassy in The Hague.
German MP Petr Bystron, who represents the right-wing Alternative for Germany (AfD), told Breitbart London that he is pushing the German government to allow Robinson to claim asylum, and deemed him a "political prisoner."
"We've seen there has been a high level of opposition throughout Europe against this act. So we said, 'Okay now society is reacting but we need not only banners, not only stickers but something else, something real,'" he told the outlet.
Supporters of Robinson set up a Change.org petition, which by Tuesday afternoon had picked up more than 481,000 signatures.