Frank's Own Battle Erodes Help for Fellow Dems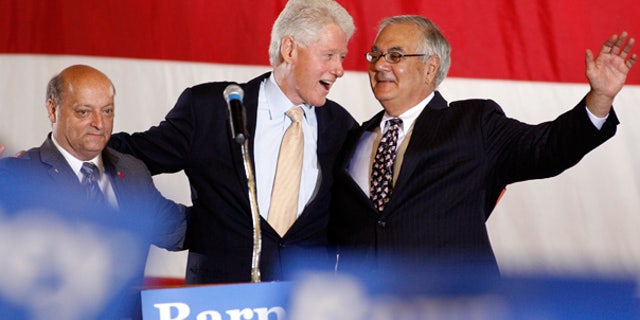 It's the kind of political year in which even Rep. Barney Frank is being forced to break a sweat.
The Massachusetts Democrat, one of Congress's most well-known members, usually wins re-election by steamrolling his opponents. This year, he's campaigning aggressively to beat back Sean Bielat, an upstart Republican challenger who was five years old when Frank first won a House seat in 1980.
It remains highly unlikely Frank will lose. He remains popular in his Boston-area district. From his perch as chairman of the House Financial Services Committee, he has surpassed his own fund-raising record. Internal polls show him with a 24-point lead with less than a month left; his opponent says the gap is closer to 10. Last time, Frank won by 43 points.
But the national mood is hostile, and conservative groups would consider his defeat a trophy for their wall. Frank is now spending more time on his re-election instead of pumping money into the campaigns of vulnerable Democratic lawmakers, the traditional role of a party grandee. As a result, Frank's focus on his own district will have reverberations in races across the country.
So far this election, Frank has dipped into his personal re-election account to donate just $35,000 to 12 Democratic candidates, according to campaign-finance figures compiled by the nonpartisan Center for Responsive Politics, a fraction of his largesse two years ago, when he gave $248,000 to 86 candidates. This year, he has given $250,000 to the campaign arm of House Democrats, compared with $650,000 in 2008.
Frank's opponent is a 35-year-old U.S. Marine Reserve officer and a business consultant from the Boston suburb of Brookline. His campaign has been focused on jump-starting the economy, taking on the political establishment in Washington and removing regulations he says hurt growth.
"People here are tired of Barney Frank," said Bielat. "He's been here for 30 years. He's gained a reputation for being arrogant to constituents, to the press, to whomever."
Bielat shocked many by raising $400,000 in September, a large number for a neophyte, and he said money has poured in this month as well.
Continue reading at The Wall Street Journal