Fox News Poll: Democrat Northam has seven-point edge over Republican Gillespie in Virginia gubernatorial race
Virginia voters give Ralph Northam better personal ratings and prefer him on the issues -- and that puts the Democrat ahead of Republican Ed Gillespie in the governor's race.
Northam is up seven points over Gillespie among Virginia likely voters (49 percent vs. 42 percent) in the latest Fox News Poll. His lead is right at the poll's margin of sampling error (± 3.5 percentage points).
READ THE FULL FOX NEWS POLL RESULTS
Three percent of voters say they are supporting another candidate and five percent are undecided. The election is three weeks away, November 7.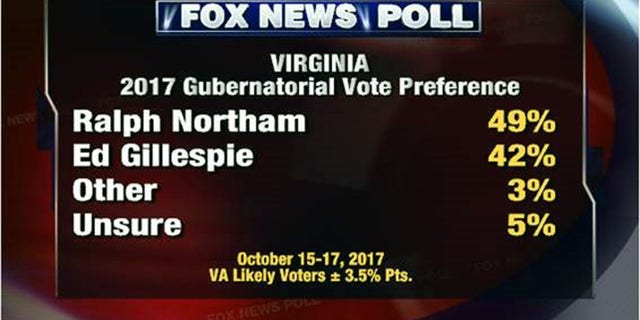 Fully 88 percent of Northam supporters feel certain they will vote for him, while 83 percent of Gillespie backers say the same.
Gillespie is the choice among white evangelical Christians by 68 points (81-13 percent), whites without a college degree by 36 (65-29 percent), and gun-owning households by 22 (57-35 percent).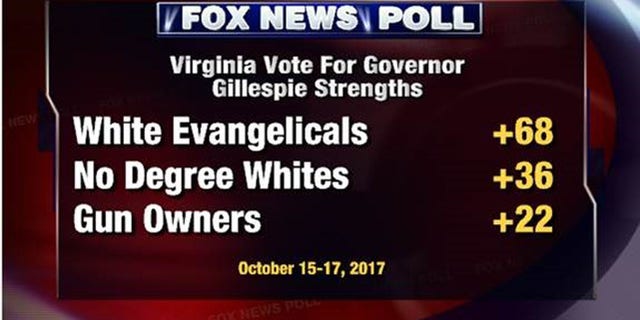 Northam is favored by non-whites by 75 points (81-6 percent), voters under age 45 by 27 (57-30 percent), and those living in Northern Virginia by 25 (57-32 percent).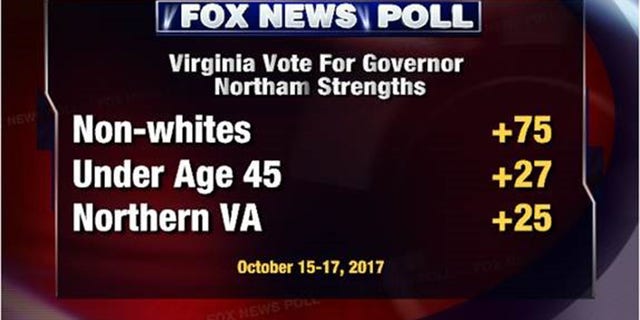 Men favor Gillespie by four points, while women prefer Northam by 17 points.
Roughly equal numbers of Donald Trump voters (90 percent) and Hillary Clinton voters (91 percent) are staying loyal to their parties' gubernatorial candidates. Likewise, 92 percent of Democrats plan to vote for Northam, while 89 percent of Republicans plan to back Gillespie.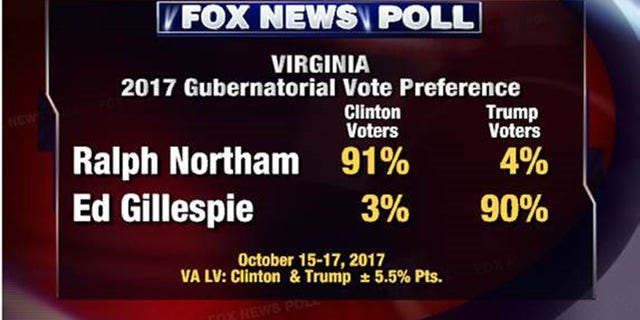 The small subgroup of independents goes for Northam by 14 points.
Northam has the advantage over Gillespie on every issue tested save one: the economy. Voters think Gillespie would do a better job handling that by one percentage point. However, more pick Northam on handling education (+10 points), health care (+10), energy policy (+7), immigration (+3), gun policy (+3), and confederate monuments (+2).
"As one would expect in a battleground state like Virginia, the race is tight," says Republican pollster Daron Shaw, who conducts the Fox News poll with Democratic counterpart Chris Anderson.
"Economic anxiety doesn't appear to be as strong in Virginia as it is elsewhere, which may be why Gillespie has focused on issues such as immigration and energy."
A majority, 63 percent, believes immigrants make the country a better place, and those folks back Northam by a 43-point spread.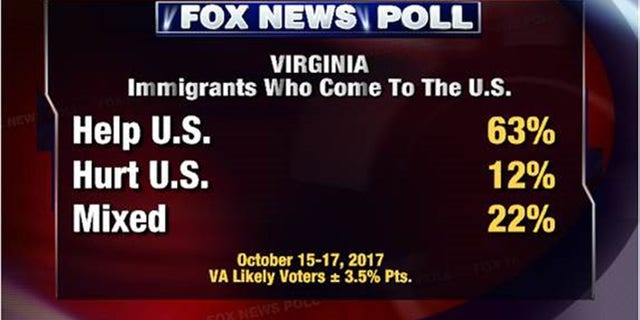 Virginia voters narrowly prioritize protecting citizens from gun violence (49 percent) more than protecting the constitutional right to own a gun (43 percent). Fifty percent say they live in a gun-owner household, and those folks support Gillespie by 22 points. Non-gun households go for Northam by an even wider 42-point margin.
Hillary Clinton won Virginia by five points in 2016, Democrat Terry McAuliffe won the 2013 governor's race by three points, and President Obama won in 2012 by four.
Obama will campaign with Northam in Richmond on Thursday.
Virginia voters are fond of the former president. Fifty-seven percent have a favorable opinion of Obama (40 percent unfavorable). By comparison, 41 percent have a positive view of President Donald Trump, while 55 percent express an unfavorable view. That includes 49 percent who say they have a "strongly" unfavorable opinion.
Voters rate Northam positively by 18 points: 52 percent favorable vs. 34 percent unfavorable. Fifty percent have a favorable view of Gillespie, while 38 percent have an unfavorable opinion. That gives him a net favorable score of +12 points.
The Fox News Poll is conducted under the joint direction of Anderson Robbins Research (D) and Shaw & Company Research (R). The poll was conducted Oct. 15-17, 2017, by telephone (landline and cellphone) with live interviewers among a sample of 697 voters selected from a statewide voter file in Virginia. It has a margin of sampling error of plus or minus 3.5 percentage points for the full sample of likely voters.