Fox News Poll: 83 percent support pathway to citizenship for illegal immigrants
Large majorities of voters favor granting work permits or citizenship to illegal immigrants who were brought to the United States as children, according to the latest Fox News poll.
Deferred Action for Childhood Arrival recipients, or Dreamers, who do not apply for renewal in time will lose their status starting in March 2018. President Donald Trump announced Sept. 5 he was ending the Obama-era program giving Congress a six-month window to act on the program.
CLICK HERE FOR THE FULL POLL RESULTS
Trump met with Democratic leaders Sept. 13 to discuss the issue, but tweeted Sept. 14 that no deal was made.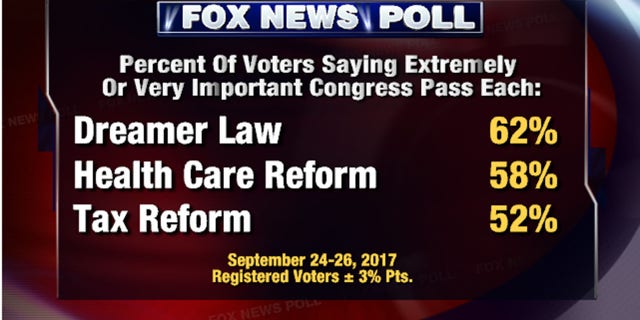 Sixty-two percent say it is extremely or very important Congress pass immigration law that will address the Dreamers. Voters think this is more important than passing new health care (58 percent important) or tax reform legislation (52 percent).
Former President Obama announced DACA in June 2012 saying, "This is not a path to citizenship. It's not a permanent fix. This is a temporary stopgap measure that lets us focus our resources wisely while giving a degree of relief and hope to talented, driven, patriotic young people."
At that time, Fox polling found 54 percent supported the change to immigration law, while 36 percent were opposed (June 24-26, 2012).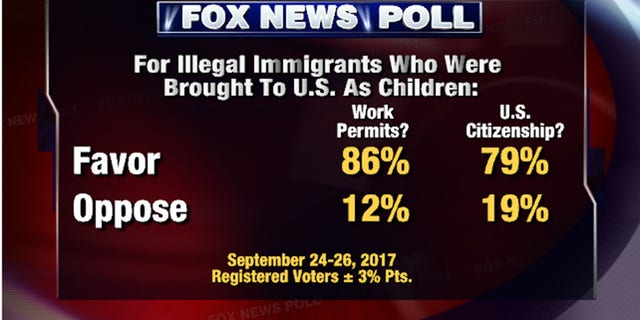 Today, overwhelming majorities favor granting work permits (86 percent favor vs. 12 percent oppose) and U.S. citizenship (79-19 percent) to illegal immigrants under the age of 30 brought here as children, provided they pass a background check.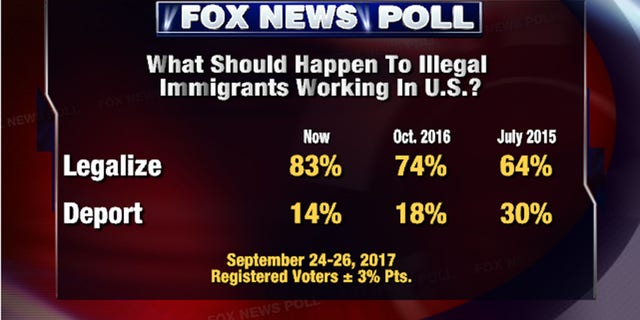 The poll finds a record-high 83 percent of voters support setting up a system for all illegal immigrants who are currently working in the country to become legal residents, up nine points since last year. Just 14 percent say "deport as many as possible," down from a high of 30 percent in July 2015.
There is rare partisan agreement on all fronts.
Democrats (66 percent), Republicans (60 percent) and independents (59 percent) all agree it is important Congress work on Dreamer legislation. Partisans are also in sync on granting work permits and U.S. citizenship to these individuals, as majorities of Democrats, Republicans, and independents favor both actions.
Moreover, 63 percent of Trump voters favor granting Dreamers citizenship.
Setting up a system to legalize undocumented immigrants working in the U.S. also receives bipartisan support: most Democrats (95 percent legalize vs. 4 percent deport), Republicans (69-28 percent) and independents (82-13 percent) want legalization to happen.
One of President Trump's main campaign promises was to strengthen immigration laws, including building a wall on the U.S.-Mexico border.
How do voters think he's doing? Trump gets his worst marks yet on immigration, with 57 percent disapproving of the job he's doing (39 percent approve). Last month 43 percent approved and 54 percent disapproved.
Trump voters, on the other hand, are pleased: 85 percent approve and 12 percent disapprove. Furthermore, they favor setting up a system to legalize undocumented immigrants working in the U.S. (65 percent), granting work permits (75 percent) and citizenship (63 percent) to Dreamers, and think it's important Congress work on Dreamer legislation (60 percent).
The Fox News poll was conducted under the joint direction of Anderson Robbins Research (D) and Shaw & Company Research (R) among 1,017 randomly chosen registered voters nationwide reached on landline and cellphones from Sept. 24-26, 2017. The margin of sampling error is plus or minus three percentage points for results among all registered voters.