Fox News Poll: 76 Percent Say Time for Obama to Take Responsibility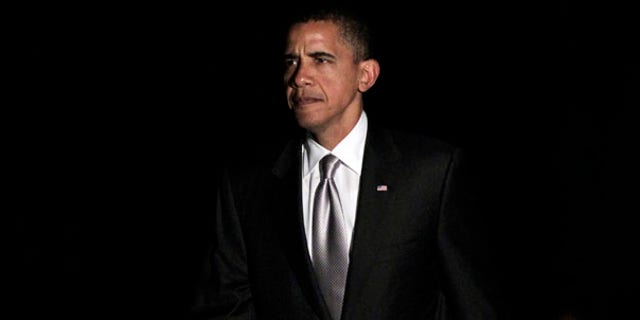 Despite more voters faulting former President Bush's policies for the country's economic woes, most American voters think it is time for President Obama to stop blaming Bush.
Nearly half of voters — 47 percent — think Bush's policies are mostly to blame for the economic difficulties the country is having today, compared to 32 percent who think Obama's policies are to blame.
Even so, fully 76 percent of voters think it is time for the Obama administration to start taking responsibility for the condition of the economy. That's more than four times as many as think it is right to continue to place the blame on Bush (18 percent).
A majority of Democrats, who overwhelmingly think Bush is responsible for the economy (82 percent), think it is time for Obama to quit blaming Bush (57 percent).
Overall, 55 percent of those who think Bush's policies are to blame think it's time for Obama to take responsibility.
Almost all voters — 88 percent — think the country is still in a recession. That includes two groups: 48 percent who not only think the recession isn't over, but also think that things could get worse, and 40 percent who say even though the recession continues, things are getting better. Another 6 percent think the recession is over, but that another one could happen.
Few — 3 percent — think the recession is completely over and the economy is recovering.
Less than a third of voters (29 percent) credit the stimulus package for keeping the country from going into a depression. Half (51 percent) think other reasons prevented another Great Depression.
Nearly two-thirds of voters (63 percent) believe government has gotten so big it is hurting the future of the country. About half as many do not (32 percent).
Obama's Job Performance
Overall, 43 percent of voters approve and 49 percent disapprove of the job President Obama is doing. That's little changed from two weeks ago, when 43 percent approved and 50 percent disapproved.
Most Democrats (77 percent) approve of the job Obama is doing as president, and most Republicans (81 percent) disapprove. Independents are slightly more likely to disapprove (46 percent) than approve (42 percent).
Similarly, 48 percent of voters approve "of the policies of the Obama administration" and 47 percent disapprove.
Some 30 percent of voters say the country is better off today than before President Obama was elected, while 38 percent say the country is worse off. Another 30 percent say there is not much of a difference.
By 49-30 percent, more voters approve of President Obama being a guest on "The View," including 73 percent of Democrats, 31 percent of Republicans and 36 percent of independents. Women (52 percent) are more likely than men (45 percent) to approve of the president appearing on the daytime television show.
The president appeared on the show July 29. He's held two solo White House press conferences so far this year — one in February and another in May. Which is the more effective communications strategy?
A majority thinks they learn more when the president holds a White House press conference (54 percent) than when he appears on television talks shows (18 percent), though 11 percent think they learn about the same from both and another 12 percent says they don't learn anything from either.
The Fox News Poll involved telephone interviews with 900 randomly chosen registered voters and was conducted by Opinion Dynamics Corp. from August 10 - August 11. For the total sample, it has a margin of sampling error of plus or minus 3 percentage points.
Summer Vacation
About half of voters (52 percent) say they have or will take a vacation this summer. Among those who aren't vacationing, half blame it on the lack of money (51 percent), while others blame it on having no time to get away (20 percent), or both a lack of time and money (14 percent).
Yet most — 74 percent — say it's no big deal that the Obama family has gone on a number of vacations this year. One in five, though, says they feel resentful (21 percent).