Former Virginia governor asks to remain free during appeal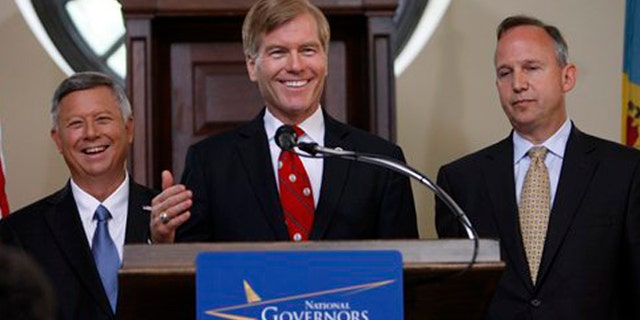 Former Virginia Gov. Bob McDonnell on Thursday asked a federal appeals court to allow him to remain free while he appeals his public corruption convictions to the U.S. Supreme Court.
McDonnell filed the motion two days after the 4th U.S. Circuit Court of Appeals refused to reconsider a three-judge panel's unanimous ruling upholding his convictions. McDonnell's lawyers asked the court to clarify that its previous order allowing him to remain free pending appeal will remain in force.
"After all, he remains neither a flight risk nor a threat to public safety, and the questions presented by his case remain `substantial,' notwithstanding that a panel of this Court has rejected them," the lawyers wrote.
A jury in September found McDonnell and his wife, Maureen, guilty of doing favors for wealthy vitamin executive Jonnie Williams in exchange for more than $165,000 in gifts and loans. Bob McDonnell was sentenced to two years in prison, his wife to one year and one day.
The former Republican governor, once widely considered a possible running mate for presidential candidate Mitt Romney, was convicted of 11 counts and was sentenced to two years in prison. His wife was sentenced to one year and one day on eight counts. Both have been free while they pursue separate appeals.
The Richmond-based appeals court has scheduled oral arguments in Maureen McDonnell's case for late October.
According to trial testimony, Williams showered the McDonnells with lavish gifts -- including a Rolex watch for the governor, about $20,000 in designer clothing for the first lady and $15,000 to pay for catering at a daughter's wedding -- while the former Star Scientific Inc. president sought state university research on his company's signature product. He also loaned the McDonnells thousands of dollars on exceptionally favorable terms to help them pay off debt and keep their money-losing Virginia Beach vacation rental properties afloat.
Meanwhile, the McDonnells attended promotional events and hosted a product launch event for Anatabloc, the tobacco-derived anti-inflammatory manufactured by Williams' company. Bob McDonnell also arranged meetings with administration officials for Williams, who wanted not only the university research but also inclusion of Anatabloc in the state's employee health plan.
The former governor has insisted that he provided nothing more than routine political courtesies and access to Williams and that he was convicted under an overly broad definition of bribery.