Former President George W. Bush to help raise cash for Rick Scott's Senate bid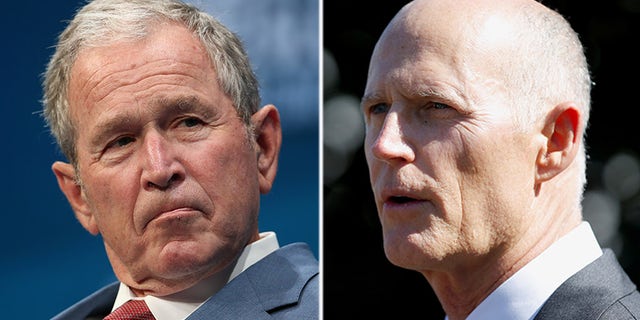 Former President George W. Bush will stump for Florida Gov. Rick Scott on Friday as Scott revs up for what's expected to be a close race for the U.S. Senate seat.
Bush is scheduled to attend a lunchtime fundraiser in Tampa, followed by a dinner reception in West Palm Beach. Suggested donations for Friday night's event range from $1,000 to $25,000, according to an invitation obtained by the Tampa Bay Times.
Campaign manager Jackie Schutz Zeckman said that Scott was "excited the president is going to help the campaign." Despite receiving President Trump's support for his Senate bid, Scott has distanced himself from the administration. Trump held a campaign rally in Tampa back in July but Scott did not appear to be in attendance.
Scott's bid to oust Democratic Sen. Bill Nelson is expected to be a close race, not to mention a costly one. The latest poll from Real Clear Politics has Scott leading by just 1.7 percentage points.
Bush's visit to Florida is just one of the many appearance the former president will make ahead of the midterm elections.
He is set to appear at an event in Fort Worth, Texas, on Wednesday for Rep. Will Hurd, who is seeking re-election in a district Trump lost in 2016, and will return to Texas next week for two more fundraisers for North Dakota Senate hopeful Kevin Cramer and Texas Rep. Pete Sessions, Politico reported.
Bush will hold two additional fundraisers in October for Senate hopefuls Josh Hawley of Missouri and Mike Braun of Indiana.
The Associated Press contributed to this report.