Former Ohio Rep. Oxley dies of cancer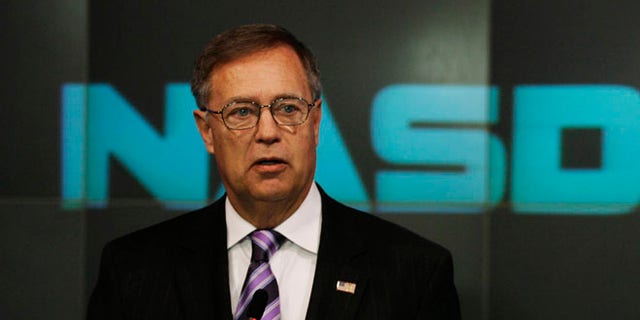 NEWYou can now listen to Fox News articles!
Former Ohio GOP Rep. Mike Oxley, who helped write landmark anti-fraud legislation following a wave of corporate scandals that brought down Enron Corp. and WorldCom Inc., died Friday.
He was 71.
Oxley died in his sleep in McLean, Va., from a type of lung cancer seen in nonsmokers, wife Patricia Oxley said.
He was chairman of the Lung Cancer Alliance board of directors.
"Few things are more difficult than having to say goodbye to a friend," said recently retired House Speaker John Boehner, a fellow Ohio Republican. "Mike Oxley and I were friends for more than 30 years. … He was as skilled as a legislator as he was quick with a smile. He loved to serve, and he loved those he served,"
Oxley left Congress in 2007 after 25 years in the House, where he devoted most of his time to issues involving corporate oversight and insurance protection.
He led an effort to investigate failed energy giant Enron and helped create new accounting requirements in the 2002 Sarbanes-Oxley Act.
The law reshaped corporate oversight after accounting scandals in 2001-2002 at Enron, WorldCom and other major corporations exposed inadequate internal controls and auditors who had become too cozy with the companies whose books they examined. Those corporate scandals and others wiped out retirement accounts, cost investors billions and pushed people out of work.
Small companies later complained that the law Oxley helped to create also brought added costs to comply with requirements for reports on their internal financial controls.
Pro-business conservatives argued that a board established to oversee the accounting industry and the industry's own regulators had violated the separation of powers and challenged the law in court.
The U.S. Supreme Court in 2010 agreed that the law violated the Constitution's separation of powers mandate. But its decision required only a slight change in allowing the removal of members of the oversight board.
In the House, Oxley was chairman of the financial services committee, which has jurisdiction over banking and Wall Street issues.
The Blade newspaper reported in 2003 that after Oxley became chairman, he had raised $920,000 from securities and investment firms, $740,000 from insurance companies, $480,000 from banks and $330,000 from accountants. Oxley said the reports of fundraising influencing policy were ludicrous.
Oxley, a former FBI agent, advocated giving police greater ability to unscramble encrypted computer files. He was the chief House sponsor of legislation requiring operators of commercial websites to restrict young people's access to sexually explicit material.
He was an FBI agent for three years before he was elected to the Ohio House in 1972. He won a special election to the U.S. House in 1981 by 341 votes to fill a vacancy caused by the death of GOP Rep. Tennyson Guyer.
Oxley rarely faced a close election after that, especially since his district in rural northwest Ohio was one of the state's most solidly Republican seats and included his hometown of Findlay.
Following his retirement, Oxley became a lobbyist in the financial sector. He was also a member of the University of Findlay board of trustees and active with Miami University of Ohio, his alma mater.
In addition to his wife, Oxley is survived by a son and a grandson.
The Associated Press contributed to this report.