Former Interior Secretary Ken Salazar Lands Job At International Law Firm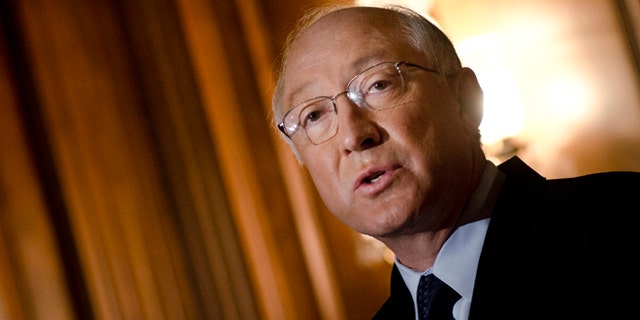 The Mexican-American man who headed the U.S. Interior Department under President Barack Obama's first term is heading back home to Denver.
Ken Salazar landed a job at a white-shoe law firm and will work on cases involving the energy industry he once regulated.
The former U.S. senator and Colorado attorney general will start next week as a partner at WilmerHale, an international law firm that will allow him to remain in his home state. He interviewed with a number of law firms before deciding on WilmerHale.
"This is where the top lawyers are in America, and they share my values and my commitment to social justice," Salazar said in a telephone interview from Washington, D.C.
He'll start work Monday in Denver, where WilmerHale is opening an office.
Salazar said he'll work on environmental, energy and tribal cases, as well as giving clients strategic advice and counseling. He didn't know which clients he would represent yet and didn't directly answer when asked whether he could end up opposing the Obama administration on energy issues.
Salazar said he would strive to be a "peacemaker" on contentious energy issues and credited his policies as interior secretary for helping decrease the country's reliance on imported energy.
As secretary, he tightened oversight of offshore drilling following the BP oil spill in the Gulf of Mexico, pushed for renewable energy such as solar and wind and helped settle a longstanding dispute with American Indians.
WilmerHale worked for BP after the spill, but Salazar told The Denver Post that money made from the company will be segregated and he will not benefit from it.
"I said in 2010 I will put by boot on the neck of BP. ... I am not going to represent BP, and I'm not going to make any money from BP now or ever," he told the newspaper, which first reported his new job.
WilmerHale has had other large corporate clients, such as Citigroup and Proctor & Gamble, but it also is known for its pro bono work, including representing Guantanamo Bay prisoners and assisting South African lawyers who fought apartheid. Lawyers from the firm also served as special counsel to former presidents Richard Nixon, Jimmy Carter and Bill Clinton.
The firm has about 1,000 lawyers in 14 offices in the United States, Europe and Asia. Their practices include securities law and regulatory and intellectual property work in addition to representing clients in trials.
Based on reporting by The Associated Press.
Follow us on twitter.com/foxnewslatino
Like us at facebook.com/foxnewslatino