Former Georgia governor and senator Zell Miller dead at 86, family says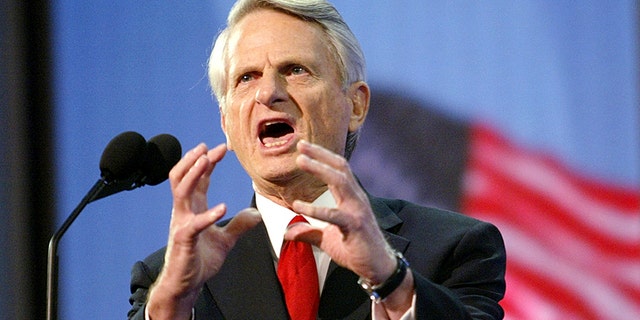 NEWYou can now listen to Fox News articles!
Zell Miller, the former Georgia governor and U.S. senator, has died following a battle with Parkinson's Disease, his family said Friday. He was 86.
A lifelong Southern Democrat, Miller famously famously spoke at the 2004 GOP convention as a Democrat in support of former President George W. Bush's re-election campaign.
A decade earlier, Miller had been the keynote speaker at the 1992 Democratic National Convention, endorsing then Arkansas Democratic Gov. Bill Clinton for president.
"The people of Georgia have lose one of our state's finest public servants," grandson Bryan Miller said in a statement.
He said Miller "passed away peacefully at his home with family by his side."
Miller was the 79th governor of Georgia, serving from 1991 through 1999. He represented the state of Georgia in the U.S. Senate from 2000 to 2005.
Miller's political career began in 1959, when he served as mayor of Young Harris, moving on to become a Georgia state senator from 1961 to 1965. He then served as Georgia's lieutenant governor from 1975 to 1991, making him the longest serving lieutenant governor in Georgia's history.
Later in life, Miller was a Fox News contributor.
As governor, Miller created the Helping Outstanding Pupils Educationally (HOPE) scholarship, and Georgia's voluntary pre-kindergarten program. According to the Miller Institute Foundation, more than 1.8 million students have gone to college in Georgia on HOPE scholarships, and more than 1.6 million four-year olds have begun their education through the pre-K program.
"These were his proudest achievements in his 46-year career in public service," the foundation said in a statement Friday.