Former First Lady Betty Ford Dies at Age 93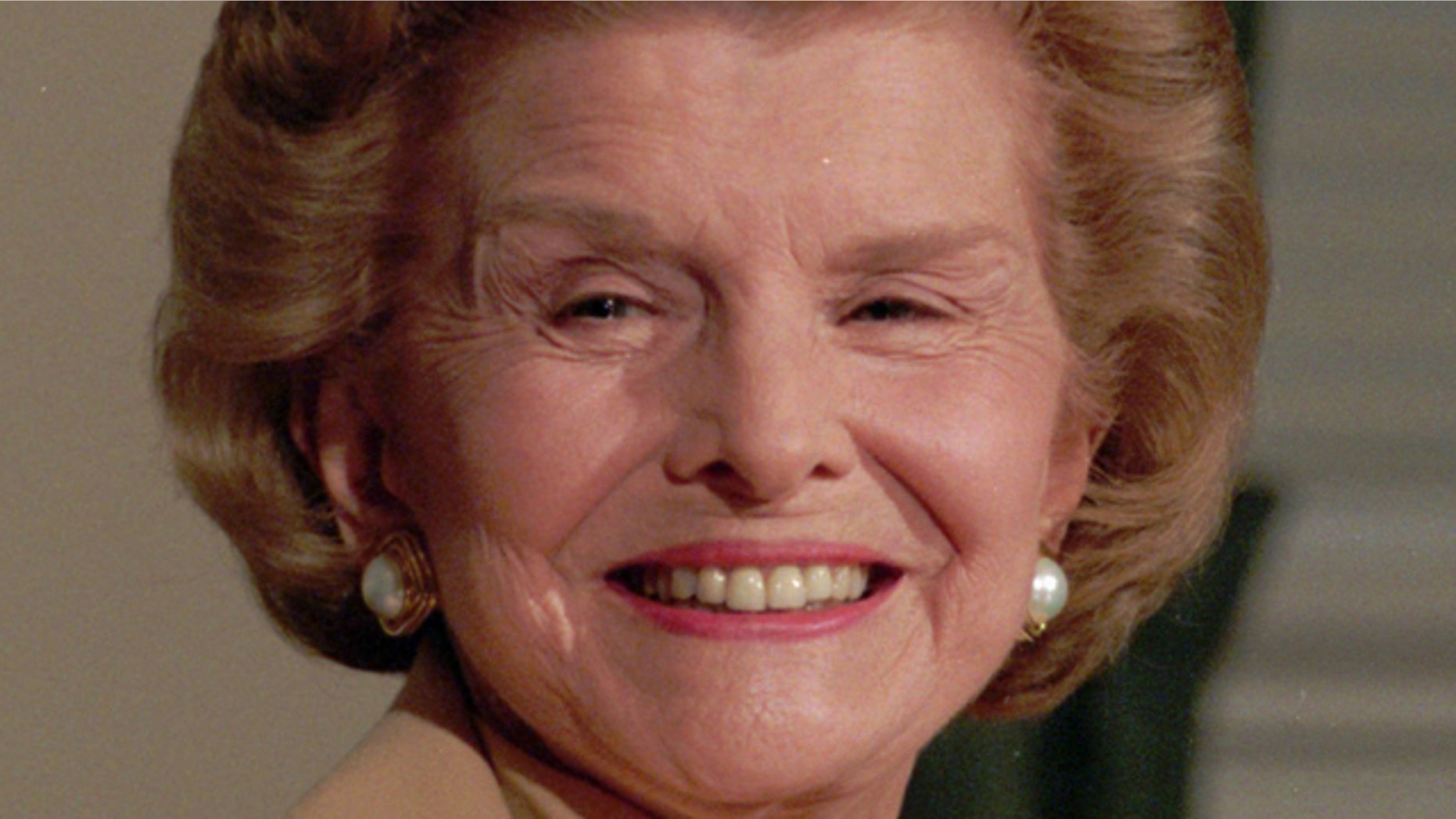 Betty Ford, an outspoken advocate for women's rights whose willingness to reveal her personal problems as first lady endeared her to a nation, has died at age 93, her family said Saturday.
Ford, the wife of former president Gerald Ford, died Friday at the Eisenhower Medical Center in Rancho Mirage, California, her family said.
"Mother's love, candor, devotion, and laugher enriched out lives and the lives of the millions she touched throughout this great nation," the family said in a statement Saturday. "To be in her presence was to know the warmth of a truly great lady.
"Mother's passing leaves a deep void, but it also fills us with immeasurable appreciation for the life we and Dad shared with her."
Ford, who was first lady from 1974 to 1977, said things that first ladies just don't say, even today. And 1970s America loved her for it.
According to Mrs. Ford, her young adult children probably had smoked marijuana -- and if she were their age, she'd try it, too. She told "60 Minutes" she wouldn't be surprised to learn that her youngest, 18-year-old Susan, was in a sexual relationship (an embarrassed Susan issued a denial).
She mused that living together before marriage might be wise, thought women should be drafted into the military if men were, and spoke up unapologetically for abortion rights, taking a position contrary to the president's. "Having babies is a blessing, not a duty," Mrs. Ford said.
Ford's death has drawn an outpouring of sympathy from across the nation.
"Throughout her long and active life, Elizabeth Anne Ford distinguished herself through her courage and compassion," President Obama said in a statement. While her death is a cause for sadness, we know that organizations such as the Betty Ford Center will honor her legacy by giving countless Americans a new lease on life."
"She was a wonderful wife and mother; a great friend; and a courageous First Lady," former President George H.W. Bush said in a statement on Friday. "No one confronted life's struggles with more fortitude or honesty, and as a result, we all learned from the challenges she faced."
"She has been an inspiration to so many through her efforts to educate women about breast cancer and her wonderful work at the Betty Ford Center," fellow former first lady Nancy Reagan said in a statement.
"Betty was a remarkable woman whose legacy will live on in people around the country whose lives are longer and better because of her work," former President Bill Clinton and his wife, Secretary of State Hillary Clinton, said in a statement. "We are grateful for her contributions, and for her kindness to us. We will miss her."
During her time in the White House, Ford was an outspoken advocate of women's rights -- encouraging the appointment of more women to senior government posts, supporting the U.N. International Women's Year in 1975, and supporting passage of the Equal Rights Amendment.
She also won acclaim for her candor, wit and courage as she fought breast cancer, severe arthritis and the twin addictions of drugs and alcohol.
But it was her Betty Ford Center, a desert oasis that rescued celebrities and ordinary people from addiction, that made her famous in her own right. In 1982, Mrs. Ford, together with Ambassador Leonard Firestone, founded the non-profit center at the Eisenhower Medical Center in Rancho Mirage, California. Today, the Betty Ford Center is regarded as one of the top treatment facilities in the world.
She was modest about that accomplishment.
"People who get well often say, `You saved my life,' and `You've turned my life around,"' she recalled. "They don't realize we merely provided the means for them to do it themselves and that's all.
"That's a God-given gift as far as I'm concerned. I don't take any credit for providing anything that wasn't provided to me."
After the former president died Dec. 26, 2006, at age 93, his widow said: "His life was filled with love of God, his family and his country."
As she and their children led the nation in mourning him, Americans were reminded anew of her own contributions, as well as his. It was calculated then that the Betty Ford Center had treated 76,000 people.
"It's hard to imagine a more important figure in the substance abuse field than Mrs. Ford," Rick Rawson, associate director of the integrated substance abuse program at the University of California at Los Angeles, said at the time.
She and her husband had retired to Rancho Mirage after he lost a bruising presidential race to Jimmy Carter in 1976. She went to work on her memoirs, "The Times of My Life," which came out in 1979.
By 1978, she was addicted to alcohol and prescription drugs. She would later describe herself during that period as "this nice, dopey pill-pusher sitting around and nodding."
"As I got sicker," she recalled, "I gradually stopped going to lunch. I wouldn't see friends. I was putting everyone out of my life." Her children recalled her living in a stupor, shuffling around in her bathrobe, refusing meals in favor of a drink.
Her family finally confronted her in April 1978 and insisted she seek treatment. She credited their "intervention" with saving her life.
She entered Long Beach Naval Hospital and underwent a grim detoxification, which became the model for therapy at the Betty Ford Center. She saw her recovery as a second chance at life.
"When you come back from something that was as disagreeable and unsettling as my alcoholism, when you come back to health from that, everything is so much more valuable," she said in her book, "A Glad Awakening."
Her own experience, and that of a businessman friend whom she helped save from alcoholism, were the inspiration for the center, located on the grounds of the Eisenhower Medical Center. She helped raise $3 million, lobbied in the state capital for its approval, and reluctantly agreed to let it be named for her.
Her efforts won her a Presidential Medal of Freedom, the nation's highest civilian honor, from the first President Bush in 1991. In October 1999: Gerald and Betty Ford both were awarded Congressional Gold Medals.
She continued to be outspoken on public issues, pressing for fellow Republicans to be moderate on social questions. She spoke out in favor of gays in the military in a 1993 Washington Post interview, saying they had been serving for many years.
During the Clinton presidency, Mrs. Ford praised first lady Hillary Clinton, saying she had been with her at a meeting on health care and found her "courteous, charming, able, attractive. ... She asks good questions. She picked out one of the most demanding roles she possibly could."
In 2005, she was presented with the Gerald R. Ford Medal of Distinguished Public Service from her husband's foundation, telling the gathering that it was "very, very special." She added in her typical candor: "It's kind of all in the family, and I feel a little guilty about it."
Mrs. Ford's first public appearance after her husband's death was in August 2007, when she attended a ceremony near Rancho Mirage as a postage stamp honoring the late president was issued. She did not speak.
Elizabeth Bloomer was born in Chicago on April 8, 1918, and raised in Grand Rapids, Mich. She was talented in dancing and ultimately studied with the great dancer and choreographer Martha Graham. She also worked as a model to make extra money during the Depression.
An early marriage to a furniture company representative, William Warren, ended in divorce before she met Gerald Ford, a lawyer just out of the Navy. When he proposed in 1948, she said later, she had no idea he planned a political career.
"I really thought I was marrying a lawyer, and we'd be living in Grand Rapids," she recalled. Then he announced his plan to run for Congress and even made a campaign appearance during their honeymoon.
Political life was hard for her. While her husband campaigned or worked late on Capitol Hill, she raised their four children: Michael Gerald, born in 1950; John Gardner, born in 1952; Steven Meigs, born in 1956; and Susan Elizabeth, born in 1957.
The children were in their late teens and early 20s by the time the Fords moved into the White House and only Susan lived there. But they were a close family, gathering at Vail, Colo., for Christmas skiing vacations.
She became an outspoken advocate for the Equal Rights Amendment, favored legal abortion and supported drafting women for the armed services. When asked on "60 Minutes" what she would do if her daughter, Susan, had an affair, she responded, "Well, I wouldn't be surprised. I'd think she was a perfectly normal human being. ... If she wanted to continue, I would certainly counsel and advise her on the subject."
A family spokeswoman says Betty Ford's children and relatives are traveling to California to make funeral arrangements for the former First Lady.
The family expects to organize a service in Palm Springs over the next couple days. Ford's body will be sent to Michigan for burial alongside former President Gerald Ford, who is buried at his namesake library in Grand Rapids.
The Associated Press contributed to this report.