Flynn left Middle East trip off security clearance form, top Dems say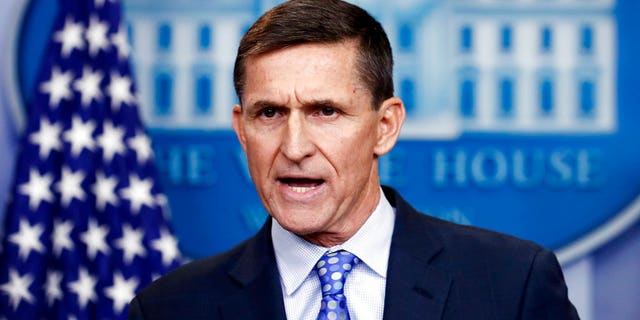 Former Trump administration national security adviser Michael Flynn faced new questions about a 2015 trip he took to the Middle East as part of a private proposal to build nuclear power plants across the region.
Two top Democrats said in a letter released Wednesday that he appeared to have violated federal law by failing to report the trip when he renewed his security clearance last year. The lawmakers — Rep. Elijah Cummings of Maryland and Rep. Eliot Engel of New York — also said documents turned over to their staff suggested that Flynn also failed to report contacts with Israeli and Egyptian government officials.
The information released by the lawmakers was fresh evidence that Flynn didn't fully account for his foreign contacts and business entanglements even though he was liable for possible federal criminal penalties for lying or omitting such information. Security clearance questionnaires specifically ask applicants to report any meetings abroad or contacts with foreign government officials that occurred in the previous seven years. As a former director of the Defense Intelligence Agency, Flynn maintained a security clearance. His last renewal was in early 2016.
Flynn has been dogged by questions about his lack of disclosure of a Turkish lobbying operation and of foreign payments he accepted after leaving the military in 2014. Flynn also was forced to resign his Trump administration post in February after White House officials determined that he had misled them about the nature of diplomatic conversations with Russia's ambassador to the U.S.
Special counsel Robert Mueller is scrutinizing Flynn's foreign interactions as part of his probe into Russia's meddling in the 2016 election and any possible coordination with Trump associates. Earlier this year, that investigation incorporated an ongoing federal probe into Flynn's Turkish lobbying.
On Wednesday, a professional editor who performed contract work for Flynn's now-defunct consulting firm said that he was questioned Tuesday by FBI agents. Editor Hank Cox said the agents' questions centered on the roles played by Flynn and his business partner, Bijan R. Kian, in the development of an op-ed that ran last November under Flynn's name in The Hill, a Washington political newspaper.
The op-ed praised Turkey's president, Recep Tayyip Erdogan, and urged the extradition from the U.S. of Fethullah Gulen, a Muslim cleric whom Erdogan has accused of involvement in last year's aborted military coup in Turkey. The op-ed published on Election Day quickly prompted a Justice Department inquiry that resulted in Flynn acknowledging in March that the work may have aided the interests of Turkey's government.
Flynn's attorney, Robert Kelner, declined to comment on the letter from the Democratic lawmakers. Flynn's legal team has previously said that he'd like to cooperate with Congress but only intended to respond to subpoenas that compel him to do so. Flynn has been turning over documents, mostly related to two of his businesses, to the Senate and House intelligence committees in response to subpoenas, but he has declined to speak with congressional committees without a guarantee of immunity.
Flynn's son, Michael Flynn Jr., also has declined to talk to the Senate intelligence committee, according to a person familiar with the matter. The person spoke on condition of anonymity because negotiations were private.
As members of the minority party, Cummings, the ranking member on the House Oversight and Government Reform Committee, and Engel, the ranking member of the House Foreign Affairs committee, do not have subpoena power. Still, Cummings and Engel asked the companies and Flynn to provide the names and nationalities of any officials he met with during the trip abroad.
Cummings and Engel first raised concerns in June about Flynn's 2015 Mideast trip after Newsweek reported that Flynn had worked with companies angling to persuade foreign governments and companies to join in a plan to build a cluster of 40 nuclear plants in the Mideast for civilian power needs. The lawmakers also seized on a comment Flynn made in congressional testimony in the summer of 2015, in which he said that he had just returned from the Middle East.
In their latest letter, Cummings and Engel write that "it appears that General Flynn violated federal law by omitting this trip and these foreign contacts from his security clearance renewal application in 2016 and concealing them from security clearance investigators who interviewed him as part of the background check process."
Because of the potential for a criminal violation, the two lawmakers say they are providing Mueller with the responses from the companies.
According to the letter and documents released by Cummings and Engel, Flynn's Mideast trip was backed by ACU Strategic Partners, a U.S. firm that sent him to persuade officials to support a plan involving companies from the U.S., Russia, France, the Netherlands, Britain, Ukraine, Israel and several Persian Gulf nations.
Thomas Cochran, an adviser to ACU Strategic Partners, told the lawmakers that Flynn was expected to press Egyptian and other officials to hold off on accepting a rival offer from Russia to finance and construct a smaller system of four reactors in Egypt and two in Jordan. Flynn also traveled to Israel where, Cochran said, he sought to assure Israel that the project would be in its interest.
The proposal has never gotten beyond the planning stage. But in his response, Cochran indicated that there could be support from the Trump administration, particularly in its effort to involve both U.S. and Russian interests.
In a separate response to the congressmen, ACU Managing Director Alex Copson confirmed that ACU paid Flynn's travel expenses and wrote him a $25,000 check for "loss of income and business opportunities resulting from this trip." But Copson told the lawmakers that banks records show Flynn never cashed the check.
Flynn had previously not disclosed his compensation on his government financial disclosure filed earlier this year, but in August, he filed an amended disclosure that listed he had received more than $5,000 from ACU. Flynn also listed that he was a consultant to another company, IronBridge Group, which was connected to the project.
An attorney for retired Rear Adm. Michael Hewitt, the chairman of IronBridge, confirmed to lawmakers that Flynn took the trip, but did not provide details of his foreign contacts.
Thomas Egan, an attorney for ACU, said Tuesday that he had received the lawmakers' letter, but the company had not yet decided whether it would respond. Michael Summersgill, an attorney for IronBridge, did not respond to a telephone message Tuesday seeking comment.