Florida recount efforts underway in multiple races: What to know about the process
With razor-thin margins, multiple pivotal Florida races are being recounted – even though the Republican candidates for Senate and governor already declared victory.
As lawsuits and accusations over voter fraud fly around Florida, read on for a look at everything you need to know about the recount efforts.
What races are being contested in Florida?
Three races are being contested in Florida: U.S Senate, gubernatorial and agriculture commissioner.
Unofficially, former GOP Rep. Ron DeSantis led Tallahassee Mayor Andrew Gillum, a Democrat, by 0.41 percentage points in the gubernatorial race. Gov. Rick Scott, a Republican, held a 0.14 lead over Democratic incumbent Sen. Bill Nelson.
And in the race for agriculture commissioner, Democrat Nikki Fried had a 0.07 percentage point lead over Republican state Rep. Matt Caldwell.
A LOOK AT PAST RECOUNT EFFORTS IN US HISTORY
Although he had initially conceded on Election Night, Gillum ultimately withdrew his concession over the weekend, saying he wants "an uncompromised and unapologetic call that we count every single vote."
The shrinking leads quickly led to suspicions from Republicans that foul play was afoot, particularly in the Democratic strongholds of Broward and Palm Beach counties. Democrats, on the other hand, have accused Republicans of trying to prevent all votes from being counted.
Why are recounts needed?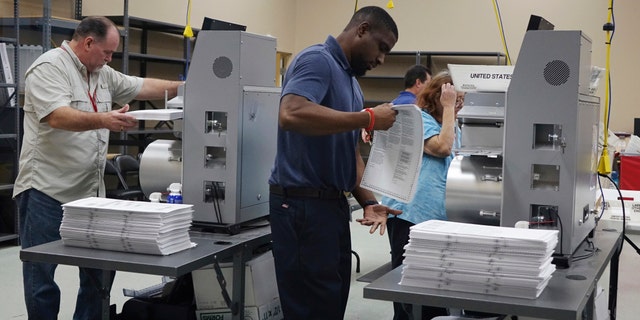 If a margin in a race is less than 0.5 percent, Florida state law requires an automatic recount. Once completed, if differences in any of the races are 0.25 percentage points or less, a hand recount will be needed.
Florida Secretary of State Ken Detzner officially ordered a recount Saturday with a deadline of Thursday afternoon.
Why is the recount so controversial?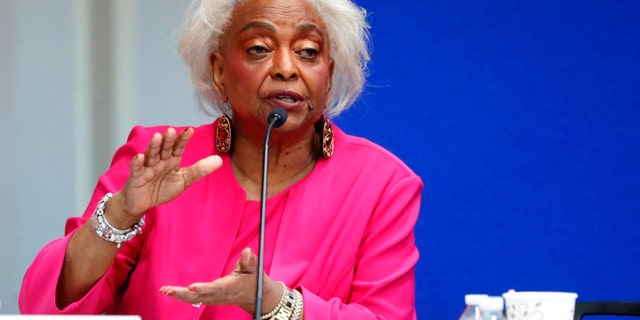 Brenda Snipes, Broward County's supervisor of elections, has long been the target of complaints from Republicans over her office's handling of ballots. The Republican Party has accused her of "incompetence and gross mismanagement," and Scott filed a lawsuit against her, seeking a court order for law enforcement agents to impound all voting machines, tallying devices and ballots "when not in use until such time as any recounts." The suit accused Snipes of repeatedly failing to account for the number of ballots left to be counted and failing to report results regularly as required by law.
Snipes has previously said the voting issues have been "blown out of proportion."
"Broward is nitpicked to the bone. Other places have the same problems, different problems. It's just that they are not spotlighted like we are," she told the Miami Herald in October.
Broward officials faced further scrutiny after acknowledging the county mistakenly counted 22 absentee ballots that had been rejected. The ballots were mixed in with some 205 legal ones, and Snipes said it would be unfair to throw out all the votes.
Meanwhile, in Palm Beach County, the supervisor of elections said she didn't think her department could meet the Thursday deadline to complete the recount, throwing into question what would happen to votes there.
BRENDA SNIPES, BROWARD ELECTIONS OFFICIAL AT CENTER OF BALLOT STORM, HAS HISTORY OF CONTROVERSY
The recount in other major population centers, including Miami-Dade and Pinellas and Hillsborough counties in the Tampa Bay area, has continued without incident.
Is this the same thing that happened in the 2000 presidential election?
Perhaps the most famous recount in U.S. political history was the 2000 presidential election between George W. Bush and Al Gore. After a widely contentious recount in Florida, Bush was ultimately declared the winner, solidifying the presidency for him.
Florida was scorned for how it handled the recount effort, particularly since it didn't have uniform rules on how to do so.
FLORIDA'S SECRETARY OF STATE ORDERS RECOUNTS IN SENATE, GUBERNATORIAL RACES; TRUMP 'WATCHING CLOSELY'
Then, each county had its own voting system. Many used punch cards — voters poked out chads, leaving tiny holes in their ballots representing their candidates. Some voters, however, didn't fully punch out the presidential chad or gave it just a little push. Those hanging and dimpled chads had to be examined by the canvassing boards, a lengthy, tiresome and often subjective process.
Now the state requires all Florida counties to use ballots where voters use a pen to mark their candidate's name, and the process for recounts is clearly spelled out.
Fox News' Adam Shaw and The Associated Press contributed to this report.