Florida prosecutor who failed to convict Zimmerman faces tough re-election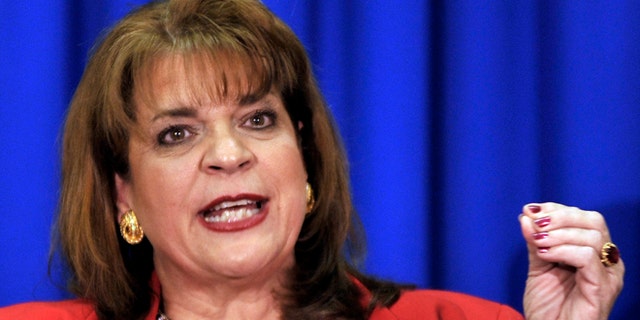 TALLAHASSEE, Fla. (AP) – Angela Corey, the Florida prosecutor who failed to win a second-degree murder conviction against George Zimmerman after he shot Trayvon Martin, could lose her bid for re-election.
Corey, who has gained national attention because of the Zimmerman and several other high-profile cases, is up against two opponents in the Aug. 30 Republican primary for the state attorney's office, which handles three northeast Florida counties. Polls have shown Corey trailing, and the race in recent weeks has taken a brutish turn amid a flurry of negative television ads.
All three GOP candidates squared off this week in a terse hourlong debate in which Corey defended her decision to charge Zimmerman and said the case had become controversial because of too much publicity and news media attention.
"I think the entire problem right now with the criminal justice system, it's become a vicarious spectator sport," Corey said during the Tuesday debate, which was live-streamed by Jacksonville television station WJXT.
Her two opponents have questioned her handling of the Zimmerman case as one reason the veteran 61-year-old prosecutor should leave after serving two terms in office. But Corey has come under fire for other cases, and for the role her campaign played in using a loophole under Florida law to ensure that the election was closed to Democrats and independents.
"Unfortunately over the last eight years the decisions, actions rhetoric and explanations of Angela Corey have eroded our community's confidence in our justice system," said Melissa Nelson, a 44-year-old attorney and former prosecutor who is the lead challenger against Corey.
Corey has won the backing of many establishment leaders in Jacksonville and statewide officials such as Attorney General Pam Bondi. Corey has stressed her lengthy career as a prosecutor and handling of multiple homicide cases as why she deserves re-election. She has railed against Nelson for pursuing a life sentence instead of the death penalty for a Jacksonville man who killed five people — even though Nelson says Corey was her supervisor at the time.
Nelson, meanwhile, has won support from former prosecutors as well as groups including the National Rifle Association, which has criticized Corey for prosecuting people that NRA leaders say were defending themselves. A third former prosecutor, Wes White, is also running and he has gone after both Nelson and Corey. White even asked for an investigation of allegations that Nelson tried to force him out of the race, but a prosecutor from a nearby county looked into it and concluded there was no wrongdoing.
Corey is probably most known nationally for her decision to prosecute Zimmerman, a case she points out she was assigned by Gov. Rick Scott.
Zimmerman was acquitted in 2013 for fatally shooting Martin, a case that drew international attention and spurred national discussions about race and self-defense laws. Zimmerman identifies as Hispanic. Martin was black. During this week's debate, Nelson suggested there wasn't enough evidence to justify the second-degree murder charge, while White said he would have taken it to a grand jury.
But the election is not solely revolving around Corey's handling of the Zimmerman case.
The race also has revived questions about other cases Corey pursued, including that of Marissa Alexander, who initially was convicted and sent to prison for 20 years for firing a gun in 2010 at her estranged husband and his two sons. Alexander contended it was a warning shot and that she fired the gun in self-defense. Her initial conviction was thrown out, but before a second trial could begin she accepted a plea deal that resulted in her leaving jail in 2015.
Corey has also been criticized over her decisions to prosecute juveniles as adults, including a 12-year-old boy who was charged with beating his 2-year-old half-brother to death. Under a deal worked out between prosecutors and the defense, Cristian Fernandez pleaded guilty as an adult to manslaughter and aggravated battery but was placed at a juvenile facility until he turns 19 in January 2018.
On the stage this week Corey was unapologetic: "I will not apologize for being tough on the violent criminals who are preying on this community."