Fidel Castro's Daughter is Loving Life in Anti-Castro Miami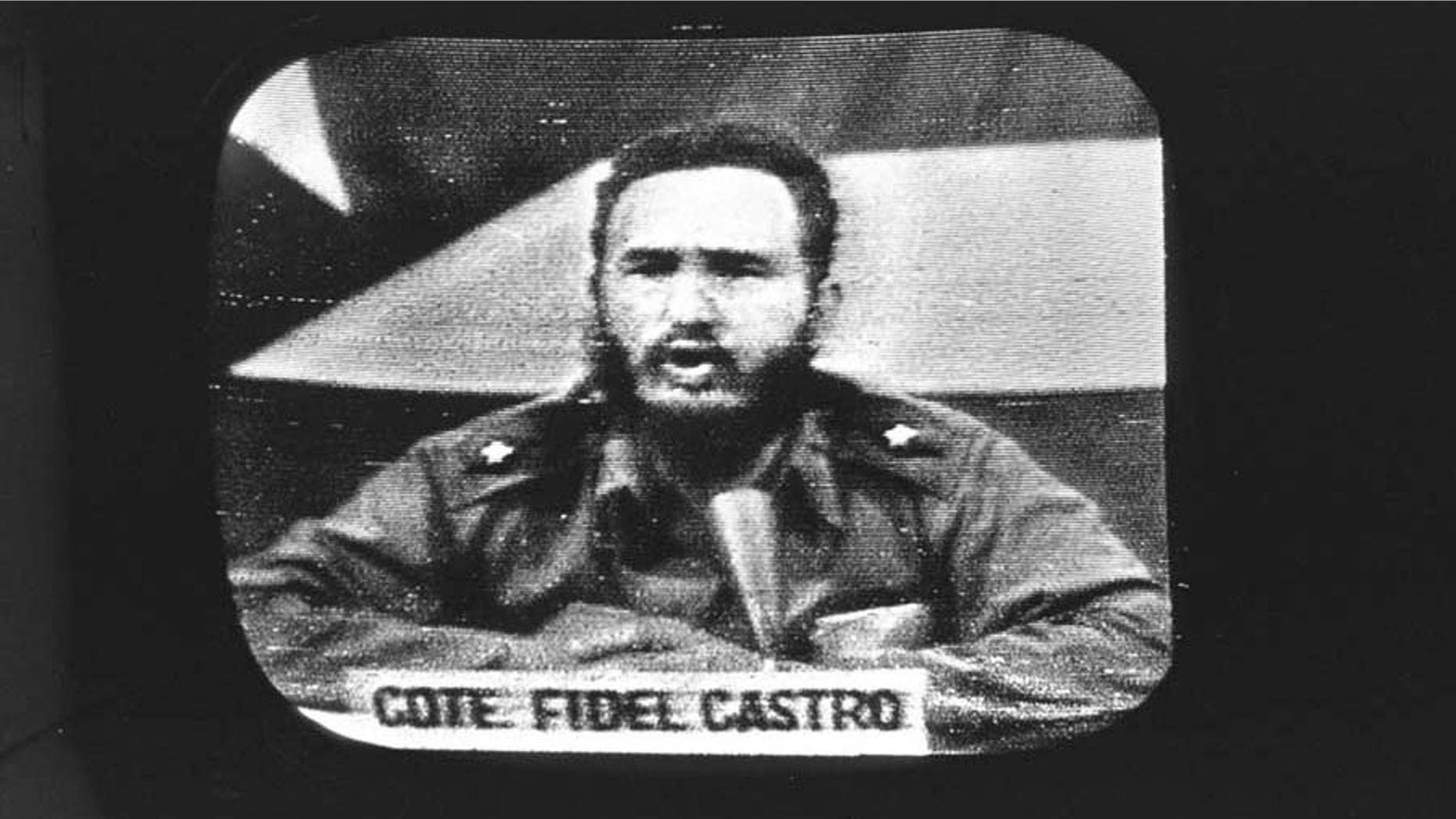 Fidel Castro's daughter is alive and well and still living like just another cubana in Miami.
One might think that the once-celebrated rebel daughter of the most famous rebel in the world – who sneaked out of Cuba in a disguise 17 years ago – would be a cause célèbre in the Cuban exile capital of the world: safe in her gated community, dressed to impress, flanked by an entourage, paparazzi flashing, movie deals in the works, a perfume named after her.
But Alina Fernández-Revuelta is just otra del pueblo.
The petite, single 55-year-old is usually clad in jeans and Nikes – though she might jazz it up with a classic Chanel-like jacket, a pink scarf and some sparkly, playful starfish earrings.
She lives alone in a three-bedroom house just outside of Little Havana that -- like thousands of others across the country -- she almost lost to a mortgage predator's scam.
In addition to her radio and TV gigs, she works part-time doing medical research as a primary cell culture tech at a Miami hospital where most employees don't know her history. She is content, though she acknowledges she will likely not get promoted because her degrees from Cuba are no good to her here.
She drives a blue sedan, works out at a gym almost daily and eats a lot of Lean Cuisine.
But Fernández-Revuelta -- whose life story is being made into a movie based on a screenplay by Oscar-winner Bobby Moresco and Pulitzer Prize-winner Nilo Cruz -- has never felt more at home.
"I had to live in Miami. That was always the intention. Porque es donde estan mis compatriotas (Because it's where my compatriots are)," she said. "But it has been the hardest experience in my life because it's living with the victims of your own family, your own flesh and blood."
Escaping Cuba
She could have stayed in Spain, where she landed after sneaking onto a plane in Havana in 1993 disguised as a Spanish tourist with a fake passport. It was a dramatic defection that captured headlines around the world. But something was missing.
"I would have lived like a queen in Spain," Fernández-Revuelta said, characterizing herself as "still a dissident" in Miami. "But I couldn't have done the work I can do here," she added after a recent airing of her weeknight "Simplemente Alina" variety show on WQBA 1140 AM.
The hour-long program is not another anti-Castro open mic, per se, as are some in the station's lineup. But it is certainly not a pro-Papi program either. The self-described black sheep of the family takes the first 15 minutes to go over headlines and current events and often includes Cuban news of conferences or political meetings, crackdowns on dissidents or political prisoners.
She spices it up with anecdotal asides and Monday-morning quarterbacking of personal recollections, like her father's friendship with Chile's Salvador Allende. But she also has musicians and artists, psychologists, community activists, non-profit organizations and healthcare providers, for example, as guests. That is, when the show is not cancelled to air a Florida Marlins baseball game.
Fernández-Revuelta, who worked in Cuba's fashion industry and joined the dissident movement four years before she fled Cuba, does make anti-Castro and pro-democracy speeches at universities and other institutions on a regular basis.
"It's my duty, maybe part of the obligation I have because of who I am," she said.
Making a Difference
Mauricio Claver-Carone, chairman of the U.S. Cuba Democracy PAC in Washington, D.C., says that is where Fidel's daughter has made the biggest difference.
"The impact she's had has been tremendous in the terms of educating the American public about the reality and injustices of the Cuban regime," Claver-Carone said. "I can't tell you the number of students who come through Washington as interns and who I have some interaction with who will tell me that 'Fidel Castro's daughter was at my school and she really opened my eyes.'"
The message is especially important in middle America, he added, where crackdowns on dissidents and protests are not in the headlines.
"But it's difficult for her because it's still her father," Claver-Carone said. "So it takes more courage to go out there and talk and tell the stories time and again. She could have just disappeared."
For Fernández-Revuelta, another vanishing act is not an option. She says she feels an obligation to speak about the Cuban government's restrictions on individual freedoms and hypocrisies whenever the opportunity arises.
"People often need someone who was there to tell them the truth and make them aware of what is propaganda," she said. "They think in Cuba there is no elite, but my father lives an elitist life.And who can provide that information better than me? I have to do it."
But her first love is the radio show because, she says, she talks with and to the people who have embraced her despite her bloodlines. While she takes pains to live a normal life, strangers still stop her everywhere – at the grocery store, in restaurants, on an elevator – and call her by her first name.
"Oye Alina! You look so good," one older Cuban woman said in a supermarket parking lot, then proceeded to give her a kiss on the cheek and a quick hug. Fernández-Revuelta is tender and sweet to the woman, and later says she is grateful for those kinds of encounters.
Because, she said, there was a time when being Fidel's daughter felt like a fish out of water.
Fish Out of Water
"At first, it was difficult to see myself as one of the Miami Cubans because of what I had inside, this feeling of guilt, because of who I was," she said. "My family caused so much damage to people walking around here every day. And I am acutely aware of that."
"It's taken me several years to get over those guilty feelings," she said. "But it has only been because of the warm, open reception I have received which, to me, shows the huge soul of the Cuban people."
But while she may no longer feel responsible for what she says are her father's sins, and says she will never regret for a moment her decision to flee the island, she still feels somewhat lonely and separated from the rest of the world.
Her daughter – who was 16 when she left Cuba in 1993 without her, eventually left the island after Fernández-Revuelta campaigned for it through the press – recently moved to Boston with a fiancé.
Her Tia Juanita, Fidel's sister, and she are not close. In fact, Juanita Castro sued her, claiming that her published memoir defamed her and her parents, the author's grandparents.
The 1998 book, "Castro's Daughter: An Exile's Memoir of Cuba," is full of graphic details about growing up in Castro's Cuba, such as the replacement of cartoons on Saturday morning TV with executions of political opponents. She says she never speaks on the phone with her mother, Natalia Revuelta – who had an affair with Fidel Castro three years before he took power in 1959 and still lives in Cuba.
Jaime Suchlicki, who founded and directs the University of Miami's Institute for Cuban and Cuban American Studies, said Fernández-Revuelta does not have a more prominent exile profile because of two reasons.
"Your importance in the exile community is usually in proportion to how much information you can provide about the inner workings of the government," Suchlicki said. "Alina had some limited information because she admits she was not the closest with her father, and she has told it all already."
"And, remember, she is still Fidel Castro's daughter."
Elaine de Valle is a freelance writer based in Miami.
Follow us on twitter.com/foxnewslatino
Like us at facebook.com/foxnewslatino