Federal Judge Rules Missouri's Funeral Protest Ban Unconstitutional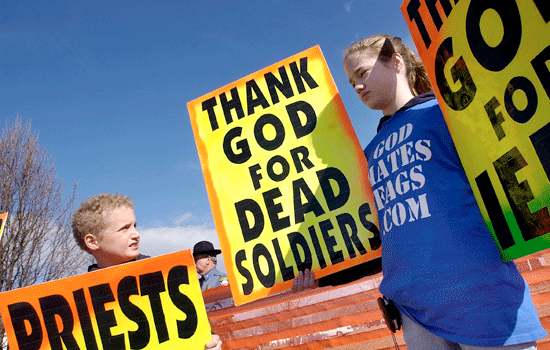 JEFFERSON CITY, Mo. -- A federal judge Monday ruled that Missouri laws restricting protests near funerals are unconstitutional.
Missouri legislators passed two laws in 2006 in response to protests at servicemembers' funerals by members of Westboro Baptist Church of Topeka, Kan. The church contends the deaths are God's punishment for the U.S. tolerating homosexuality.
U.S. District Judge Fernando Gaitan ruled the laws violate the right of free speech guaranteed by the U.S. Constitution.
The primary state law had barred protests near any funeral, procession or memorial service from an hour before until an hour after the service. The secondary measure specifically stated protesters must stay back at least 300 feet. Both provisions levied the same penalty: up to six months in jail and a $500 fine for a first offense and up to one year in jail and a $1,000 fine for repeat offenders.
Gaitan concluded Missouri officials did not demonstrate the protest restrictions served a significant government interest nor that they had been narrowly tailored to prevent the harm of interruptions of funeral services. The judge wrote he was sympathetic to the argument people attending a funeral deserve some protection but noted a federal appeals court already had previously rejected that argument.
The ruling came in a lawsuit filed by the American Civil Liberties Union on behalf of Westboro church member Shirley Phelps-Roper. Last year, Missouri officials were barred from enforcing the protest restrictions while the lawsuit was pending. Missouri Attorney General Koster appealed that decision but the U.S. Supreme Court refused without comment to consider the case.
Koster also plans to appeal Gaitan's latest ruling, said spokeswoman Nanci Gonder.
Gonder said Gaitan's hands were tied by a federal appeals court ruling that there was no compelling government interest in protecting people from unwanted speech outside their homes. She said the attorney general's office would ask the appeals court to "reconsider the abhorrent acts" church members "routinely inflict upon our servicemen and women."
ACLU attorney Tony Rothert said Monday that Missouri's restrictions created too large a zone in public areas where speech was restricted and made even non-disruptive speech illegal.
"Just not liking speech isn't enough reason," Rothert said.
Rothert added that the ban was aimed at the Kansas church but could have affected others. For example, he said it could have made it illegal to picket anywhere a funeral procession happened to drive past.
Numerous states have passed laws restricting protests at funerals; Phelps-Roper also challenged a similar law in Ohio. Missouri's law was sponsored by two St. Joseph lawmakers after Westboro members protested outside the 2005 funeral of a soldier from their legislative districts. State lawmakers said they approved two laws so there was a fallback in case one was challenged in court.
Missouri's ban was named after Edward Lee Myers, whose funeral was protested after he was killed in Iraq. Senate President Pro Tem Charlie Shields, who sponsored one of the funeral protest laws, said in a statement that the protest infringed on the rights of Myers' family and friends.
"Those laid to rest will no longer have the right to be mourned and remembered in an environment of peace, respect and compassion," said Shields, R-St. Joseph. "This ruling is a tragedy to those who die in service while protecting the rights we enjoy here at home."
According to court documents, members of the Kansas church say they have held more than 42,000 pickets, including more than 500 at funerals.
The U.S. Supreme Court this fall was to consider an appeal by the father of a Marine killed in Iraq to reinstate a $5 million verdict against protesters from the church who picketed outside his son's funeral in Maryland. A Baltimore jury awarded damages for emotional distress and invasion of privacy but a federal appeals court threw out the verdict.