'Fat Man' or 'Bean Pole' in 2012? Debate Rages Over the Right Weight for a President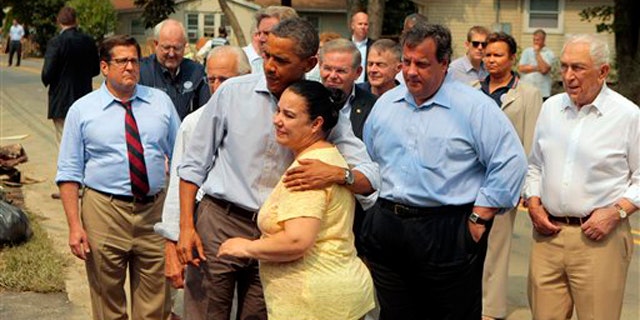 So could a "fat man" beat the "big-eared bean pole in the White House?"
Depends on whom you ask.
Marc Lamont Hill, a Democratic pundit and Columbia professor, says New Jersey Gov. Chris Christie is "too fat" to be president, repeating a claim he made in 2010.
But conservative firebrand Ann Coulter says Christie would be "very appealing if he were to run for president after four years of this big-eared bean pole in the White House destroying the economy."
"I think the fat man will be very attractive," she told Sean Hannity Tuesday on his radio show.
Asked why she refers to Christie as the fat man, Coulter replied that it is said with affection.
"I like his look," she said, adding that he's slimmed down.
But Hill says Christie isn't slim enough.
"People don't want a fat president," he told the local Fox affiliate in Philadelphia on Wednesday. "People don't want an unattractive and unusually unattractive president."
Hill explained that his view is supported by data.
"My point is his weight is a natural issue. Polls, studies show people don't like that," Hill reportedly said. "I am not saying it's fair, I am saying that's the truth."
According to the Center for Disease Control, in 2010, 34.2 percent of American adults were overweight, 33.8 percent were obese and 5.7 percent were extremely obese. Obesity is measured by the Body Mass Index, expressed as weight in kilograms divided by height in meters squared (kg/m2), lists a ratio of 25 as the maximum healthy weight. Overweight people have a BMI of 25–29.9 while obesity is greater than or equal to a BMI of 30 and extreme obesity is a BMI greater than or equal to 40.
Based on the president's reported weight of 179.9 pounds and height as 6'1", his BMI would calculate to 23.7 on the BMI.
Christie has not said how much he weighs, but has frequently acknowledged his struggle to slim down. When taunted in televisions ads during his successful race against former Gov. Jon Corzine, he responded, "Man up and say I'm fat."
He once joked that he weighed 550 pounds before going on a weight loss plan last summer.
William Howard Taft, who was president from 1909-1913 -- before television and America's obesity epidemic -- reportedly was the largest U.S. president, tipping the scale at 335 pounds when he left office. According to the BMI scale, at 5'11", which Taft was, 287 pounds is considered extremely obese.
As for a 2012 race, Christie has repeatedly stated over the last few months that he's not running for president, going as far as to offer suicide to prove he's serious. But speculation that he's considering jumping in reached a fever pitch last week after Texas Gov. Rick Perry, the GOP frontrunner, stumbled in his third debate appearance, delivering a performance that was widely panned.
Christie, who is being courted by several Republicans to enter the race, delivered a speech at the Reagan Presidential Library Tuesday night in which he gave a scathing critique of President Obama and heaped praise on the 40th president. Asked whether he was reconsidering getting into the race, he didn't directly rule it out. Instead, he told the audience to check out a video montage on Politico of his numerous and colorful rejections.
Liberal filmmaker Michael Moore, who knows a thing or two about obesity, was asked by Joy Behar on her show whether he thinks the country will tolerate a "fat president."
"Yes, because most of America looks like me," he told her. "I mean, the majority of Americans are overweight, two thirds."