'Fake' Sick Notes Given to Wisconsin Protesters Amid Anti-Union Bill Faceoff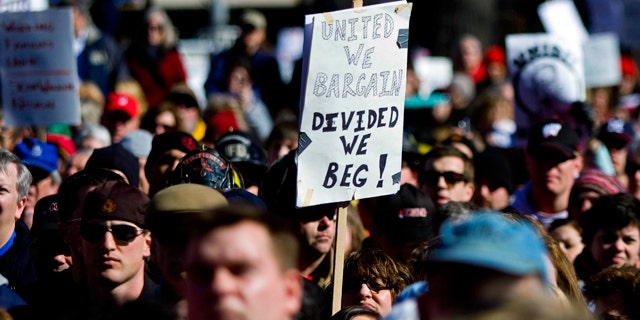 As thousands of protesters on both sides of an epic budget standoff in Wisconsin faced off Saturday at the Capitol, alleged doctors were handing out 'fake' sick notes to protesters -- allowing them to call in sick while the budget impasse continues.
Protesters told Fox News they obtained the notes from alleged doctors standing on street corners handing them out to whomever asked. The protesters said doctors did not examine or inquire about their current health condition before passing the notes out.
One note obtained by Fox News asked for the recipient's full name, birth date and estimated dates that they would be missing work. A request for identification to receive the document appeared only optional.
On the note, the doctor's name linked back to the University of Wisconsin Family Medical Program, although the doctor was only one of many distributing the paperwork.
Throughout Saturday on the east side of the capitol, supporters of Gov. Scott Walker were surrounded by a much larger group of pro-labor demonstrators who since Tuesday have filled the capitol with chanting, drum-beats and anti-Walker slogans. Walker has proposed requiring government workers to contribute more to their health care and pension costs and largely eliminating their collective bargaining rights. He insisted there was no room for compromise.
Pro-labor groups chanted, "Kill the bill," while supporters of Walker shouted back, "Pass the bill." Police separated both sides.
Saturday's line-up included a rally organized by Tea Party Patriots, the movement's largest umbrella group, and Americans for Prosperity. Supporters carried signs with a fresh set of messages: "Your Gravy Train Is Over . . . Welcome to the Recession" and "Sorry, we're late Scott. We work for a living."
"We did have an election and Scott Walker won," said Deborah Arndt, 53, of Sheboygan Falls. "I think our governor will stand strong. I have faith in him."
Arndt and the other conservative backers of Walker had their faith rewarded shortly before the start of the noon rally, when Senate Majority Leader Scott Fitzgerald reaffirmed that Republicans -- who took control of both the state Senate and Assembly in November -- have the votes needed pass the measure.
"The bill is not negotiable," Fitzgerald said inside a heavily guarded Senate parlor at the Capitol. "The bill will pass as is."
Fitzgerald said the Senate is ready to act on the so-called "budget repair" bill just as up as soon as 14 Senate Democrats who fled the state on Thursday and remain in hiding return to the Statehouse. The missing Democrats have threatened to stay away for weeks unless Walker agrees to negotiate.
As many as 70,000 people were expected to attend the dueling rallies Saturday in the wake of a budget showdown that has captured national attention and paralyzed the state.
As many as 40,000 people, including teachers, students, firefighters and prison guards, swarmed the Capitol on Friday, raising the noise in its rotunda to earsplitting levels.
The crowds have been loud but peaceful. Police reported just nine citations for minor offenses as of Friday. Schools throughout the state have closed this week after teachers called in sick, including in the state's largest district, in Milwaukee.
No stranger to political unrest, Madison has seen activists take to the streets to protest the Vietnam war, support civil rights and oppose cuts in social services. Riots ensued 15 years ago when police clamped down on an annual block party that began as an anti-war protest in 1969.
Some say this week's rallies are unmatched in their sustained, impassioned energy -- bolstered by Senate Democrats who fled the state to delay action on Walker's proposal and threatened to stay in hiding for weeks if calls for negotiation go unheeded. State troopers were sent to retrieve the Democratic minority leader from his home Friday, but their knocks went unanswered.
"That's jaw-dropping. This is uncharted," said Mordecai Lee, a UW-Milwaukee political scientist and former state lawmaker who said he's been reminded this week of when motorcycle riders' protest of a helmet law in the late 1970s persuaded legislators to overturn the measure.
Democrats who stayed in Madison on Friday scored their own victory, forcing the state Assembly to adjourn until at least Tuesday without taking a vote on Walker's bill. Republicans, however, have more than enough votes to pass the measure once the Legislature can convene.
Tea Party activists angry with the Democratic senators who fled the state are exploring the possibility of recalling at least two of them.
Northwoods Patriots leader Kim Simac, of Eagle River, says the Tea Party group will meet Sunday to discuss recalling Sen. Jim Holperin after they return from Madison where they planned to rally at the Capitol Saturday.
Simac, a small business owner, says "it's embarrassing for the state of Wisconsin" that half of the Senate has "gone AWOL." Tea Party member Dan Hunt says a similar effort is under way in Kenosha where an exploratory committee will consider recalling Sen. Robert Wirch.
The Capital Times says a recall effort would require the exploratory committees to collect 15,000 to 20,000 petition signatures.
Sarah Palin weighed in with a Friday night posting on her Facebook page that urged "union brothers and sisters" not to ask taxpayers to support "unsustainable benefits packages."
"Real solidarity means everyone being willing to sacrifice and carry our share of the burden," Palin said in her post, which did not indicate whether she would join conservatives in Madison this weekend.
The Associated Press contributed to this report.