Fake documents tried to lob sexual harassment claims against Chuck Schumer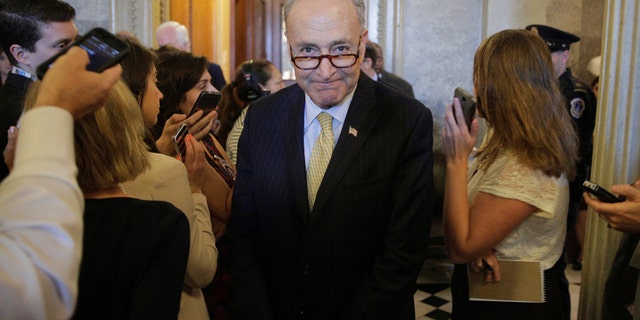 Senate Minority Leader Chuck Schumer, D-N.Y., has handed over fake documents which try to smear him with a concocted sexual harassment scandal to U.S. Capitol Police, Fox News has confirmed.
The documents about allegations toward the highest-ranking Democrat in the Senate were shopped around to multiple news organizations Tuesday.
"The document is a forged document and every allegation is false. We have turned it over to the Capitol Police and asked them to investigate and pursue criminal charges because it is clear the law has been broken," Schumer's spokesman, Matt House, told Fox News. "We believe the individual responsible for forging the document should be prosecuted to the fullest extent of the law to prevent other malicious actors from doing the same."
The incident follows many allegations of sexual misconduct this year, known as the "Me Too" movement in which "silence breakers" brought down rich and famous men of media, politics and the entertainment worlds.
Minnesota Democratic Sen. Al Franken last week resigned from the U.S. Senate following a wave of sexual misconduct allegations against him that ranged from groping to forcibly trying to kiss women.
The 88-year-old Rep. John Conyers retired last week amid allegations by about a half-dozen women who once worked for him that they were harassed and touched inappropriately. The Michigan Democrat has denied the allegations. Conyers, who was facing a House Ethics Committee investigation over claims by former staffers, cited health reasons for his resignation. Conyers first was elected in 1964.
Late last week, Arizona Republican Rep. Trent Franks abruptly resigned, saying he had discussed surrogacy with two female staffers. A former aide told The Associated Press he pressed her to carry his child and offered her $5 million to be a surrogate.
Fox News' Chad Pergram and The Associated Press contributed to this report.