Ex-Aide's Lawsuit Claims Rep. Jackson Lee Mocked, Disregarded Her Disability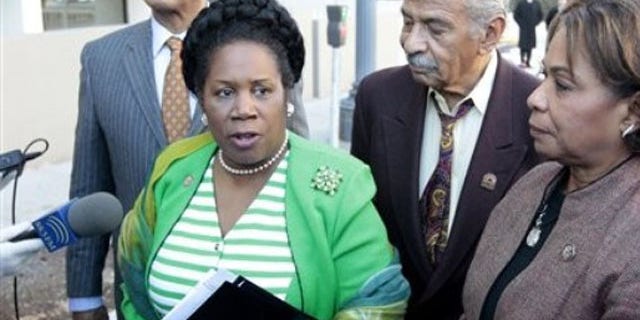 NEWYou can now listen to Fox News articles!
Rep. Sheila Jackson Lee's former legislative director is suing the Democratic congresswoman, claiming she made "humiliating" comments about her vision disability while refusing to do anything to accommodate her.
At one point, the lawsuit claims, the congresswoman told her: "I don't care anything about your disability."
The lawsuit, filed last month in District of Columbia federal court, seeks unspecified damages in the form of "back and front pay," as well as punitive damages. Former aide Mona Floyd claims Jackson Lee's treatment of her amounted to "unlawful discrimination" and contributed to her resignation last fall.
The suit states that Floyd suffers from "monocular vision," causing eye fatigue and reducing reading speed -- symptoms that worsen without adequate rest during the day.
Floyd claims that after she came to work for Jackson Lee as legislative director and chief counsel in early 2010, the congresswoman did not follow through on a pledge from her office to "accommodate her disability."
She specifically claimed the congresswoman piled her with reading assignments, often forcing her to work from 7 a.m. to 11 p.m. without breaks to get it all done. Floyd claimed she was rebuffed when she asked for more time to rest her eyes. In April 2010, the suit claims, Jackson Lee told her, "It should not take 10 years to get them done," in reference to a reading assignment.
The suit went on to question Jackson Lee's legislative efforts on behalf of disabled Americans, saying her treatment of Floyd showed she "only paid lip service to that constituency."
Asked for comment, Jackson Lee's office did not respond directly to the allegations in the suit.
"The office of U.S. Representative Jackson Lee considers internal personnel matters confidential and will not comment publicly on the allegations at this time, except to say that the office fully embraces and fully practices equal employment opportunities for all," Chief of Staff Glenn Rushing said in a statement.
Floyd first came to work under Jackson Lee in 2006, when she was a Congressional Black Caucus Foundation fellow assigned to her office. She later became an aide to Jackson Lee until late 2007, when she left to work for a nonprofit. She came back to work for the congresswoman in February 2010.
The suit did not describe any run-ins with Jackson Lee during her time as an aide in 2006 and 2007.