Ethics complaint on Russia hacking claim hangs over Dem Sen. Nelson in re-election fight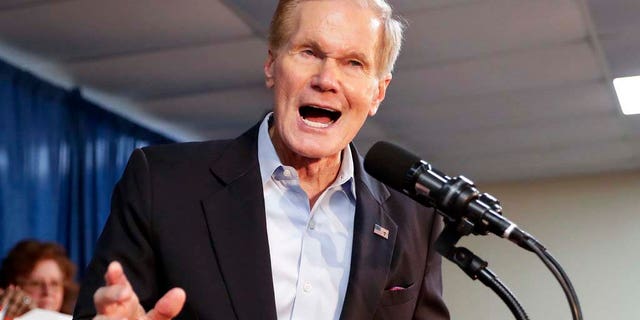 One of the country's tightest Senate races has been injected with intrigue as the Democratic incumbent, Florida Sen. Bill Nelson, faces an ethics complaint stemming from his mysterious warning that Russia had breached the state's election infrastructure.
At a campaign event in August, Nelson—tied in a recent Quinnipiac University poll with Florida Republican Gov. Rick Scott—said he warned county election supervisors that "Russians are inside our records," and hackers "already penetrated certain counties in the state."
The senator later told the Tampa Bay Times, "Russians are in the records, and all they have to do, if those election records are not protected, is to go in and start eliminating registered voters."
Nelson faced swift Republican skepticism over the claim and a blunt denial from top federal agencies. The Department of Homeland Security and FBI said there is no evidence to back up the claim.
But the questions hang over the race going into the general election, and whether Nelson was telling the truth or not, he could have a problem.
FULL MIDTERM COVERAGE AND RACE RATINGS
"We have two options. One, the senator disclosed classified information," Kendra Arnold, executive director of the Foundation for Accountability and Civic Trust (FACT), told Fox News. "On the other hand, it's a lie, it's an ethical violation to make up information and then say you know because it's classified. If you are a senator, you have an air of authority, and using that authority to promote this type of lie and dishonesty would be an ethics violation."
Arnold's conservative government watchdog group filed a complaint in late August regarding Nelson's claim with the Senate Select Committee on Ethics.
Deborah Sue Mayer, chief counsel and staff director for the Senate Ethics Committee, did not immediately respond to a phone inquiry from Fox News about the complaint against Nelson.
It remains unclear whether Nelson's original statement was grounded in classified intelligence or not.
The Washington Post Fact Checker column gave Nelson "Four Pinocchios," asserting, "Not a single speck of evidence backs him up, and we have serious doubts whether the classified information he cited even exists."
However, NBC News reported three sources said Nelson got the information from the Senate Intelligence Committee, and it pertained to a 2016 hack into Florida-based elections vendor VR Systems. The NBC story went on to say, "The sources say Nelson was not supposed to speak publicly about the matter, and he erred by suggesting that the information was new."
Disclosing classified information, if that's the case, would violate federal law, in addition to being a Senate ethics violation.
Being dishonest in the course of a campaign or official duties, Arnold said, would fall under Senate Resolution 338 that states the ethics committee is authorized to investigate "improper conduct which may reflect upon the Senate."
Arnold said it would be improper conduct for a senator to use his position to spread a falsehood to the public about a highly important issue, such as Russian election meddling.
"There should be a wall between your role as a senator and political actions," Arnold said. "If he is making false statements just for political purposes, it is important for voters to know whether this was a breach of classified information or if he just lied to the public."
Fox News made multiple efforts last week and this week to seek comment from Nelson's Senate office. Reached by phone, Nelson spokeswoman Jackie McGuinness said Tuesday she would attempt to get a comment. The Nelson re-election campaign did not respond to phone and email inquiries for this story.
Nelson previously said in response to criticisms: "It would be foolish to think that the Russians are not continuing to do what they did in Florida in 2016. It is unfortunate that some Florida officials are trying to use this for partisan purposes."
Special Counsel Robert Mueller has secured indictments against Russian intelligence officials, including those who allegedly conspired to hack into state elections systems in 2016 .
Nelson is the top Democrat on the Senate Armed Services Subcommittee on Cybersecurity. In July, he and Sen. Marco Rubio, a Florida Republican and member of the Senate Intelligence Committee, sent a letter to Florida Secretary of State Ken Detzner urging him to seek assistance from the Department of Homeland Security, reminding him Russia targeted the election infrastructure in 2016.
However, Nelson's claim Russians already had access to Florida voter lists in 2018 went well beyond the comments in his letter with Rubio. This prompted Detzner, a Republican, to seek clarity from the DHS, FBI and Congress.
In a letter to Florida election officials late last month, Homeland Security Secretary Kirstjen Nielsen and FBI Director Christopher Wray said Russian spies "have previously demonstrated both the intent and capability to conduct malicious cyber operations," but said there is no current evidence of meddling in November election. The letter added, "DHS and the FBI will continue to notify any victim of a successful cyber intrusion into their election network in any jurisdiction nationwide."
After this letter, Scott called Nelson either "deeply confused or very dishonest."
"It is irresponsible and reckless that Bill Nelson would attempt to undermine the voters' confidence in their county elections systems by making confusing statements while campaigning and then walking away with absolutely no explanation," the governor and Senate candidate said in a statement issued by his campaign. "Even worse, he's done so with no evidence, potentially revealing classified information, and with a constantly shifting explanation for his bizarre remarks."
Fred Lucas is the White House correspondent for the Daily Signal.