Edwards' wife spent final days tormented by wounded heart, confidant testifies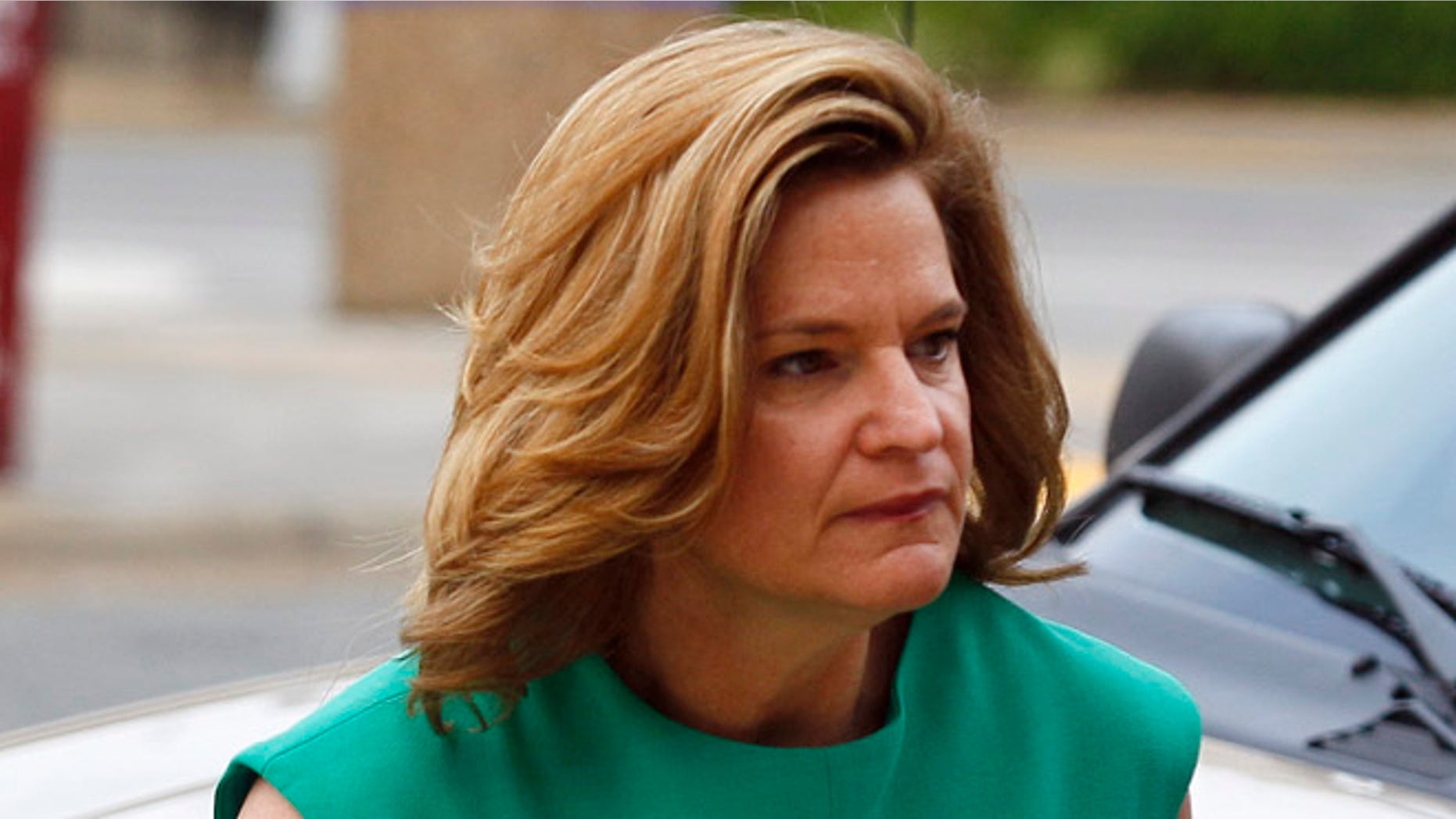 Crying openly in court, a former campaign spokeswoman for John Edwards delivered emotional testimony about the former presidential candidate's late wife, suggesting that she died with emotional wounds left by her cheating husband.
Jennifer Palmieri, who remained close friends with Elizabeth Edwards until her death from breast cancer in December 2010, said she cut off communications with John Edwards after he ignored multiple appeals to tell the truth about his affair with campaign videographer Rielle Hunter.
"I believe that John was continuing to lie, that he was trying to drag me into that," Palmieri said. "And I just didn't want to be a part of it."
Palmieri sobbed during cross-examination by the defense, as she recalled a conversation with Elizabeth Edwards in the final days of her life.
"She expressed to me concern that when she and John decided to separate, she was concerned that when she died, there would not be a man around that loved her," Palmieri said.
Palmieri said she promised to be there for Edwards, but her dying friend continued to hold on to her feeling of loss.
Edwards is accused of using campaign donors to pay for the cover-up of his affair with Hunter during his failed bid for the Democratic presidential nomination in 2008. He has pleaded not guilty to six counts related to campaign-finance violations and faces up to 30 years in prison and $1.5 million in fines if convicted on all counts.
During Palmieri's testimony, Edwards buried his head in his hands. His daughter, Cate Upham, who who has attended most of the trial and was present during the morning's session, was not in the courtroom at the time.
Palmieri, who now works for President Obma as deputy communications director, was asked by defense lawyers about a 2007 confrontation at an Iowa Hotel in which Elizabeth Edwards questioned two wealthy supporters, Fred and Lisa Blue Baron, on why they had flown Hunter on private jets and taken her shopping.
"Her mindset to me was she didn't think that John was going to get the nomination and she just wanted to get out of the campaign… keep these details private and keep her family intact," Palmieri said.
The defense is trying to portray the botched cover-up of Edwards' affair as an attempt to protect his family, not his political aspirations.
The prosecution said it will wrap up its case Thursday. Hunter is not listed among the prosecution's final witnesses. Although the defense could call her to testify later in the trial.
Palmieri testified that Hunter was considered by Edwards' inner circle to be a "loose cannon," as she explained a confrontation between the former presidential candidate's wife and donors who financially supported his lover.
"Lisa (Baron) was saying that you've got to hold your friends close and your enemies closer," Palmieri recalled. "Rielle was a loose cannon and we just didn't know what she would say to the press."
Palmieri's testimony proved to be a mixed blessing for prosecutors when they asked her about their key witness, former campaign aide Andrew Young.
"He seemed insincere to me, might sort of exaggerate his experiences," she said.
Another witness, former speechwriter Wendy Button, testified that Edwards was aware of Fred Baron's financial and logistical support for his pregnant mistress while she was in hiding.
"He said that he had known all along that Baron was taking care of things," Button said.
However, she said Edwards did not acknowledge assistance from another donor, Rachel "Bunny" Mellon, until long after his 2008 presidential campaign.
"He only used the phrase he had 'just learned' about Bunny Mellon," Button said.
During cross-examination, Edwards' lawyers asked Button whether she had ever participated in any of the discussions concerning logistics of hiding her former boss's affair.
"I didn't have any role in any of these events that took place that led to this moment," she said.
Prosecutors plan to wrap up their witness testimony by Thursday. It remains unclear whether they plan to call Hunter to the stand.
"If the prosecution feels its case is made, she is a question mark for them and they probably would not want to call her," said Steven Friedland, a law professor at Elon University. "On the other hand, they know that she'll be called by the defense. And if (prosecutors) do not call her, the jury may think they're covering something up."