Economic Indicators Pose Challenge to Obama Sales Pitch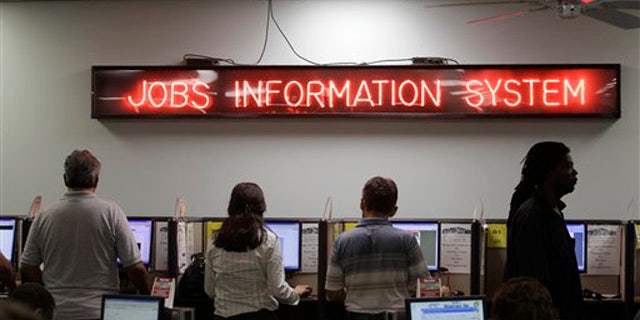 President Obama wants voters to focus on the good and block out the bad as he and his economic team try to build confidence in their ability to jolt the economy out of neutral.
Though the movement is hard to see, the Obama administration is trying to draw attention to select indicators that suggest the economy is improving. The president and Treasury Secretary Timothy Geithner, who met behind closed doors Thursday, stressed this week that the private sector is now consistently adding jobs -- a marked turnaround from the nearly 600,000 jobs the economy was losing each month before Obama took office.
"The economy is now growing. And for eight consecutive months, we've added jobs," Obama said in an interview aired Thursday.
But the pace is modest, which the administration acknowledges, and the jobless rate ticked up last month as more workers entered the labor force and were unable to snag openings. A number of other indicators suggest the economy is a long way from the kind of recovery Americans can see and feel. As the president prepares to explain his latest raft of economic proposals during a press conference Friday, the administration and members of Congress up for election in two months are struggling to square their assessments with bleak vital signs.
In the real estate and auto markets, recent figures have underscored how fragile the economy is without the temporary boost from federal government incentive programs.
U.S. auto sales for August were the worst since 1983, down 5 percent from July and 21 percent from a year ago when the government's Cash for Clunkers program offered sellers rebates for their trade-ins.
Home sales have also dropped off since a hefty tax credit expired at the end of April -- though pending sales for previously owned homes rose in July.
Republicans are drawing attention to persistently high unemployment and relatively weak economic growth in arguing that Democrats' economic policies are not getting the job done.
"The White House continues to blindly throw darts at the board and hope for a bull's-eye," House Minority Whip Eric Cantor, R-Va., said in a written statement. "That is not the kind of economic leadership required to overcome the serious challenges facing our country."
Republicans on the House Budget Committee have warned that the country could be on the verge of its own "lost decade," with looming health care regulations and potential tax increases spooking employers.
The jobless rate has stayed above 9 percent for 16 consecutive months. The Commerce Department recently revised its GDP estimate showing the economy grew at just 1.6 percent in the second quarter, growth Republicans have called "anemic" compared with the kind of economic surge that typically follows a recession.
On top of that, the trade deficit is running about 32 percent higher than last year, though U.S. manufacturing strength helped draw down that deficit in July, according to new figures.
With so many statistics to choose from, the economy becomes somewhat of a Rorschach test for lawmakers. But even the White House acknowledges that it's hard to come away with a positive impression. In an interview with ABC News, Obama said "we're not going to do well" if the midterm election is viewed as a referendum on economic performance.
The president hit the road this week to make the argument that while many Americans are unhappy with that performance, a Republican-led Congress would make things even worse.
"Are we going to go back to the type of ideas and the type of policies and the type of actions that led us into this mess, or are we going to take steps to continue to strengthen and grow our economy and add jobs?" White House Press Secretary Robert Gibbs said Thursday.
The president over the past week has proposed $180 billion worth of spending and tax relief meant to spur economic movement. That includes a $50 billion infrastructure investment, as well as a permanent extension of the research and development tax credit and a big tax break for businesses' capital investments.
Though Democrats have taken heat over the disputed impact of their $814 billion stimulus bill, Democratic Pennsylvania Gov. Ed Rendell said the infrastructure component of it was the most successful, and he expressed hope that Americans would take note of that part of the economic recovery.
"People can see the bridges being repaired, the roads being re-paved, new projects going, water systems being strengthened and repaired," he told Fox News. "If they see their neighbors underemployed that's one thing. But if they open their eyes they'll see all these projects. In Pennsylvania, I get complaints from people that there is too much construction going around."