'Dreamers' Pushing Immigration Reform Stalk Speaker Boehner, Target Him At Home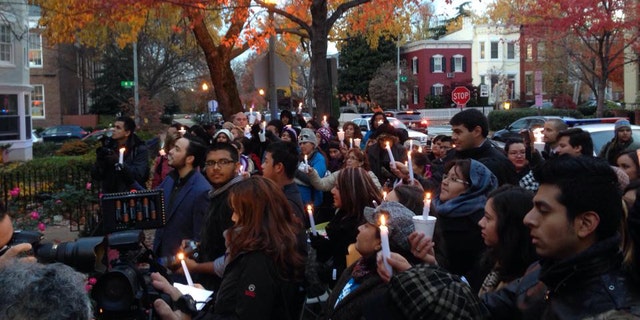 About 200 immigrant rights advocates went to House Speaker John Boehner's home in the capital on Wednesday morning to press for immigration reform.
The immigrants, who have been participating in a fast since Nov. 12 on the National Mall for changes in immigration laws, held a vigil to, in their words, press Boehner to move the reform effort forward in the House, where it has stalled.
The website ThinkProgress.org reported that a neighbor of Boehner, who was said to be inside his home at the time, and was seen at one point looking at the crowd through a window, told the protesters to leave. In all they stayed approximately one hour.
They refused, reportedly telling the neighbor that many families have been separated because flawed immigration laws have resulted in millions of deportations.
"We want to highlight that every day [Boehner] waits, another 1,100 people are getting deported," David Chung, another undocumented activist, said, according to the website. "We knew that he could hear us, we had speakers … we want to schedule a meeting about what we want done on our end … Every day we live this. It's a personal fight and we can't give up. It's a fight as long as our family members and friends need us. There's still nine days — nine chances for Congress to act."
United We Dream, an organization that pushes for more flexible immigration laws, was a key organizer of the vigil.
The vigil by the immigrants, who included a large number of Dreamers, according to press reports, was the latest in a series of increasingly provocative moves by activists that have included holding sit-ins in congressional offices and cornering members of Congress in restaurants and events at which they are featured speakers.
In recent days, two teenage Dreamers – the name given to undocumented immigrants who were brought illegally to the United States as minors – surprised Boehner while he had breakfast alone at the counter of a Washington D.C. eatery and said it was important that he get behind immigration reform.
Later that same day, however, Boehner said that comprehensive immigration reform would not come up for a vote in the House for the remainder of this year.
On Wednesday, almost a dozen Dreamers went to protest at the office of House Majority Leader Eric Cantor, a Republican from Virginia.
Earlier in the fall, United We Dream leaders say they would escalate their activism for immigration reform.
"Dreamers and our parents are escalating because we won't stop until we end the pain in our communities," said Cristina Jimenez, Managing Director of United We Dream.
"Our families have suffered so much already. Politicians in Congress and President Obama can't afford to ignore the issue of immigration or let this pain in our communities continue," Jimenez said. "The House GOP must act this year to pass legislation that stops ripping families apart and creates a direct path to citizenship that gives us the chance to fully contribute and be protected from deportation."
Follow us on twitter.com/foxnewslatino
Like us at facebook.com/foxnewslatino