Donald Trump Jr. attended meeting to get info on Clinton: Who was involved?
All it took was a Russian pop star and his publicist to reignite questions about whether President Donald Trump's campaign colluded with the Kremlin to win the White House.
Donald Trump Jr., the president's oldest son, met with a Russian lawyer in June 2016 who supposedly had damaging information about Hillary Clinton, Trump's political opponent at the time.
Trump Jr. said that he met with the lawyer as he thought she had "political opposition research" about Clinton.
According to emails published by Trump Jr. about the meeting, that intelligence included "some official documents and information that would incriminate Hillary and her dealings with Russia."
The information is "part of Russia and its government's support for Mr. Trump," according to the emails.
Here are the key players involved with that controversial meeting.
The president's son
Trump Jr., 39, does not have a position in his father's administration. However, he did serve as a top advisor to Trump's presidential campaign.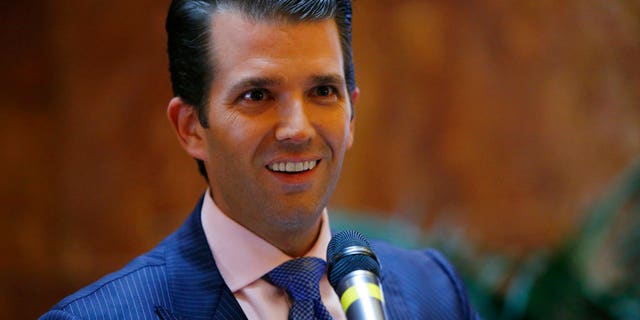 DONALD TRUMP JR. RELEASES 'ENTIRE EMAIL CHAIN' REGARDING RUSSIAN MEETING
Trump Jr. is the president's oldest son who eventually rose to the position of executive vice president of the Trump Organization after spending some time bartending and hunting in Colorado. Trump Jr. also appeared as a boardroom advisor on his father's former reality show "The Apprentice."
After Trump won the election, he left his business empire in a trust to be controlled by Trump Jr., his brother Eric and "other executives."
Now, Trump Jr. oversees the commercial licensing and most of the international business aspects of the Trump Organization, according to a March New York Times profile.
Married to Vanessa Haydon since 2005, Trump Jr. has five children.
The pop star
Through the Miss Universe pageant – which Trump used to own – the Trumps met father and son duo, Aras and Emin Agalarov. Aras is a Russian developer, and Emin is a Russian pop star.
The pageant was held in Moscow in 2013, and during that trip, Trump spent time with Emin, appearing in a music video with him and several contestants in the pageant.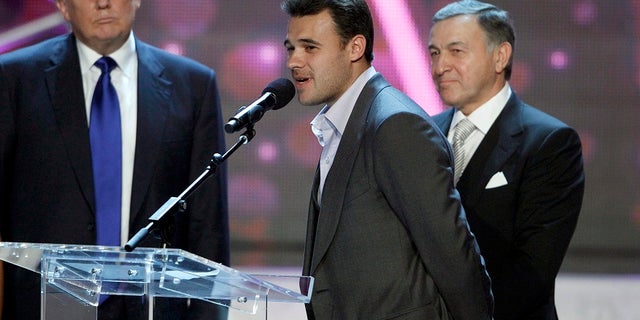 DONALD TRUMP JR.'S MEETING WITH RUSSIAN LAWYER: WHAT TO KNOW
Emin, 37, asked for Trump Jr. to meet with a lawyer in June 2016, according to emails published by the president's son.
"Emin and his father have a very highly respected company in Moscow," Trump Jr. said in a statement. "The information they suggested they had about Hillary Clinton I thought was Political Opposition Research."
As a singer, Emin is a "household name in Russia where he's sold in excess of 1 million albums and regularly sells out shows to tens of thousands of fans," according to a biography on his website.
"Emin is positioned to do what no Russian male singer has ever done before – find crossover success in Western Europe and the U.S.," his website boasts.
But aside from music, Emin – who was born in Azerbaijan – is involved with the family business, the Crocus Group, where he is the first vice president. The Crocus Group bills itself as "one of the leading development companies in Russia."
He posted an Instagram photo of himself Tuesday evening with the caption "finally sunshine" in English and "what news" in Russian.
RUSSIAN LAWYER WHO MET WITH DONALD TRUMP JR. DENIES KREMLIN CONNECTIONS
Aras, 61, had hoped to partner with Trump on a hotel project in Moscow and tried to set up a meeting between Trump and Putin during the Miss Universe contest. He also reportedly paid Trump between $14 and $20 million to hold the pageant in Moscow.
Aras is often referred to as the "Donald Trump of Russia," according to the Atlantic.
The publicist
Rob Goldstone, a British music publicist, facilitated the meeting between Trump Jr. and a Russian lawyer who was supposed to share the information on Clinton.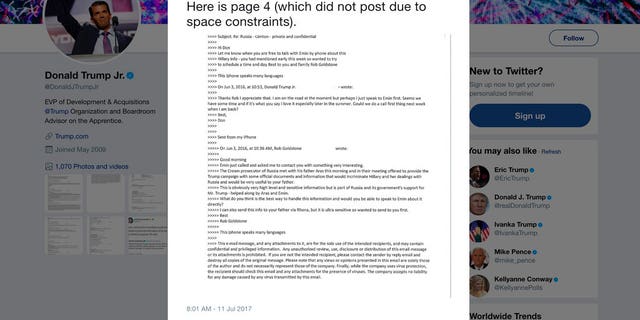 "The Crown prosecutor of Russia met with his father Aras this morning and in their meeting offered to provide the Trump campaign with some official documents and information that would incriminate Hillary [Clinton] and her dealings with Russia and would be very useful to your father," a man identified as Goldstone said in an email published by Trump Jr.
"This is obviously very high level and sensitive information but is part of Russia and its government's support for Mr. Trump – helped along by Aras and Emin," he added.
Goldstone is also a former tabloid journalist, according to his biography on the website for his public relations firm, Oui 2.
He accompanied former pop artist Michael Jackson to Australia for a tour in 1999 and represented "almost every major international artist touring Australia," including Cyndi Lauper, Julio Iglesias, James Taylor, U2, BB King and Tracy Chapman, according to his website.
DONALD TRUMP JR. EXPLAINS MEETING WITH RUSSIAN LAWYER
The Guardian reported that Goldstone posted dozens of Instagram photos detailing his trips to Russia and called Moscow his second home. His Instagram account is now set to private.
Goldstone also supported Trump's presidential campaign and wore a "Make America Great Again" hat in a photo, according to The Guardian.
The lawyer
It was Natalia Veselnitskaya who was supposed to have the damning information about Clinton.
But instead, Trump Jr. said, she only wanted to talk about a Russian adoption program and the Magnitsky Act, a bill passed in 2012 that allows the U.S. to impose sanctions on Russians for human rights violations.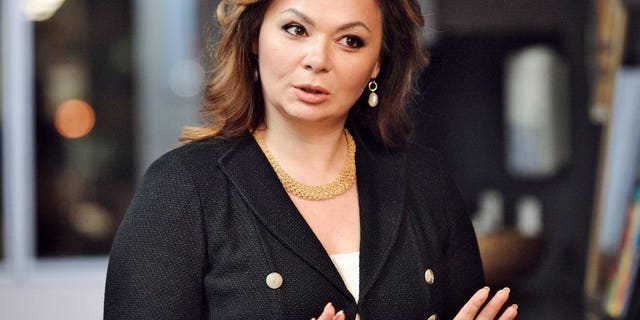 In the emails published by Trump Jr., Veselnitskaya was referred to as the "Russian government attorney." But Trump Jr. has maintained that she "was not a government official."
Veselnitskaya has advocated for the repeal of the Magnitsky Act and has worked closely with one of her clients, Denis Katsyv, on the issue. Katsyv is the son of a senior Russian government official, Pyotr Katsyv, and the owner of a real estate company, according to the Washington Post.
Katsyv has advocated overturning the ban on Russian adoptions, which can only be overturned if the Magnitsky Act is repealed, according to the Post.
Veselnitskaya has denied giving Trump Jr. any information about Clinton.
The others
Trump son-in-law Jared Kushner and then-campaign chairman Paul Manafort were also in attendance at the meeting.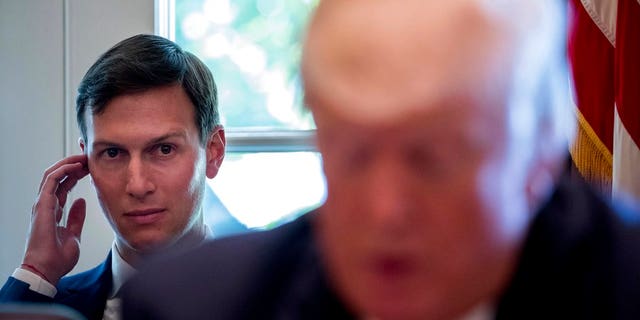 Manafort, 68, is under investigation by multiple agencies regarding his business dealings in Ukraine. He also reportedly contacted Russian officials multiple times during the presidential campaign.
He registered with the Justice Department as a foreign agent in June.
Kushner is also under an investigation by the special counsel appointed to look into Russia's involvement in the election. Investigators are interested in meetings Kushner had with Russian officials in December 2016.
Kushner, 36, is married to Trump's daughter, Ivanka. He serves as a senior advisor to the president and has been tasked with brokering peace in the Middle East.