Dissident Blogger Yoani Sanchez Returns To Cuba After Months-Long World Tour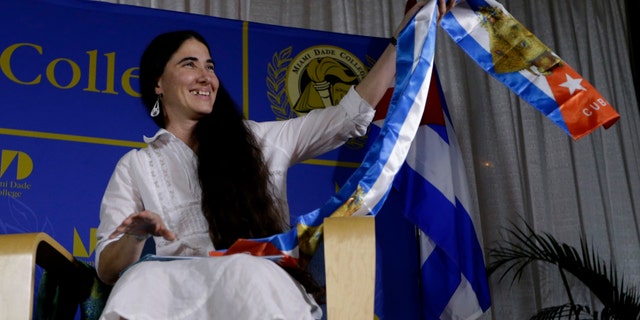 She denounced the Communist regime of her homeland, she called Raul Castro's new relaxed travel rules a sham, and described the oppression that plagues her island.
Now, after speaking her mind for months around the world, Cuban blogger Yoani Sanchez was heading home Thursday, completing a tour that has turned her into the most internationally recognizable face in the island's small dissident community.
Sanchez tweeted a photo of herself at the airport in Madrid, lugging a small blue suitcase emblazoned with the logo of her Generation Y blog. Her husband said she was booked on a Havana-bound plane scheduled to arrive in the evening.
"Ready to leave for Cuba," she tweeted, accompanied by a smiley-face emoticon matching her own expression in the picture.
Sanchez has been away since Feb. 17, when she took advantage of a new travel reform law ending a longtime requirement that all Cubans obtain official permission to travel abroad. Under the old rules, government critics who are officially branded as traitorous "counterrevolutionaries" were routinely denied such exit visas.
In the last three months Sanchez has traveled to more than a dozen countries in Europe and the Americas and given speeches criticizing President Raul Castro's Communist-led government. She has met with human rights activists and foreign lawmakers and cultivated relationships with journalists at leading Western newspapers.
In the process she picked up more than 100,000 Twitter followers to top the half-million mark.
A number of other dissidents have also tested authorities' patience by traveling abroad and bashing their government in public forums, and some have reported various levels of harassment upon their return.
Eliecer Avila said he was taken aside at the airport and subjected to an exhaustive search in which agents scrutinized every last item in his luggage and confiscated 26 books.
"They pulled me out of the line and had me in there for four hours and 15 minutes," Avila said. "They took pictures of everything."
Analysts have said Sanchez's rising international fame likely insulates her physically from arrest and some forms of harassment. Sanchez has told people close to her she expects to be the target of more propaganda attacks by the government and its allies, but less detention.
Based on reporting by The Associated Press.
Follow us on twitter.com/foxnewslatino
Like us at facebook.com/foxnewslatino