DHS to review use of private immigrant detention centers, Jeh Johnson says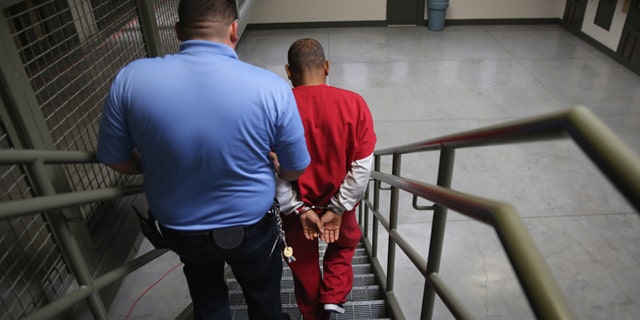 The Department of Homeland Security could curtail the use of controversial privately-run detention centers to hold people detained entering the country illegally, DHS Secretary Jeh Johnson said on Monday, a move that would reflect the Department of Justice's recent announcement to phase out housing federal prisoners in for-profit prisons.
"On Friday, I directed our Homeland Security Advisory Council, chaired by Judge William Webster, to evaluate whether the immigration detention operations conducted by Immigration and Customs Enforcement should move in the same direction," Johnson said in a statement.
The Council will have until Nov. 30 to determine what to do about private detention centers. Webster, 94, formerly headed the FBI under Jimmy Carter and the CIA under Ronald Reagan.
"Specifically, I have asked that Judge Webster establish a subcommittee of the Council to review our current policy and practices concerning the use of private immigration detention and evaluate whether this practice should be eliminated," Johnson said. "I asked that the subcommittee consider all factors concerning ICE's detention policy and practice, including fiscal considerations."
While the Council will be tasked with leading the review while the decision ultimately will come down to Johnson and the director of U.S. Immigration and Customs Enforcement, or ICE.
Private detention centers for immigrants have been controversial among immigration rights activists for a long time, just as private prisons have become a flashpoint of anger among a wider community of rights advocates. Before Monday, however, there had been little talk of shutting down immigration detention centers in any but the most pro-immigration sectors of the country.
The Obama administration decision to reduce and eventually eliminate reliance on privately-owned prisons followed a DOJ audit that noted that such prisons tend to have more safety and security problems than facilities operated by the government.
That decision, however, so far does not affect the use of private prison companies like Corrections Corporation of America (CCA) or the GEO Group – the two largest such firms – to house migrants, many of whom who are detained because of civil immigration violations.
Some 34,000 immigrants are being held in privately-run facilities pending deportation or resolution of their case.
The National Hispanic Leadership Agenda (NHLA), a coalition of 40 Latino rights groups from across the nation, sent a letter to President Barack Obama asking him to expand the phasing out of private prisons to people held under the custody of the Department of Homeland Security and ICE.
"These companies turn a profit by allowing deplorable and inhumane conditions to overtake their facilities," wrote Hector Sanchez, NHLA chair and executive director of the Labor Council for Latin American Advancement. "The same is true at privately-operated immigration detention facilities. We urge the Obama Administration to extend its decision to include them."