DHS Secretary Johnson gives no clear answers on whether illegal immigrant children will be deported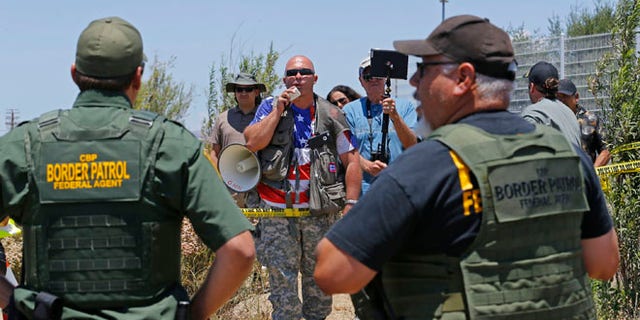 NEWYou can now listen to Fox News articles!
Homeland Security Secretary Jeh Johnson dodged pointed questions Sunday about whether the tens of thousands of Central American children who have recently entered the U.S. illegally will be deported or allowed to stay.
His responses on NBC's "Meet the Press" and those of other Obama administration officials about what exactly they will do about the estimated 50,000 children who have entered the U.S. illegally in recent months are being characterized as ambiguous, as officials try to secure the U.S.-Mexico border.
Johnson said everybody who crossed the border faces a "pending" deportation proceeding but also repeated recent administration talking points about looking at ways to "create additional options."
"There's deportation proceeding pending against everybody coming illegally across the border," he said, while also repeating the administration's argument about dealing with a 2008 law that gives some protection to illegal immigrants from non-bordering countries.
Johnson also dismissed questions about not having enough resources at the border and expressed optimism the U.S. will stop the flow of illegals into the country, estimated in the hundreds of thousands since spring.
"Our border is not open for illegal immigration," he told NBC. "And we will stem the tide."
He also suggested that America's first obligation is to the incoming children, over sovereignty.
"We have to do right by the children," Johnson said.
His remarks were sharply criticized by Idaho GOP Rep. Raul Labrador, who called the administration's public response to the crisis "shameful."
"The administration needs to deport these families and children," said Labrador, who appeared on the show after Johnson. "I know it sounds harsh and difficult, but it's better for the children. Send these children back in a humanitarian way. We can do it safely and efficiently."
He also dismissed the narrative that the children are being sent unaccompanied to the U.S. border as a result of violence in their own countries.
"The violence has existed for a long time," Labrador said. "It's over the last two years that you've seen an increase in the children."
While some of the children are living with relatives in this country, others remain in the custody of the U.S. Border Patrol and the Department of Health and Human Services.
Johnson declined to say whether Obama will visit the border while in Texas this week.
"The president can't be every place he'd like to be or should be," he said. Johnson also said he didn't think the protests in Murrieta, Calif., about illegal immigrants being bussed from Texas to be housed in their city was representative of how fellow residents and the rest of America feel.
On Thursday, White House Press Secretary Josh Earnest was asked by a reporter whether he could say "without ambiguity" if the children will be deported.
"What I can say without ambiguity is that the law will be applied and there is going to be a due process that they'll all be subjected to," Earnest replied. "So I wouldn't stand here and say how those claims will be processed; it wouldn't be appropriate for me to do so. But the law will be rigorously applied."
He also said the administration is seeking "additional authority" from Congress.