Despite Uphill Climb, Reid Is Poised to Muscle Health Care Through Senate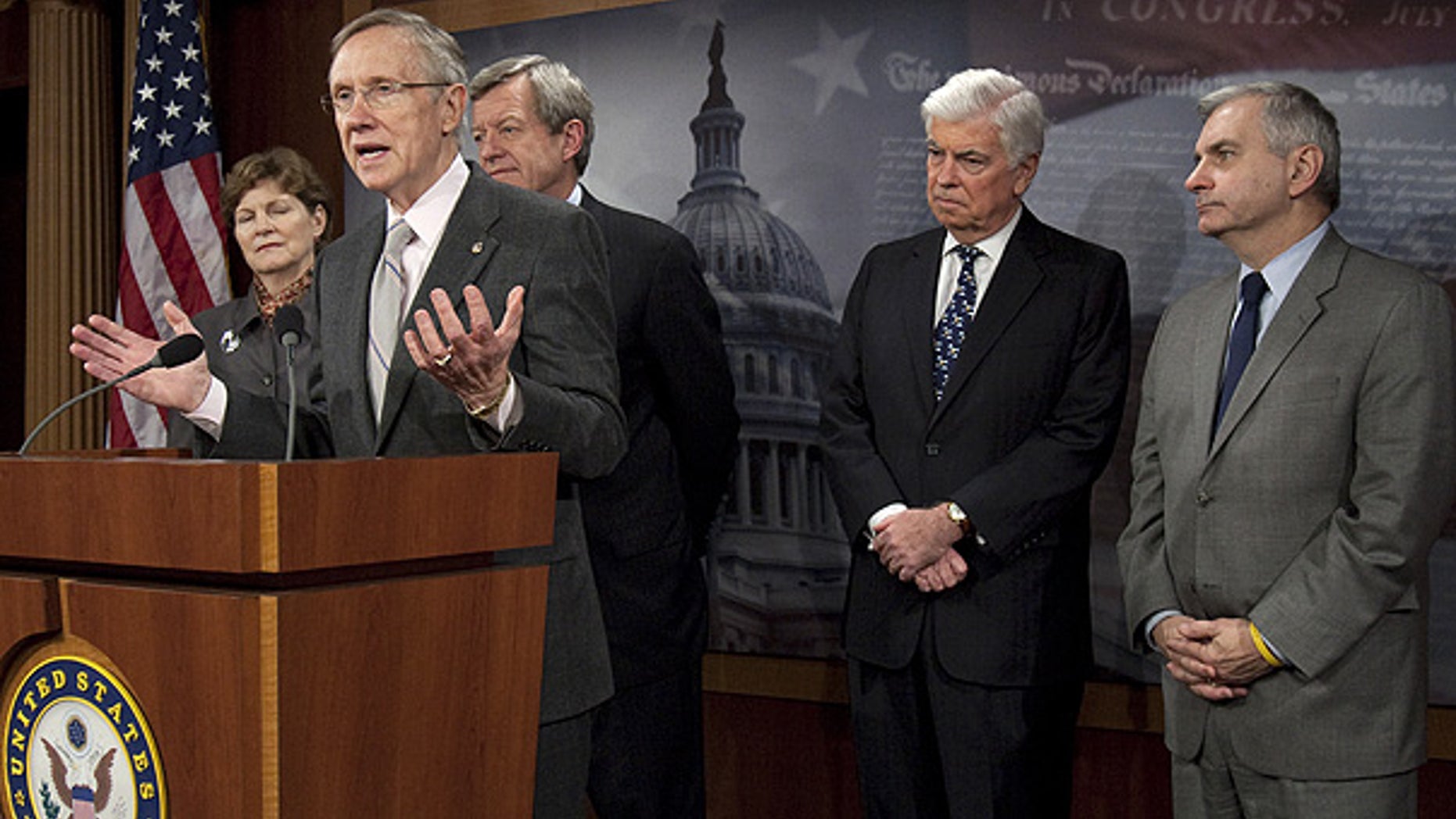 Under pressure from the White House, Majority Leader Harry Reid says he plans to bring a health care reform package to the floor of the Senate next week, and his goal is to see it passed by the end of the year.
But he faces an uphill climb in getting the required 60 votes necessary to start debate.
First, Reid is awaiting final word from the Congressional Budget Office on costs and coverage implications of the still-secret bill he submitted more than two weeks ago.
The Nevada senator advanced the House health care bill, which narrowly passed 220-215 on Saturday, to the Senate legislative calendar next week, allowing him to move the procedure along in the absence of an actual Senate bill. The move also permits him to have the Senate bill, once it has a price tag, to skip the committee process and go straight to debate.
But three Democrats -- Sens. Ben Nelson of Nebraska, Blanche Lincoln of Arkansas and Mary Landrieu of Louisiana --  and independent Sen. Joe Lieberman of Connecticut have told Reid they want the legislative text of the bill and a final CBO score available online for 72 hours before beginning a debate.
If Reid gets 60 votes, Republicans will require that 30 hours be expended after the cloture vote before the official debate can begin, possibly extending the process into next weekend.
Reid is scrambling to advance the health care bill out of Senate as fast as possible to meet President Obama's stated goal of signing legislation this year. But that deadline is looking increasingly improbable because the Senate, if it can pass a bill, and the House would still have to reconcile their versions before a final bill can be sent to the president -- a process certain to generate contentious negotiations.
House Majority Leader Steny Hoyer announced Wednesday that the House could be in session Dec. 21 and 22 in an effort to move the legislation across the finish line.
"As action on health insurance reform legislation moves to the Senate, the House is updating its schedule for November and December to reflect that, and to ensure there is time to complete our work on other important issues," he said in a written statement.
Separately, an abortion dispute that sharply divided House Democrats and nearly scuttled their version of health care legislation is already exposing fault lines among Senate Democrats.
Nelson told Fox News that he would not vote for a health care bill unless it contains the same restrictions on federal funding for abortions that were inserted into the House bill and nearly caused a revolt among Democratic supporters of abortion rights.
But Sen. Kirsten Gillibrand, D-N.Y., argued that the restrictions -- which would prohibit women who receive federal subsidies from getting insurance coverage for abortion, even if they used their own money -- went too far.
On Wednesday, leaders of the Congressional Pro-Cause sent Obama a letter signed by 90 lawmakers, asking for a meeting next week on abortion restrictions included in the House health care bill.
Democratic leaders say they are still confident that they can overcome the obstacles. When asked if it's possible to get a bill out of the Senate by Christmas, a senior Senate Democratic leadership aide told Fox News, "We can get a bill done and into conference by mid-December."
Fox News' Trish Turner contributed to this report.