Dems set Trump trap? Source says FISA rebuttal memo loaded with sensitive details
The Democratic rebuttal to a highly publicized GOP memo alleging government surveillance abuse is filled with sensitive details, a source told Fox News – claiming this was done intentionally to pressure the White House to either block the memo's release or significantly redact it.
The claim comes after the House Intelligence Committee voted Monday to approve the release of the Democratic document.
"We think this will help inform the public of the many distortions and inaccuracies in the majority memo," California Rep. Adam Schiff, the top Democrat on the panel, told reporters.
The vote was unanimous, he said.
The White House will now review the memo before deciding on possible redactions or objections, as it did with the Republican memo that ultimately was released in full last Friday.
"The White House has received a memorandum from the minority members of the House Select Permanent Committee on Intelligence. As stated many times, the Administration will follow the same process and procedure with this memorandum from the minority as it did last week, when it received the memorandum from the majority," White House Press Secretary Sarah Sanders said in a statement.
The source who spoke to Fox News has read the Democrats' rebuttal memo, and said it is filled with information on sources and methods taken from original documents.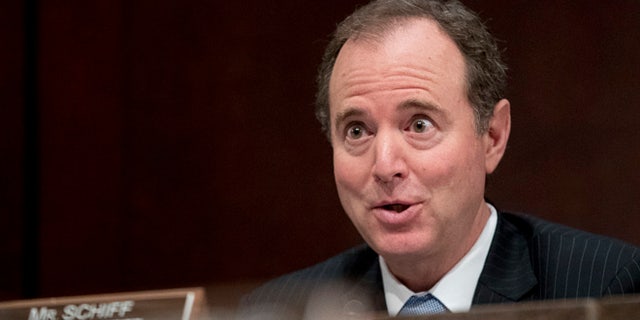 While the source described this as a way to put the White House in a difficult spot, Schiff maintained publicly that he wants to make sure the White House "does not redact our memo for political purposes." A Schiff aide referred Fox News back to those comments when asked about the claim that the memo intentionally contained sources and methods.
Schiff again said Tuesday on CNN that he's concerned about the White House making political redactions – not to protect sources, but to block information that might be unfavorable to the president.
On Friday, Republicans on the Intelligence Committee released the GOP memo from Chairman Devin Nunes, R-Calif., which claimed the FBI and DOJ would not have sought surveillance warrants to spy on onetime Trump campaign adviser Carter Page without the infamous, Democrat-funded anti-Trump dossier.
The White House responded by saying the memo "raises serious concerns about the integrity of decisions made at the highest levels of the Department of Justice and the FBI to use the government's most intrusive surveillance tools against American citizens."
The release followed vocal objections from Democrats that the memo's release could hurt national security.
Fox News' John Roberts, Brooke Singman and Alex Pappas contributed to this report.