Dems Race to Pass Health Care Bill as Tea Partiers Plan Town Hall Wave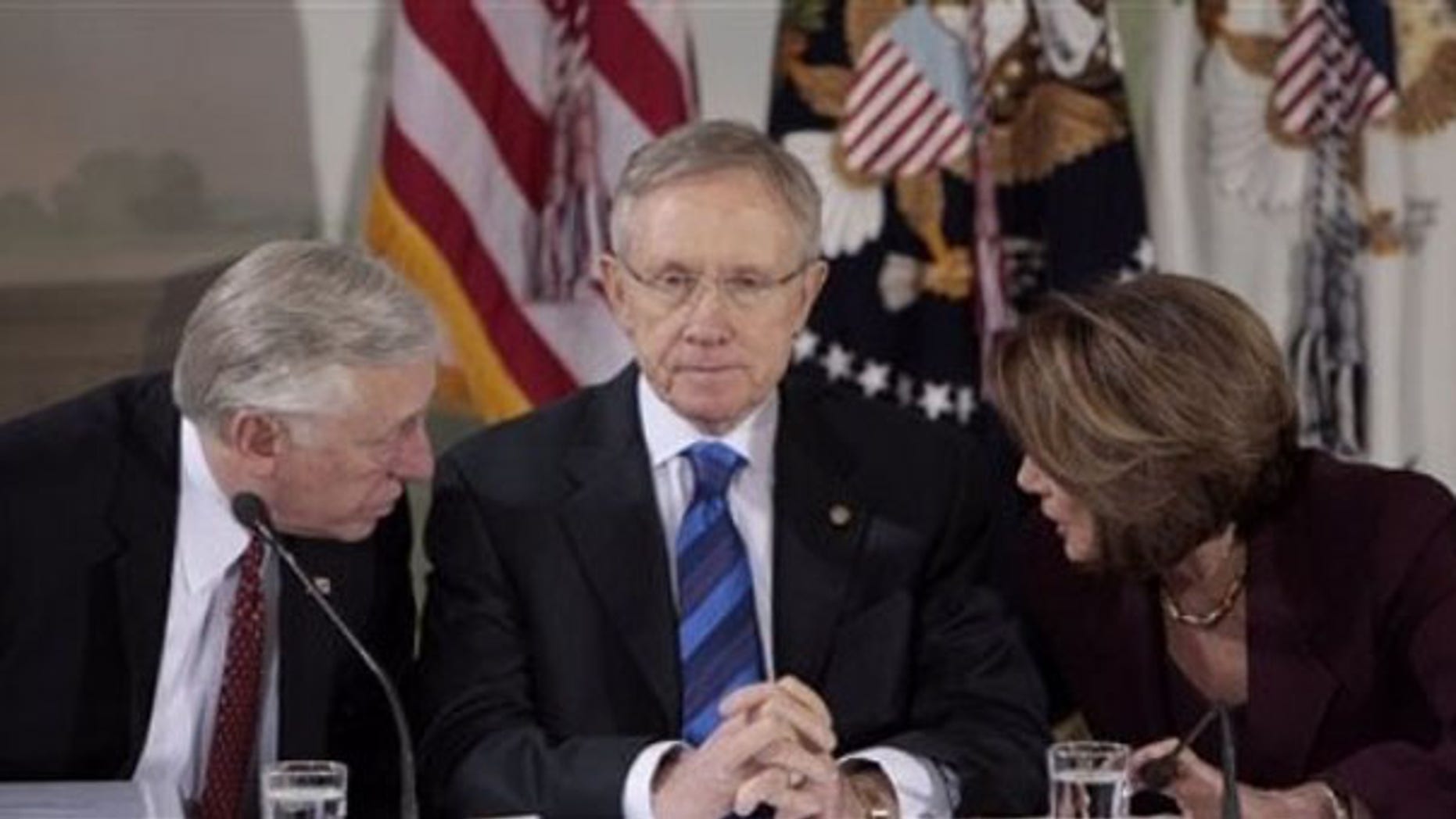 Democrats are racing the clock to pass health care reform ahead of a wave of Tea Party-driven town hall meetings planned for the spring recess -- the kind of gatherings that nearly derailed the package last August.
But there's a big difference this time around. Last summer, Democrats were encouraged to hold the town hall meetings, and they were blindsided by the backlash, which was recorded and promoted in countless YouTube clips. This time around, they have a good idea of what's coming -- and they're lying low, in case work on health care carries over into the recess.
"There's not been the same push as there was in August to encourage members to do town halls," said Stephanie Lundberg, spokeswoman for House Majority Leader Steny Hoyer.
But that isn't stopping Tea Party groups, as well as former House Republican Leader Dick Armey's outfit, FreedomWorks, from holding their own meetings and trying to coax lawmakers into attending.
"We're about to ratchet it up," said Debbie Dooley, a Tea Party Patriots organizer and FreedomWorks volunteer outside Atlanta. "You're about to see the passion that we saw during the August recess."
Conservative activists across the country are planning to sponsor town hall meetings, rallies, debates and visits to district offices to voice their objections to the health care reform bill, starting as early as next week. The big push will come during the two-week congressional recess that starts March 29.
"We're gonna hit 'em when we know they're back in (the) district, and we're gonna hit 'em hard," said Tom Gaitens, a Tampa Tea Party organizer who coordinates with FreedomWorks.
Hoyer said Thursday that Democrats would like to finish work on the bill before the break, though that's not a firm deadline. That means the second wave of health care reform protests could sputter.
But the town hall organizers are banking on the debate dragging out through the break. They're going to invite representatives and senators to the town hall meetings, and they hope local press outlets will help them shame lawmakers who don't show up.
"If they refuse to attend the town hall meetings, we're going to have an empty chair with their name on it," Dooley said. "If they choose not to face their constituents, that's their decision. I'm sure their constituents will remember that."
Lundberg, who said the spring break deadline for health care reform was not set out of concern for the town halls, said it's "up to the members" to decide whether they want to attend any Tea Party-sponsored meetings, but that they will be advised to discuss jobs-creation as well as health care reform.
President Obama, meanwhile, is prodding lawmakers to pull health care reform over the finish line quickly.
"I believe the United States Congress owes the American people a final vote on health care reform," the president said Wednesday. "I therefore ask leaders in both houses of Congress to finish their work and schedule the vote in the next few weeks. From now until then, I will do everything in my power to make the case for reform."
As the planned town halls demonstrate, the administration still has some salesmanship to do with the public; polls show deep opposition not just to the bill itself, but to the process of reconciliation Democrats plan to use to pass part of the package with just a 51-vote majority.
Asked about the poll numbers Thursday, White House Press Secretary Robert Gibbs said, "We're working on that."
Democrats have been blasting Republicans as partisan obstructionists, arguing that they're turning to reconciliation out of necessity. They say the bill cannot be redrawn from scratch and it must be passed now in order to stop insurance companies from dropping sick patients, denying coverage over pre-existing conditions and raising rates beyond what families can afford.
"What has happened in the past year in the United States Senate is total obstruction by the Republican senators," House Speaker Nancy Pelosi said. "So this isn't just about their rules, it's about a decision that a party over there has made to stop everything."
Democratic leaders also have a lot of convincing to do in their own caucus on Capitol Hill, where the plan is for the House to pass the Senate-approved bill and then for both chambers to approve a reconciliation bill that includes changes.
Bob MacGuffie, a conservative activist in Connecticut, said part of the anti-health care bill strategy is to press "soft Democrats" not to vote for the bill because they might not ever see the package of changes come to fruition.
"They shouldn't trust on that one," he said.
MacGuffie said there's a "good chance" Pelosi won't be able to round up the needed votes in the House this month, pushing the debate into the spring break.
"They're definitely afraid of that," he said. "Facing their constituents is the last thing they want to do."
Gibbs, though, said the bill is "on schedule" to pass the House by March 18, with a bill signing expected "shortly thereafter."