Democratic Rep. Linda Sanchez quits caucus chair race after husband's indictment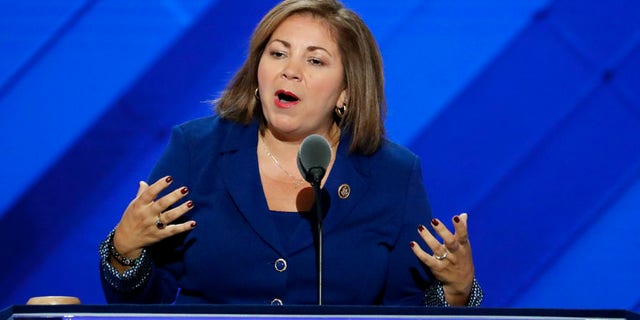 NEWYou can now listen to Fox News articles!
Rep. Linda Sanchez, D-Calif., dropped her bid to be chairwoman of the House Democratic Caucus on Thursday after her husband was indicted in Connecticut on federal theft and conspiracy charges.
"After careful consideration of the time and energy being in leadership demands, I have decided that my focus now needs to be on my son, my family, and my constituents in California," Sanchez said in a statement.
In a letter to her Democratic colleagues, Sanchez said that "an unexpected family matter ... compels me to withdraw my name as a candidate for chair of the Democratic Caucus."
The 49-year-old Sanchez, who won a ninth term on Tuesday, was vying to succeed exiting Rep. Joe Crowley, D-N.Y. in the position. The House Democratic Caucus chair is the fourth-highest position in the party, after the Democrats took control of the House of Representatives in this year's midterm elections.
Sanchez's husband, 52-year-old James Sullivan, is one of five executives of the Connecticut Municipal Electric Energy Corporation (CMEEC) indicted Thursday. CMEEC is a public company that has received more than $9 million from the U.S. Department of Energy.
Federal prosecutors allege that Sullivan and his co-defendants used a company account as a "secret slush fund" and spent more than $800,000 on "lavish trips," including to the Kentucky Derby in 2015 and 2016 and a West Virginia golf resort.
Sullivan and CMEEC CEO Drew Rankin are specifically accused of conspiring to use company funds to pay for other trips, including a 2014 flight for Sanchez to travel to Key West. Prosecutors also say Rankin approved trips by Sullivan and "family members" to the Derby in 2013, 2014, and 2015. The Norwich Bulletin newspaper reported last year that Sanchez attended the Derby with her husband in 2013 and 2014.
"CMEEC has received millions of dollars in grants from the U.S. Department of Energy," U.S. Attorney John Durham said in a statement. "Instead of protecting these funds and returning excess revenue to member towns and ratepayers, these defendants are alleged to have used the CMEEC Margin Account as a secret slush fund to pay for lavish junkets for themselves and their family and friends, as well as for other inappropriate expenses. The U.S. Attorney's Office is committed to working with our federal law enforcement partners to safeguard public funds and prosecute those who steal from the public."
Sullivan and his four co-defendants are charged with one count of conspiracy and three counts of theft from a program receiving federal funds. In a separate indictment, Sullivan and Rankin face an additional count of conspiracy and three counts of theft from a program receiving federal funds.
All five defendants entered not-guilty pleas in federal court in New Haven, Connecticut, and were released on $100,000 bond.
Earlier this year, The Day newspaper of Norwich, Conn., revealed that Sullivan resigned as chairman of Norwich Public Utilities in October 2015 after a female employee accused him of sexual harassment. The utilities commission ultimately paid the employee a $35,000 settlement.
democrats