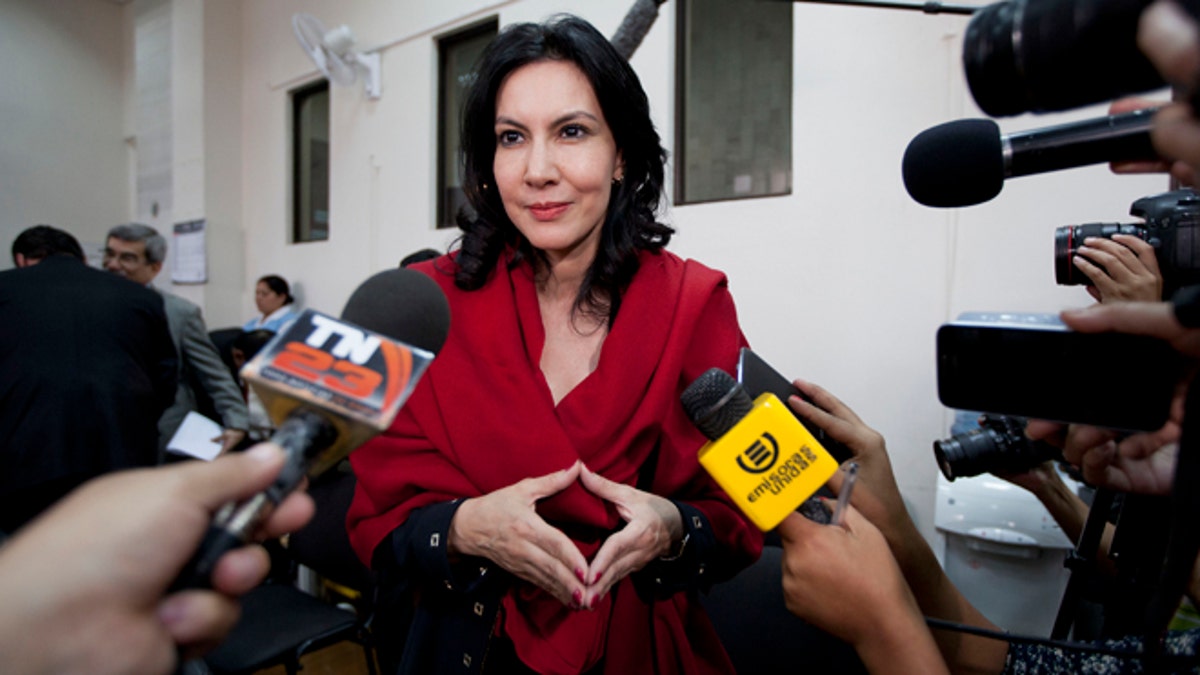 GUATEMALA CITY (AP) – The daughter of Efraín Ríos Montt, the former dictator facing charges of genocide for massacres committed during his 1982-83 regime, is running for president of Guatemala.
Zury Ríos Sosa, a three-time member of congress, announced Thursday that she would accept the nomination of the Christian conservative Vision with Values party to compete in general elections later this year.
"Before God and all of you, I take the responsibility and the decision to return to the political arena, to public politics, to the office of a public servant, to submit myself to the judgment of the people," she said.
Ríos Sosa married Jerry Weller, who at the time was a Republican U.S. congressman from Illinois, in 2004.
She was 14 years old when her father, an army general, seized power in a coup. The regime he led suspended the constitution and launched a brutal campaign against political dissidents.
In 2013, he was convicted of genocide and crimes against humanity for the killings of 1,771 Mayan Indians by soldiers under his command. A court later overturned the ruling, and a retrial that was supposed to begin in January has been delayed.
Ríos Sosa, 47, declined to comment on whether her father's legal case could affect her race. She said women who run for office often face questions from those who say that "she's running because she's someone's daughter or wife."
"I respect, love and support my father, just as I respect and will support the Guatemalan people," Ríos Sosa said.
It is unclear if the Guatemalan people — over 200,000 of whom died in the country's 1960-1996 civil war — will support her.
"Her candidacy affects us, because she denies there was any genocide, and she does that so people won't know and make a mistake" by supporting her, said Benjamin Geronimo, a former representative for victims at Ríos Montt's trial.
Human rights activist Jorge Santos said Sosa shouldn't necessarily be held responsible for her father's mistakes.
But, he added, "if she wants to be a public servant, and approves of the serious acts her father committed, that could influence her performance in office. That means repeating the authoritarianism, violence and corruption."
Before announcing her candidacy, Ríos Sosa spent several months inviting Guatemalans to send her messages suggesting political changes they wish to see.
Ríos Montt's brief military regime was one of the bloodiest periods of Guatemala's civil war. According to the United Nations, about 245,000 people were killed or disappeared during the 1960-96 conflict, with the vast majority of killings blamed on the army and paramilitary groups.
Weller had been in the U.S. House of Representatives for nearly a decade when he and Ríos Sosa wed.
In 2008 he declined to seek an eighth term after a Chicago Tribune investigation found he failed to disclose land deals he made in Nicaragua and did not report Ríos Sosa's finances to Congress.
The watchdog group Citizens for Responsibility and Ethics in Washington had named Weller one of the most corrupt members of Congress.
Ríos Sosa holds bachelor's and master's degrees in political science and speaks Spanish, English and French, according to her website.