Cuba's Leading Dissident Blogger Voices Support For Venezuela's Protesters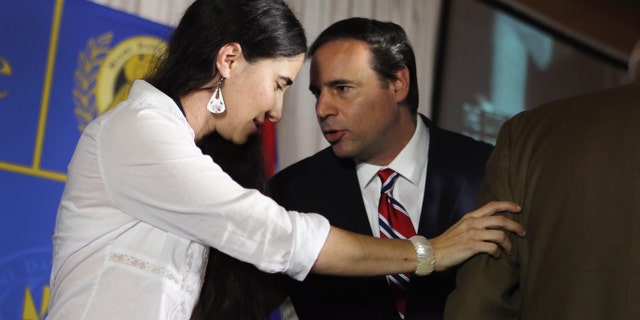 NEWYou can now listen to Fox News articles!
Cuba's leading dissident blogger, Yoani Sanchez, said that her compatriots on the island are watching the civil unrest in Venezuela with mixed feelings.
Speaking at the Hispanicize conference in Miami on Tuesday, Sanchez, who has traveled outside of Cuba a few times in the last year, after President Raul Castro relaxed restrictions for the island's residents, said that Venezuela seems to be dealing with opposition groups the same way her native country has.
Sanchez said that Venezuela is responding to critics by arresting them and blaming outsiders – such as the U.S. government – for the backlash against President Nicolas Maduro, according to the Miami Herald.
Sanchez also said that some Cubans are hopeful that a democratic change in Venezuela could force Cuba, which is sustained by some $10 billion a year by the Maduro government, to become more flexible economically and politically, the Herald reported.
At the same time, Sanchez noted, older Cubans who remember the devastation to Cuba's economy after the fall of the Soviet Union, and its substantial subsidies, are afraid that a change of political leadership in Venezuela could lead to an end to aid from the South American nation.
On Wednesday, Sanchez again addressed Venezuela's unrest during a Twitter question and answer session in which U.S. Sen. Marco Rubio, a Florida Republican, asked what she would say to the anti-government protesters.
The tweet from Rubio, whose family is from Cuba, read: "Cubans suffer under system #Venezuela is copying.What message do you have, @yoanisanchez, for Venezuelans in this crucial time? #AskYoani"
She answered that she supports the peaceful struggle of the anti-government protesters in Venezuela, and urged them not to give in to the Maduro administration.
Protests against the government that have taken place since mid-February have led to violent clashes between demonstrators and Maduro police authorities as well as his supporters.
Many protesters were arrested and are in jail.
Follow us on twitter.com/foxnewslatino
Like us at facebook.com/foxnewslatino