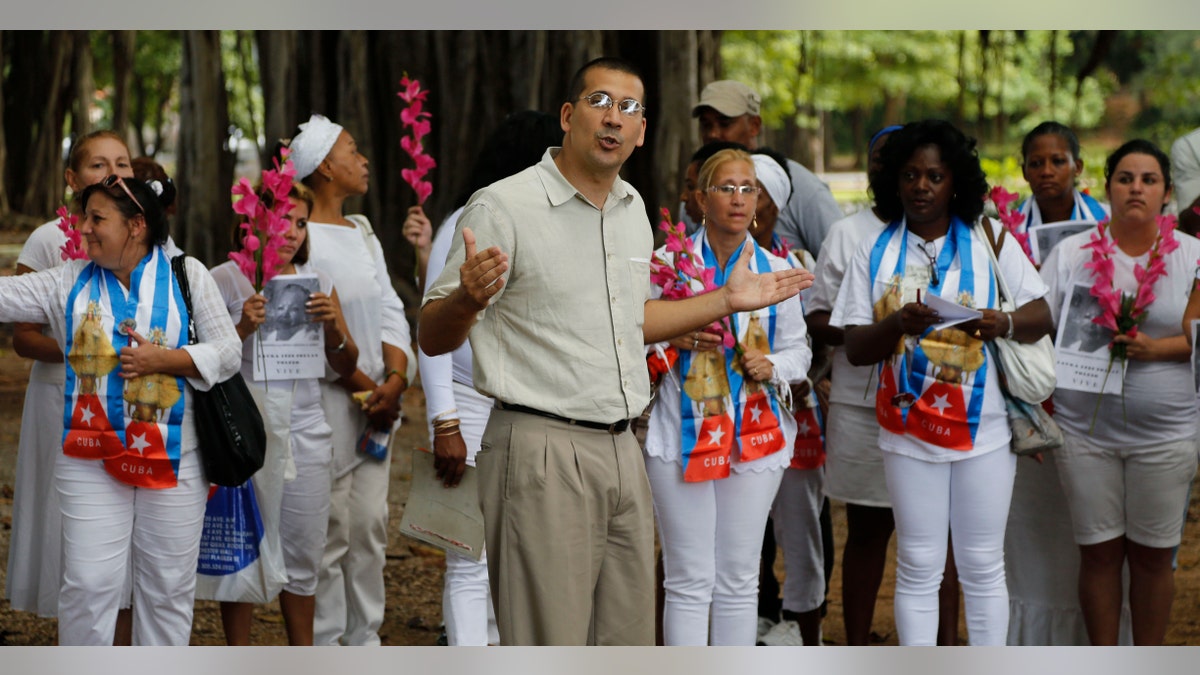 The Cuban government may have opened some economic doors in recent years, but it maintains an iron fist when it comes to opposition to its policies or to the revolution.
An independent human rights group on the island said on Monday that the Cuban government undertook a record number of detentions last year of dissidents and political activists.
The Cuban Commission for Human Rights and National Reconciliation recorded 8,899 short-term detentions of dissidents and activists in 2014. That was about 2,000 more than the previous year and four times as many as in 2010, said the group's head, Elizardo Sanchez.
The detentions can last for a few hours or a few days, but do not lead to prison time. Some people have been detained several times in a month, so the total number of people detained is lower.
Sanchez said his group counts about 90 people held in prison for political reasons — less than half the figure five years ago.
The report also said dissidents inside Cuba did not know who was on the list of 53 whom the U.S. asked Cuba to release as part of a detente announced last month. Neither the U.S. nor Cuba has made the list public or said openly whether any of those on it have been released.
A U.S. official said on condition of anonymity Monday that some of the 53 had been released but efforts to secure the release of the dissidents was a "work in progress." The official wasn't authorized to provide details on who has been freed. The official said the release of all the dissidents wasn't a prerequisite for planned talks in Cuba between the Obama administration and Cuban officials later this month.
Cuba's government has long narrowly defined the bounds of acceptable speech, accusing many dissidents of being agents of the U.S. government or right-wing exile groups, and subjecting them to surveillance, temporary detention and harassment.
President Barack Obama pledged this month that easing the embargo on Cuba and normalizing diplomatic relations would be a better way of supporting Cuban civil society. Some experts said that lessening U.S.-Cuban tensions would remove a pretext for repression of domestic critics.
But Obama also said he was "under no illusion about the continued barriers to freedom that remain for ordinary Cubans," and Sanchez said Monday that he expected no major short-term changes in Cuba's treatment of dissidents.
The list of those detained in December includes expatriate artist Tania Bruguera, who was briefly held and released at least three times since her return to Cuba late last month to organize a performance art piece involving the installation of an open microphone in Havana's Plaza of the Revolution for Cubans to speak about their country. Authorities launched a round of brief detentions on the day of the planned performance, which did not take place.
Also included in the list is graffiti and performance artist Danilo Maldonado, who other dissidents said was arrested last month in or near a square in central Havana as he attempted to release two pigs labeled "Fidel" and "Raul," the first names of Cuba's current and former presidents. The right group's report said he was being charged with the crime of disrespect for authority, which carries a one- to three-year prison sentence.
Based on reporting by The Associated Press.
Follow us on twitter.com/foxnewslatino
Like us at facebook.com/foxnewslatino