Cruz on Colorado win: 'Donald, it ain't stealing when the voters vote against you'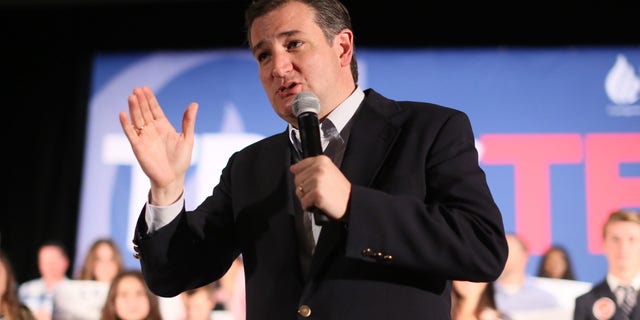 Ted Cruz is calling out rival Donald Trump for "whining" after the Republican front-runner slammed the GOP nomination process as being "rigged."
The Texas senator went after the businessman while campaigning in California on Monday saying his rival is doing a lot of "yelling and screaming, a lot of whining."
"As we know in the state of California, whine is something best served with cheese," he said at an appearance in San Diego.
Addressing Trump directly, Cruz then said: "Donald, it ain't stealing when the voters vote against you. It is the voters reclaiming this country and reclaiming sanity."
Cruz's comments came just a day after Trump repeatedly blasted Colorado's Republican leadership following Cruz's sweep of the state's delegates over the weekend. He called it "corrupt" and "crooked."
On Sunday in New York City, Trump ripped the byzantine fight over the delegates, arguing that the person who wins the most votes in the primary process should automatically be the GOP nominee.
"What they're trying to do is subvert the movement with crooked shenanigans," he said in an airport hangar. "We should have won it a long time ago. But, you know, we keep losing where we're winning."
He continued his tirade at a rally in Albany, N.Y. on Monday, calling Cruz's win in Colorado a "total fix."
"There's so much - the people all wanted to vote. They took away their votes," Trump said, according to Fox News. "I think it's going to come back to haunt them because people aren't going take it anymore. We're not going to take it anymore. It's a corrupt system. It's a totally corrupt, rigged system."
The Cruz team outmaneuvered the Trump campaign at a series of recent state meetings to select national convention delegates, narrowing the path for Trump to clinch the nomination before the party convention this summer.
Trump has also complained about Louisiana, where he won the primary but got fewer delegates than Cruz, "who got his ass kicked."
Cruz campaigned in California as most of other candidates in both parties focused on New York ahead of that state's April 19 primary.
California doesn't hold its presidential primaries until June 7, but the state offers more delegates than any other.
The Associated Press contributed to this report.