Critics Warn Lack of Cohesion Could Diminish Tea Party's Impact in November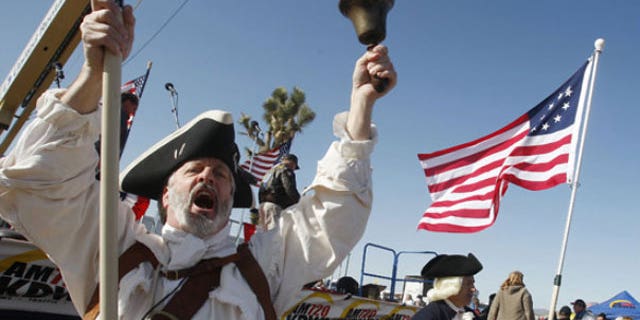 Sharron Angle, who hopes to unseat Senate Majority Leader Harry Reid, won the Republican nomination for Nevada senator with wholehearted support from the national Tea Party movement.
Or did she?
Primary races in 11 states Tuesday showed that the Tea Party movement, while claiming to have one voice, remains a loose group of factions with no top-down leadership -- a lack of structure that some conservatives fear could diminish its impact in November when they hope to unseat dozens of incumbent lawmakers in the House and Senate.
"I think the biggest threat to the movement could be the movement itself," said conservative talk radio host Dana Loesch, a co-founder of the St. Louis Tea Party.
But decentralization is the core of the movement's appeal, other Tea Party leaders say.
"It's a strength," said Joe Wierzbicki, a founder of the Tea Party Express, which endorsed Angle in the Nevada race. "Different groups have different flavors, and sometimes we're going to disagree with each other."
Angle ran in the Nevada primary against two Republican challengers -- former state lawmaker Sue Lowden and business owner Danny Tarkanian -- and all three of them claimed to have the support of the grassroots conservative movement.
"The Tea Party folks have already told me they're with me tonight when I win," Lowden told Fox News just hours before the polls closed Tuesday.
Members of the Tea Party movement describe themselves as fierce defenders of the Constitution and boast that their platform is simple: fewer taxes, less spending and a "return to conservative principles." Tea Party groups from Nevada to Arkansas to New Jersey advocate less government intervention and have called for a repeal of President Obama's massive health care overhaul, which they claim violates the Constitution by forcing Americans to buy a product or be fined.
The movement claims to hold no official position on social issues, like abortion, but its groups have backed few, if any, pro-choice politicians. And while the movement advocates less government spending, it's raised little objection to the billions of dollars spent on the wars in Iraq and Afghanistan.
Critics -- and some voters -- say the perceived lack of cohesion in its message raises the question: Can anyone claim to be a Tea Partier?
The Tea Party Express, one of the most prominent factions of the movement, endorsed Angle on April 15 and spent $550,000 promoting her candidacy -- catapulting her approval rating from a mere 5 percent in early April to the win on Tuesday.
But the group, sponsored by the California-based Our Country Deserves Better PAC, was only one of two Tea Party organizations -- as well as the fiscally conservative Club for Growth -- to endorse Angle. Nashville-based Tea Party Nation, for example, issued a statement supporting -- but not endorsing -- Tarkanian.
"Sharron Angle is not the only conservative candidate running in this race," the group said. "Danny Tarkanian is every bit a conservative and constitutional patriot. We can no longer stand aside and let misinformation about the Nevada race go uncontested," it said, noting that "our policy has been and continues to be one of not endorsing a specific candidate in the primaries."
Tarkanian had blasted the Tea Party Express, saying it did not represent the anti-establishment and constitutionalist movement.
"It's not the Tea Party," Tarkanian told Fox News, describing the organization as a "California-based consulting group that gets paid to run TV commercials."
Wierzbicki refuted that claim, telling FoxNews.com that the self-described grassroots group takes contributions of only $5,000 or less from individual donors and does not accept money from corporations.
Dissent among Tea Party factions was also seen Tuesday in New Jersey, where Republican candidates for the House were supported by different local Tea Party groups.
"The tea parties do have to be careful that they just don't become pawns for people who want to force their way into it," said David Webb, a founding member of TeaParty365.
"We have a lot of really good patriots in this movement and as long as we maintain a focus and galvanize and get behind a candidate -- a winning candidate -- it's gonna work and we're going to see a bigger victory in 2010," added Loesch.
While various groups have maintained an independence in supporting candidates, Wierzbicki said, "I think you're going to see all these different, disparate Tea Party groups unite behind good candidates" -- whom he described as those who embrace the fiscal responsibility and limited government.