Crisis mode: Obama leadership woes sinking Dem hopes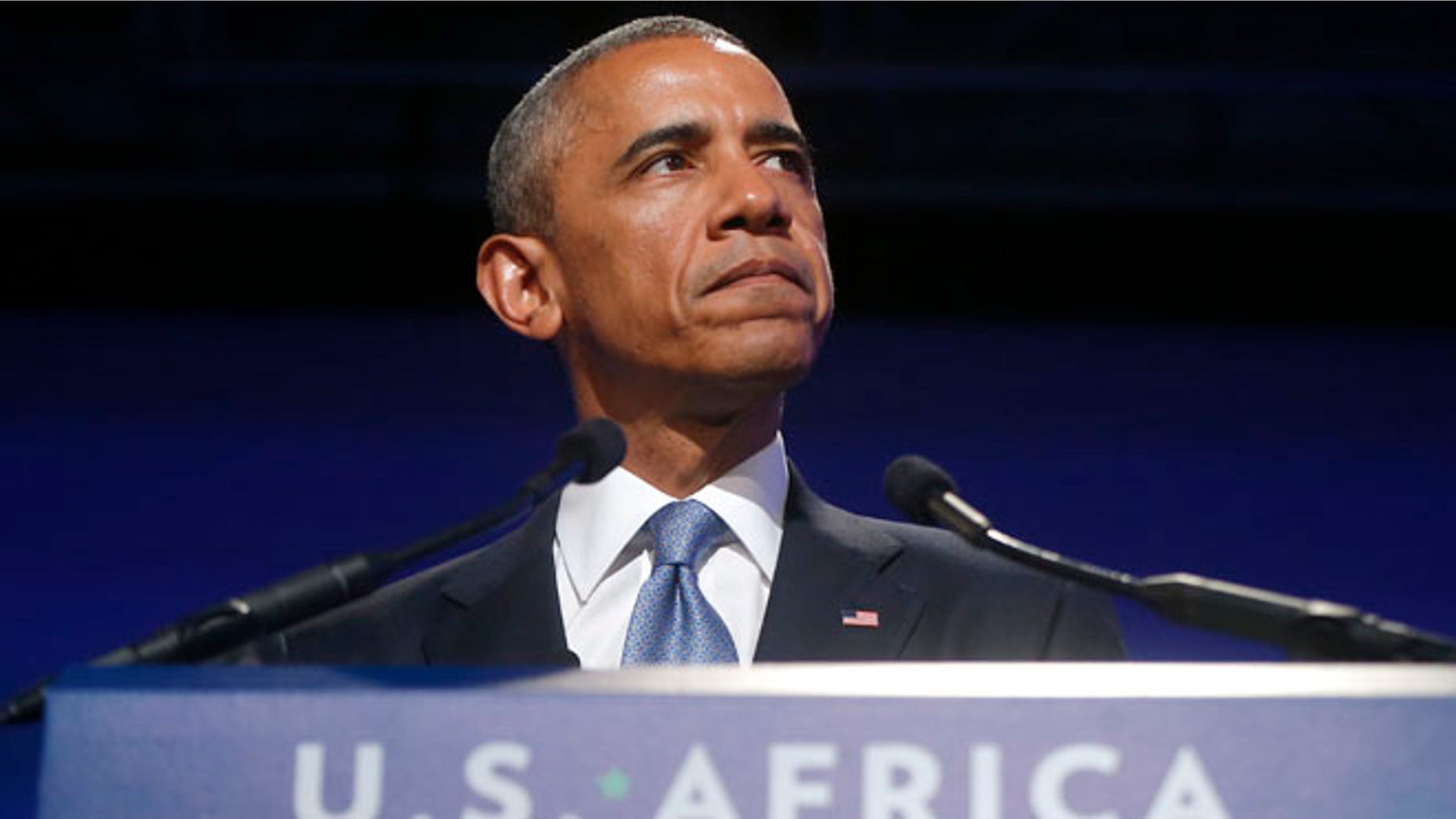 **Want FOX News First in your inbox every day? Sign up here.**
Buzz Cut:
• Crisis mode: Obama leadership woes sinking Dem hopes
• Walsh heading for the exits?
• Grimes gets a 'Billigan' from Bubba
• Establishment scores, doesn't sweep in primaries
• 'What cheese?'
CRISIS MODE: OBAMA LEADERSHIP WOES SINKING DEM HOPES
The WSJ/NBC News poll dropped like a bucket of cold water on Washington, where fevered attacks over legislative minutiae and blame-placing in recent weeks has caused politicians to forget what is actually going on. And what's going on is that Americans are deeply frustrated with their president, his refusal to govern by normal means and his handling of crises at our border and around the world. Foreign policy seldom intrudes into the midterm election discussion, but when the world seems to be falling apart, Americans get anxious and upset with their commander in chief and his party. That's clearly what's happening here. Sixty percent of respondents said the U.S. is in decline, only 35 percent were satisfied with America's role in the world, and just 21 percent said that the next generation would be better off.

The president likes to say that he can act alone on domestic issues, a dubious supposition. But on international affairs, an area in which American presidents have enormous latitude, the situation is dire. Respondents offered a negative assessment of the U.S. response to the Ukrainian war, the Syrian civil war, the conflict in Gaza, the rise of ISIS and especially the flow of illegal immigrant minors across the southern border. Just 11 percent were satisfied with the handling of the border crisis. Overall, just 36 percent of respondents approved of Obama's handling of foreign policy, 12 points lower than ahead of the 2010 vote.

The consequences for November are ominous for Democrats. Republicans are in slightly better shape in the generic-ballot test than they were at this point in 2010, the year that a wave election washed away the Democratic majority in the House. The president's job approval, now at an all-time low of 40 percent in this poll, is 7 points lower than it was four years ago. The reality is setting in that Democratic hopes of holding the Senate are winnowing, a realization that could turn a bad year into a rout. The president promises more executive action to mobilize base supporters on immigration and corporate taxes, but with numbers like these, Democrats will be increasingly unwilling to hustle for what looks like a lost cause. And the harder the president goes in rallying his base, the deeper he will sink in the estimation of moderate voters who are so fed up with his administration.

-- 90 days until Nov. 4 --

WALSH HEADING FOR THE EXITS?
Sen. John Walsh, D-Mont., has reportedly cancelled a series of campaign events as a growing number newspapers call for him to drop his bid for a full term in the wake of allegations that he plagiarized a research paper at the Army War College. Politico reports that Walsh and his campaign team are doing some soul searching. While the Democratic Senatorial Campaign Committee says it is "100 percent" behind the incumbent in his bid to fend off challenger Rep. Steve Daines, R-Mont., Democrats are looking for replacement candidates. The Hill: "Democrats tell The Hill that former NARAL Pro Choice America head Nancy Keenan, a Montana native, might be Democrats' preferred candidate should Walsh decline to run, though any Democrat would start out at a steep disadvantage against Daines. One local Democrat also mentioned Montana state Sen. Dave Wanzenried (D) as a potential replacement." Walsh has until Monday to decide whether or not to drop out.

[Cruz pitches for Daines - In an email to supporters Sen. Ted Cruz, R-Texas, wrote, "We need more allies in the Senate who are ready to stand up and help America climb out of the rut that President Obama has gotten us into.  I know that Steve Daines is the man for that job."]

POWER PLAY: GOING, GOING, GONE…
In the latest installment of "Power Play with Chris Stirewalt" Chris considers the dynamics in the Montana race and how charges of plagiarism on the part of Democratic Sen. John Walsh could spell trouble for the blue team as it looks to hold on to the upper chamber. Watch the Race in 90 Seconds here.

UNINSURED RATES JUMPED DESPITE OBAMACARE SUBSIDIES, FINES
Democrats have been touting Gallup's latest survey reporting a sharp drop among the uninsured in places like Kentucky and Arkansas where Democratic governors have expanded and promoted enrollment in the insurance program for the poor, Medicaid. But what about elsewhere? In Kansas, Iowa and swing state Virginia, rates of the uninsured actually climbed despite the availability of subsidized insurance policies under ObamaCare. Daily Caller: "Iowa and Virginia saw smaller increases from 2013 to 2014 of just 0.6 percent and 0.1 percent respectively, but Kansas's uninsured rate surged upward by 5.1 percent." While ObamaCare advocates blame those states' refusal to expand Medicaid, the availability of insurance subsidies for middle-class households coupled with potentially steep fines for non-compliance were expected to get more Americans covered.

[Washington Examiner: "A study published in the journal Health Affairs looked at an ambitious three-year pilot program of bundled payments in California that was funded by a $2.9 million grant from Obama's 2009 economic stimulus package — and found that the program was such a massive failure, it could hardly get off the ground."]

WITH YOUR SECOND CUP OF COFFEE...
In 1961, Gerald Schur, an attorney for the Department of Justice, was having an incredibly difficult time convincing a witness to testify against the mob. He always thought "There's got to be a way to get witnesses to testify against the mob." In his quest, he created the Witness Protection Program. Author Alex Mayyas lifts the veil on the clandestine organization asking What Happens When You Enter the Witness Protection Program?

Got a TIP from the RIGHT or LEFT? Email FoxNewsFirst@FOXNEWS.COM

POLL CHECK
Real Clear Politics Averages
Obama Job Approval: Approve – 41.6 percent//Disapprove – 54.9 percent
Direction of Country: Right Direction – 24.8 percent//Wrong Track – 66.5 percent
Generic Congressional Ballot:  Democrats – 44 percent/ Republicans 43 percent

GRIMES GETS A 'BILLIGAN' FROM BUBBA
Former President Bill Clinton will make his second campaign visit for Democrat Allison Lundergan Grimes in her bid to unseat Senate Minority Leader Mitch McConnell. The 42nd president is scheduled to appear at two campaign stops today in Lexington and Hazard, Ky., in a bid to separate Grimes from the current Democratic president, who is direly unpopular in the carbon-rich counties of Eastern Kentucky. But the golf-loving 67-year-old may have other motives for his visit. WHAS: "Former President Bill Clinton will hopscotch across Kentucky on Wednesday, making campaign appearances for Democratic U.S. Senate candidate Alison Lundergan Grimes before ending the day in Louisville where he will receive the PGA of America's Distinguished Service Award. The PGA Tournament is being played at Louisville's Valhalla Golf Course this week."

Planet Hillary gets a spaceport - Page Six: "The space includes nine offices, 14 workstations, one large conference room, and it features modern finishes and white walls. It also boasts floor-to-ceiling glass doors, and windows with sweeping views of Times Square." Such a spot would make for easy commutes to surprise(ish) media appearances.

MCCONNELL'S WIFE HITS BACK IN LATEST AD
Team Mitch is deploying the Senate minority leader's wife to counter at Democrat Allison Ludergan Grimes' charges that McConnell has cast votes that have hurt women. In the ad, former Labor Secretary Elaine Chao says, "Have you ever noticed how some liberals feel entitled to speak on behalf of all women – as if every woman agrees with Barack Obama." Chao goes on to point out that McConnell sponsored the original Violence Against Women Act adding, "Alison Lundergan Grimes's gender-based attacks are desperate and false."

[Women's issues rock Colorado Senate race - Sen. Mark Udall, D-Colo., is airing an ad against Rep. Cory Gardner, R-Colo., on abortion and birth control that features a young-girl."]

LANDRIEU READY FOR BAYOU DEBATE BATTLE
New Orleans La., Times- Times-Picayune: "Sen. Mary Landrieu D-La., has agreed to four TV debates in advance of the Nov. 4 open primary, her campaign said Tuesday… Polls show a tight race between Landrieu and [Rep. Bill Cassidy, R-La.] with [Republican Rob Maness] far behind, but still hopeful because of endorsements from some well-known conservatives, including former Republican Vice Presidential candidate Sarah Palin. If none of the candidates get more than 50 percent of the vote in the Nov. 4 open primary, there will be a run-off election on Dec. 6." Landrieu's number one job will be to play up Maness' clout and force Cassidy to crawfish on conservative causes.

Pick Six: Landrieu a pro at jungle warfare - The status quo will change dramatically in Washington if Republicans are able to gain an additional six Senate seats. Which six Democrat-held seats are the most likely GOP pickups? Here are most likely flips based on feedback from readers like you: Arkansas (13.6%), Montana (11.9%), Louisiana (11.9%), West Virginia (11.2%), South Dakota (10.5%) and North Carolina (10.0%).  However, reader Doug Johnson feels the Pelican State's jungle primary system could work to the advantage of Sen. Mary Landrieu. Johnson writes, "The ridiculous election process in LA gives Landrieu fighting chance in a state she would certainly lose if the race were decided in November."

Share your top six picks. Email them – just your top six, please – to FOXNEWSFIRST@FOXNEWS.COM or tweet @cstirewalt.

GOP GOES ALL-IN ON GEORGIA SENATE RACE
The Hill: "The NRSC has spent $2.6 million to begin airing ads next Tuesday through mid-September to help businessman David Perdue (R) in his race against former charity executive Michelle Nunn (D), a Democratic operative tracking the buy tells The Hill."

SHAHEEN TOUTS WORK FOR VETS IN NEW AD
In a new ad, Sen. Jeanne Shaheen, D-N.H., is celebrating securing an amendment that allows Granite State Veterans to receive healthcare services outside of VA hospitals if they are located  more than 20 miles away from one, since the state has no such hospital.

ESTABLISHMENT SCORES, DOESN'T SWEEP IN PRIMARIES
A good year for the Republican establishment got better Tuesday. The string of successes in protecting GOP incumbents against insurgent challenges was extended as Kansas Sen. Pat Roberts held off tea-party backed Dr. Milton Wolf. But while the establishment came away the clear winner overall, it wasn't a shutout. In Michigan, three of four congressional races went the way of establishment contestants. Former state Senate Majority Leader Mike Bishop and state Sen. Joe Moolenaar, emerged victorious as they seek to hold seats being vacated by retiring GOP Reps. Mike Rogers and David Camp. David Trott, backed by the U.S. Chamber of Commerce, sent "accidental congressman" Rep. Kerry Bentivolio packing. The story was different for Libertarian crusader Rep. Justin Amash. A prime target for party elders, Amash soundly defeated well-funded challenger Brian Ellis, and had a few choice words for his opponent and his establishment backers.

[Sometimes it's just personal - In what has been a nasty battle between two conservatives, Rep. Mike Pompeo, R-Kansas easily quashed former Rep. Todd Tiahrt's challenge to take back his old seat in Kansas's 4th congressional district.]

Didier runs flare route to end zone - In Washington state, former NFL star Clint Didier came out on top out of field with no fewer than eight Republicans seeking to replace retiring Rep. Doc Hastings, R-Wash. Let's call that halftime since the state's top-two finisher format will put Didier, a tea party stalwart, in a rematch with second-place finisher, fellow Republican and establishment pick Dan Newhouse.

More primary headliners - "Brownback wins closer-than-expected GOP primary" // "Debbie Dingell Wins Primary To Succeed Her Husband In Congress" // "John Conyers triumphs in Democratic primary" // "Missouri voters back constitutional "right to farm", oppose new tax for roads"

ROMNEY AND RYAN REUNITE TO BRING CASH FOR COMSTOCK
The Hill: "Both members of the Republican Party's 2012 White House ticket will headline separate fundraisers in September for Virginia House candidate Barbara Comstock (R), who was a staffer on their campaign. Rep. Paul Ryan (R-Wis.), the vice presidential candidate, will host a reunion event for staffers on Sept. 9, while Republican presidential nominee Mitt Romney will headline a Sept. 30 fundraiser for Comstock, who's running for retiring Rep.Frank Wolf's (R-Va.) seat."

KOCH BRO MAKES HIS CASE
The favorite target of Senate Majority Leader Harry Reid's fury and Democratic fundraising efforts, Charles Koch offers his solution for unemployment and economic growth. In a USA Today OpEd the CEO of Koch industries writes, "Our government's decades-long, top-down approach to job creation has failed. Its policies have made our problems worse, leaving tens of millions chronically un- or underemployed, millions of whom have given up ever finding meaningful work. In doing so, our government has not only thwarted real job creation, it also has reduced the supply and quality of goods and services that make people's lives better and undermined the culture required to sustain a free society. When it comes to creating opportunities for all, we can do much better. It's time to let people seek opportunities that best suit their talents, for businesses to forsake cronyism and for government to get out of the way.

'WHAT CHEESE?'
WFMZ: "A man with an apparent love for Swiss cheese is now behind bars on retail theft charges. A security officer at the Giant Food Store [in] Muhlenberg Township [Pa.] spotted Elijah Muhammad Eason 'waddling when he walked' through the store on Monday, police said. Eason was found to have four logs of Swiss cheese, each valued between $52 and $55, inside the legs of his pants, according to an affidavit of probable cause When confronted outside the store, Eason asked the security officer, 'What cheese?' Police responded, recovered the cheese and took Eason into custody."

AND, NOW A WORD FROM CHARLES…
"In the United States, it is very different. Anti-Semitism is not a major factor here. You know, of all the countries that the Jews have lived in these 2,000 years, this is the most tolerant, friendly, loving country that the Jews have ever known. What I think is the most important factor here is sheer, raw ignorance. They have no idea what Hamas is… They have no idea, for example, that there is no occupation in Gaza. You'll hear them talk about Gaza being occupied. The Israelis left in 2005. They tore out their settlements. There's not a settler, there's not a soldier, there is not a Jew left in Gaza. Do any of these people know it? No."—Charles Krauthammer on "The O'Reilly Factor"

Chris Stirewalt is digital politics editor for Fox News. Want FOX News First in your inbox every day? Sign up here.