Controversial Dem socialist candidate Julia Salazar wins NY state Senate primary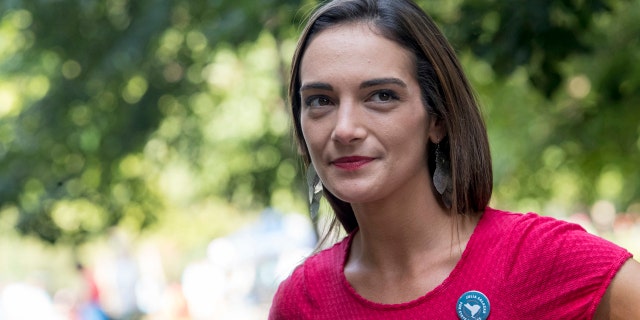 NEWYou can now listen to Fox News articles!
Julia Salazar, a democratic socialist whose campaign for a seat in New York's state Senate was overshadowed by a series of bizarre revelations about her past, unseated a 16-year incumbent in Thursday's Democratic primary.
With 88 percent of precincts reporting, Salazar led state Sen. Martin Dilan by 58 percent to 42 percent. She will not face a Republican opponent in November.
Salazar's victory in the Brooklyn-based 18th Senate District added her to the list of insurgent Empire State Democrats who have knocked out established incumbents this primary season.
The 27-year-old first came under scrutiny last month when the online magazine Tablet reported that, contrary to her claims of being an immigrant from Colombia who struggled financially, Salazar actually was born in Florida and had hundreds of thousands of dollars in a trust fund.
The magazine also questioned Salazar's political and religious transformation from a Republican, anti-abortion Christian to a hard-left, Jewish Democrat during her years at Columbia University. One group revoked its endorsement after learning Salazar hadn't graduated from Columbia, as she said on its survey.
In response to the report, Salazar said she "inadvertently misrepresented" her history.
Scrutiny of Salazar became more intense when Tablet published a follow-up report detailing her 2011 arrest over accusations of bank fraud by the estranged wife of a famous neighbor, former New York Met Keith Hernandez. Salazar was not prosecuted and later sued Hernandez's wife, Kai Hernandez. Salazar claimed Kai Hernandez was trying to frame her because the woman erroneously believed Salazar was having an affair with her husband. Kai Hernandez settled the lawsuit for $20,000.
Earlier this week, the Daily Caller told the Salazar campaign it was about to publish a story identifying her as a woman who had anonymously accused a spokesman for Israeli Prime Minister Benjamin Netanyahu of sexual assault.
Saying she didn't want to be "outed" against her will, Salazar tweeted about the incident, saying the Netanyahu aide, David Keyes, had bullied her into an unwanted sex act.
Keyes called it a false allegation "made by someone who has proven to be repeatedly dishonest about her own life." He has since denied allegations by other women who accused him of aggressive sexual behavior.
In the end, the questions about Salazar's past weren't enough to derail her campaign, which began attracting wide attention after fellow democratic socialist Alexandria Ocasio-Cortez scored a surprise win in June's congressional primary over U.S. Rep. Joseph Crowley.
Salazar built a grassroots campaign to unseat Dilan on the grounds that he hadn't done enough to help the poor or stop gentrification of the district. She assailed him for taking campaign contributions from real estate interests.
For his part, Dilan described Salazar as a pretender and a gentrifier herself and vowed his constituents would stick with him.
Dilan was first elected in 2002 and was a member of the state Senate Democratic Conference's leadership. He spent 10 years in New York's City Council before being elected to the Senate.
The Associated Press contributed to this report.