Consumer Advocate Elizabeth Warren Moves Closer to Bid Against Sen. Scott Brown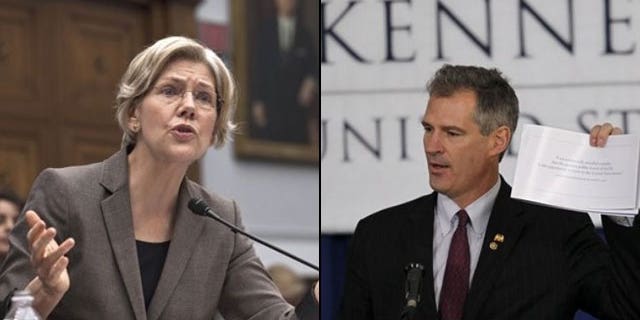 NEWYou can now listen to Fox News articles!
Consumer advocate Elizabeth Warren is taking the first steps toward launching a possible challenge against Republican Scott Brown, the U.S. senator from Massachusetts and a top Democratic target in 2012.
The 62-year-old Harvard law professor began contacting top Massachusetts Democrats on Thursday, including party Chairman John Walsh, about a potential candidacy.
Warren plans to make a decision after Labor Day and will spend the next few weeks talking with voters and party activists, a Democrat close to the national leadership told The Associated Press. The person was not authorized to speak publicly, and requested anonymity.
"I left Washington, but I don't plan to stop fighting for middle class families," Warren wrote in a posting Thursday on Blue Mass Group, a popular blog among Massachusetts Democrats. "I spent years working against special interests and have the battle scars to show it -- and I have no intention of stopping now."
A favorite of consumer groups and liberals, Warren was tapped by President Barack Obama last year to set up the new Consumer Financial Protection Bureau. Congressional Republicans opposed her becoming the bureau's director, and Obama in July decided not to pick her to head the new agency, sparking speculation that she might challenge Brown.
Top national Democrats desperate to find a strong challenger to take back the Massachusetts seat long held by the late Sen. Edward Kennedy have been urging Warren to run for months. A poll in March showed Brown as the most popular politician in the state.
Warren, who lives in Cambridge, has never held elective office. She left the Consumer Financial Protection Bureau this summer, and recently returned from a vacation with her family to consider running.
Warren did not immediately respond Thursday to a request for comment.
In a move that appeared to underscore her seriousness about the race, two prominent Massachusetts political strategists -- Doug Rubin and Kyle Sullivan -- are assisting her as she decides. Rubin is the former top political strategist for Massachusetts Gov. Deval Patrick.
Democrats say her image as a crusader on behalf of consumers against well-heeled Wall Street and corporate interests would be a boon to her candidacy. Party leaders also believe her national profile would help her raise the money needed to topple Brown, who has more than $10 million in his campaign account.
Faced with a crowded field, Democrats worry that a long, costly and divisive primary could dash their hopes of reclaiming the seat after their embarrassing loss to Brown in 2010.
There are several Democrats already running, including Setti Warren, the first-term mayor of the affluent Boston suburb of Newton and the state's first popularly elected black mayor; City Year youth program co-founder Alan Khazei; and Robert Massie, a former lieutenant governor candidate.