Conservatives Branch Out With New Media Ventures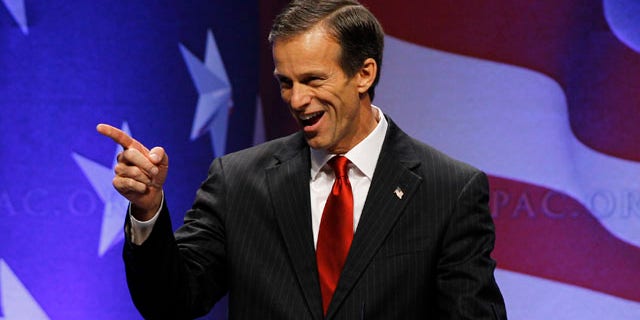 NEWYou can now listen to Fox News articles!
WASHINGTON - When conservative movies, music, YouTube videos and newscasts are considered "hip and cool," you know the movement has come a long way.
So say attendees at the Conservative Political Action Conference (CPAC) in Washington, where a variety of activists have been taking it to the next level, utilizing social media like Facebook and Twitter -- as well as technology that allows them to produce their own music, films, news and interview programs - and get it out to the public with virtually no overhead costs.
There are sophisticated formats like PJTV, an online broadcast offshoot of Pajamas Media, which started out as an online forum for conservative blogs in 2004. Andrew Breitbart's Breitbart TV is here as well, offering interviews, news and gossip, spanning Washington, the Fourth Estate and Hollywood.
"We have all these outlets now," said Owen Brennan, executive producer at PJTV. "And people are really looking for a different voice."
Brennan credits the success of talk show radio hosts like Rush Limbaugh and cable news outlets for opening the way to new media, incorporating "stagecraft" into their vision and utilizing cutting edge technology.
"It's through pop culture that we're going to reach people -- we're really trying to push the conservative arts movement," said Lisa Mei Norton, a singer-songwriter who has launched Big Dawg Music Media, an online meeting place for conservative musicians, authors and poets. "We pulled all our money together to pay for our sponsorship and to do a booth" at CPAC. They were also sponsoring a "Liberty Fest" concert in the ballroom Thursday night, featuring ex-Saturday Night Live comedienne Victoria Jackson and several musical numbers, including Norton.
"I'm trying to blast it out, I'm trying to promote people," she told FoxNews.com. "We're hoping events like these get us some traction."
And it's not just in places like Washington and New York where conservative media operations are gaining higher profile. Brennan noted "a lot of interesting things going on out west" in California, where a small, toiling group is trying to push into Hollywood.
At a Thursday panel entitled, "Getting Started in Hollywood," Larry O'Connor, of Breitbart's Big Hollywood, urged his audience to press on because breaking into the movie business will "help change the culture in Hollywood."
"Conservatives have to stop whining, and start doing," added Kevin McKeever, who runs his own production company, Bank of Kev Productions.
That theme seems to have been taken up by Megan Duffield, who was at CPAC Thursday distributing handbills for the 3-D animated movie, "Silver Circle," now in post-production with the hopes of being shown at the Sundance Film Festival. Three years in the making, the film incorporates a familiar libertarian-conservative theme: Not only is the U.S. economy tanking, but the Federal Reserve has become too powerful and unwieldy to serve the people's best interests. It is set in a future dystopia, with a love story to boot.
"There's a subtle message, but if you listen, you'll hear it," said Duffield, who noted that Silver Circle has over 10,000 fans on Facebook. There's even a comic book being developed for it.
"It's fun, hip and palatable to the general audience," said Duffield.
Other new media operations at CPAC were less focused on entertainment, and stuck to nuts-and-bolts activities like organizing conservative activists under a larger virtual umbrella.
One example: The Tea Party Review, billed as "the first national magazine for, by and about the Tea Party movement," which is slated for its launch during a reception on Saturday. The inaugural issue covers such topics as "Obama's War on the First Amendment ... and the Rest of the Constitution," "Will Republicans Keep Their 'Pledge'?" and "Why the Elite Media Hate Us."
Magazine spokeswoman Katrina Pierson, a member of the Dallas Tea Party, said the publication wants to emphasize it is still a bottom-up, rather than a top-down movement. "We've seen national groups make statements, and those are taken as a statement from the movement, and that's not the case," she told Fox News.