Conservative commentator Andrew Breitbart is dead at 43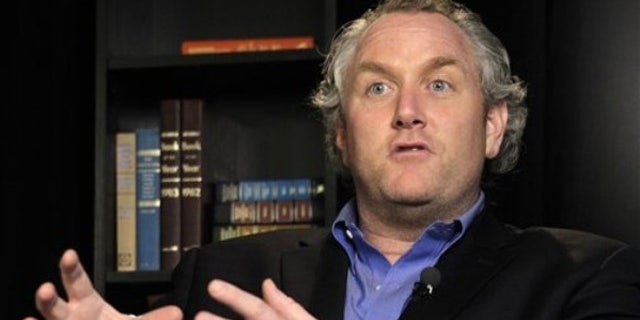 Widely read conservative Internet publisher Andrew Breitbart, whose flare for battle with politicians and the mainstream media earned him a reputation as one of the nation's most influential commentators, died Thursday.
The websites he founded ran a statement Thursday morning announcing that Breitbart, 43, died "unexpectedly from natural causes" in Los Angeles shortly after midnight. His attorney and editor-in-chief of those sites confirmed his death to Fox News.
"We have lost a husband, a father, a son, a brother, a dear friend, a patriot and a happy warrior," the statement said. "Andrew lived boldly, so that we more timid souls would dare to live freely and fully, and fight for the fragile liberty he showed us how to love."
Breitbart was a prolific commentator who founded several websites devoted to covering politics, entertainment and everything in-between. Earlier in his career, he worked for the Drudge Report before breaking off to start his own outlets -- including Big Government, Big Hollywood and Breitbart.tv.
The statement on his sites quoted the concluding passage from his book, Righteous Indignation.
"I love my job. I love fighting for what I believe in. I love having fun while doing it. I love reporting stories that the Complex refuses to report. I love fighting back, I love finding allies, and -- famously -- I enjoy making enemies. Three years ago, I was mostly a behind-the-scenes guy who linked to stuff on a very popular website. I always wondered what it would be like to enter the public realm to fight for what I believe in. I've lost friends, perhaps dozens. But I've gained hundreds, thousands -- who knows? -- of allies. At the end of the day, I can look at myself in the mirror, and I sleep very well at night," Breitbart wrote.
The statement ended: "Andrew is at rest, yet the happy warrior lives on, in each of us."
The Los Angeles coroner's office said the preliminary evidence suggests a "cardiac event" led to his death. An autopsy is set for Friday.
Breitbart was walking near his house in the Brentwood neighborhood shortly after midnight Thursday when he collapsed, his father-in-law Orson Bean said.
Someone saw him fall and called paramedics, who tried to revive him. They rushed him to the emergency room at UCLA Medical Center, Bean said. Breitbart had suffered heart problems a year earlier, but Bean said he could not pinpoint what happened.
"I don't know what to say. It's devastating," Bean told The Associated Press.
Those who knew and worked with him described Breitbart almost uniformly as "fearless," sharply intelligent, witty and devoted to his work.
"He was the modern conservative iteration of a 1960's radical," conservative commentator Jonah Goldberg told Fox News, minutes after Breitbart's death was reported.
"When I say he was the most fearless guy I ever knew, it really is true. I mean, he truly loved the fight," he said.
Breitbart considered his charge to expose corruption, hypocrisy and media bias, and leveraged his network of websites to reach for that goal.
He was on the forefront of reporting several controversies, notably the salacious tweets former Rep. Anthony Weiner had sent to young women before his resignation.
Breitbart became embroiled in a controversy of his own, though, for his reporting on a web video of Agriculture Department employee Shirley Sherrod. The edited video appeared to show Sherrod making a racist comment, but the full tape later put the remark in context and made clear that Sherrod was actually talking about bridging racial differences. Sherrod was fired after the edited video surfaced, and later filed suit against Breitbart.
Breitbart, though, went on to report on one of the biggest congressional scandals of 2011 -- the tweets sent by Weiner to young women he met online. The former New York congressman, who is married, adamantly denied the reports at first, before admitting to them in a tearful press conference and resigning.
One of Breitbart's most memorable moments came when he commandeered the podium before Weiner's final New York conference, holding court with reporters and demanding an apology from Weiner -- while Weiner waited to attend his own press conference.
Goldberg recalled how one of Breitbart's favorite pastimes was to retweet the nasty things other people said about him. "He considered it a badge of honor," Goldberg said.
Breitbart's final tweet, posted shortly before he was reported to have died, typified the combative and blunt tone he took with his online debaters. "I called you a putz cause I thought you were being intentionally disingenuous. If not I apologize," he wrote to the individual he had been arguing with.
That individual, Lamar White, told FoxNews.com in an email that Breitbart was committed to the First Amendment and the "open and free exchange of ideas."
"Although I disagreed with him profoundly on politics and policy, I will always respect and admire his tenacious wit and his willingness to engage others in provocative conversation," White said.
News of Breitbart's death reverberated on Capitol Hill and on the presidential campaign trail. Rick Santorum said he was "crestfallen."
"What a powerful force," Santorum said. "What a huge loss, in my opinion, for our country and certainly for the conservative movement."
Breitbart is survived by his wife Susannah Bean Breitbart, 41, and four children.
The Associated Press contributed to this report.