Clinton Urges Gates Delay Retirement So They Can 'Go Out Together'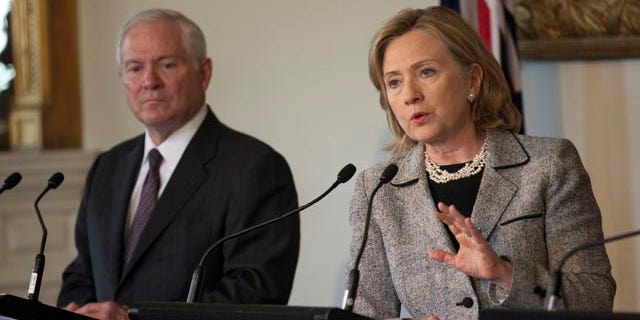 It's not exactly Thelma and Louise, but Secretary of State Hillary Clinton is urging Defense Secretary Robert Gates to remain in his post longer than he planned so they can leave the Obama administration at the same time.
"We came in together, we should go out together. That's my theory," Clinton said in an ABC interview in which she appeared with Gates in Australia.
Gates, a holdover from the Bush administration, told a foreign magazine in August that he wants to retire from the federal government by the end of next year. He said the departure would be timed so that he would have a good sense of where the U.S. military operation in Afghanistan is going. Troops are scheduled to start pulling out in July.
But the departure is one Clinton does not appear ready to accept.
"We're hoping that that timeline keeps moving further and further beyond," Clinton said.
Gates' departure would open up a slot for a shift of personnel or a new face in the Cabinet. Several names have been floated as a possible replacement, including Clinton's.
Gates said Clinton -- whose name has also been bandied about as an option to replace Vice President Joe Biden, who is not expected to leave -- would be great for the job, which has never had a woman in it, but she is really well-suited for the position she has.
"I think that one of the great strengths that Hillary brings to the job as secretary of state is that as spokesperson for the United States around the world And to go back to the beginning of this conversation, that's not the role of the secretary of defense," Gates said.
Clinton agreed.
"I've made it clear that I love the job I have," she said .
Nonetheless, Gates and Clinton are a duo that shares a trait unlike the rest of the administration leadership, including President Obama. They are both in their 60s and consider themselves the only two members of "the old folks caucus."
"We're so much older than everybody else in the government right now," Gates said. "We're the only ones that had to pick up on our cultural allusions and our jokes and things like that. All these younger people were sitting around going, 'What? What was that all about?'"
Clinton said that age distinction is a factor she deals with in reaching out around the world to encourage U.S. partnerships. Because so many young people around the world don't have the historical perspective of U.S. dominance, she said she has to make the case for why U.S. values should be appreciated abroad.
"We are having to break new ground in explaining what the United States stands for, who we are, our values around the world in ways that we could take for granted in the past that we no longer can," she said.