Clinton: U.S. Ready to Join $100B Climate Aid Fund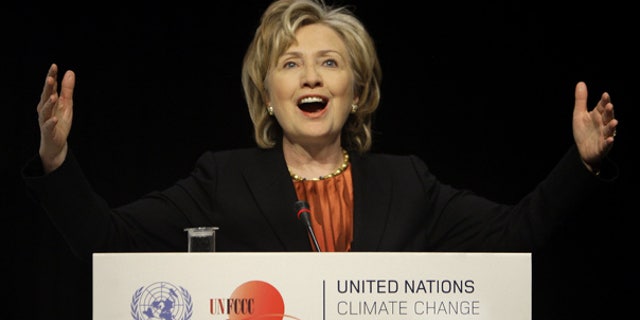 With global climate change talks veering off and precariously back on the tracks, the U.S. Thursday extended a $100 billion carrot to the rest of world.
Secretary of State Hillary Clinton told reporters in Copenhagen Thursday the United States is willing to commit up to $10 billion a year by 2012, and would support a global fund of $100 billion a year to help developing nations deal with climate change, provided that other nations are willing live up to the "transparency" demanded by the U.S.
The $100 billion gambit is intended to re-energize the pursuit of a global agreement -- probably only minimally binding -- to reduce greenhouse gases enough to keep the planet's temperature from rising by no more than 2 degrees centigrade by 2020.
Clinton said the money was "conditional," directing her words at China, which has refused to meet the monitoring and verification requirements requested by the U.S. when it comes to promises of carbon reductions. Without greater transparency, Clinton warned, the $100 billion offer would evaporate.
"I have often quoted a Chinese proverb which says that when you are in a common boat, you have to cross the river peacefully together," Clinton said. "Well, we are in a common boat. All of the major economies have an obligation to commit to meaningful mitigation actions and stand behind them in a transparent way."
Clinton, who is one of six cabinet members accompanying President Obama to the climate summit, said climate change "is an undeniable and unforgiving fact." Addressing speculation that Obama might cancel his scheduled arrival Friday, the final day of the conference, White House spokesman Robert Gibbs told Fox News there is "no change in our plans."
Gibbs added that negotiators are working toward a political agreement and not a treaty. "The president is not just going there for the sake of getting an agreement but wants something that works."
Gibbs told reporters the president is "not under any illusion that this was going to be easy."
Critics have accused the U.S. of trying to "buy" support for a climate treaty that meets U.S. approval. On Wednesday, negotiators from Britain and developing nations came to agree on the $100 billion figure by 2020, a reduction from $400 billion that a contingent from Africa and the poorest nations had previously insisted upon.
Clinton urged all sides to seek common ground in the final stretch of negotiations.
"I understand that the talks have been difficult," she said. "And we will continue doing all that we can do. But the time is at hand for all countries to find common ground."
But however much money the U.S. is willing to throw at a climate change deal may not be enough for China. Officials in its delegation reportedly told participants at the negotiations Thursday it sees no possibility of achieving an operational accord to tackle global warming this week.
An unidentified official told Reuters the Chinese had instead suggested issuing "a short political declaration of some sort," but it was not clear what that declaration would say.
China offered an official response, saying it is willing to provide explanations and clarifications about its actions to control carbon emissions, which would go some way to meeting the U.S. demands.
Chinese Vice Foreign Minister He Yafei said Beijing is ready for "dialogue and cooperation that is not intrusive, that does not infringe on China's sovereignty."
Meanwhile, world leaders starting flooding into Copenhagen on Thursday, even as a Danish official acknowledged that hope was running out for a comprehensive climate deal because the negotiations between rich and poor countries were deadlocked.
The official said the Danish hosts of the U.N. conference had not given up though it appeared unlikely that their ambitious plan for the conference would be fulfilled.
"As it looks now, we will not get the deal that we had hoped for," said the official, who is not authorized to speak publicly about the talks and asked not to be named.
House Speaker Nancy Pelosi, who came to Denmark with 20 other House lawmakers, including six Republicans, said Congress is "fully prepared" to back Clinton's $100 billion commitment.
She said her delegation comes with one word in mind: jobs.
"It's about jobs," she said. "Jobs sustainable for the future, for a green revolution."
Pelosi added that the climate change legislation that passed in the House but stalled in the Senate reflects how serious the U.S. is about tackling global warming.
"We believe we come here pretty well prepared to have a bill that is a vehicle for how we can work together with other countries," she said.
Fox News' Major Garrett, William La Jeunesse and The Associated Press contributed to this report.