Clinton: National Debt Holding America Back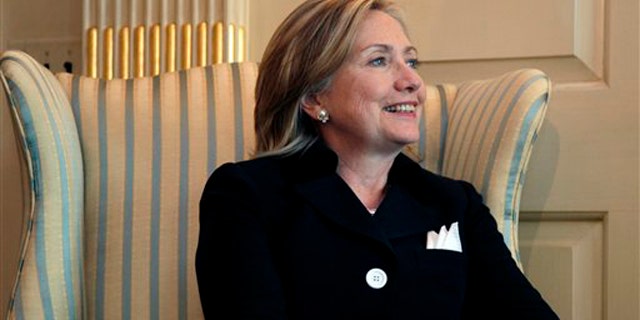 NEWYou can now listen to Fox News articles!
Secretary of State Hillary Clinton, in a speech meant to herald the arrival of a "new American moment," warned Wednesday that the national debt could weaken the United States and prevent the country from exerting its influence overseas. She said the trillions left on the national credit card have eroded America's ability to "chart our own destiny."
"Our rising debt levels (pose) a national security threat," she said.
The unusually blunt remarks about the national debt, which is well north of $13 trillion, came during the question-and-answer period following an address at the Council on Foreign Relations in which she stressed the importance of American leadership abroad. She said other countries continue to look to the United States to provide aid and resolve conflicts and asserted that under the Obama administration, diplomacy is starting to pay dividends.
But she suggested the national debt could undermine all those goals by restraining America's ability to act independently.
"It undermines our capacity to act in our own interest. And it does constrain us where constraint may be undesirable," she said. "And it also sends a message of weakness internationally. I mean, it is very troubling to me that we are losing the ability not only to chart our own destiny, but to, you know, have the leverage that comes from this enormously effective economic engine that has powered American values and interests over so many years."
The Obama administration has pledged to rein in its deficit spending and has appointed a panel tasked with finding ways to draw down the national debt. But the administration continues to pitch tax cuts and spending measures in a bid to boost economic growth in the face of poor employment numbers.
Aside from the debt comment, Clinton tried to put a positive spin on America's clout. The speech comes amid major diplomatic efforts, including a restart to peace talks between the Israelis and Palestinians and a campaign to raise awareness and money to help victims of the devastating Pakistan floods. It also comes as the administration struggles to bring countries like Iran and North Korea to the table to discuss their nuclear programs.
She said Wednesday that Iran "continues to single itself out through its own actions" and that its "intransigence" poses a challenge to the rules all other countries must follow.
The secretary of state also stepped up her effort to quash a potential diplomatic flare-up by condemning a Florida pastor's plan to burn copies of the Koran to mark the ninth anniversary of the Sept. 11, 2001, terror attacks. She called the idea "distressful" and "distasteful" and urged the media, perhaps jokingly, to ignore him.
"We are hoping that the pastor decides not to do this," she said. "We're hoping against hope that if he does, it won't be covered ... as an act of patriotism."
Clinton lamented that the plan had gotten so much attention. "In the environment in which we all now operate, anybody with an iPhone, anybody with a blog can, you know, put something out there which is outrageous," she said. "We want to be judged by who we are as a nation -- not by something that is so aberrational."